Fantasy and science fiction have a book for every imagination, whether you're seeking for an alien invasion or a portal to other planets. The weather is starting to feel like spring, so now is the ideal time to pick up a new book and go outside. This month is jam-packed with tonnes of thrilling science fiction and fantasy literature, including stories about dragons, magic, aliens, and new worlds. Here are 10 best fantasy & sci-fi books of summer 2023.
---
The Book That Wouldn't Burn
Mark Lawrence
The boy has lived his whole life trapped within a book-choked chamber older than empires and larger than cities. The girl has been plucked from the outskirts of civilization to be trained as a librarian, studying the mysteries of the great library at the heart of her kingdom.
They were never supposed to meet. But in the library, they did. Their stories spiral around each other, across worlds and time. This is a tale of truth and lies and hearts, and the blurring of one into another.
Release Date: May 9, 2023
---
Starter Villain
John Scalzi
Charlie's life is going nowhere fast. A divorced substitute teacher living with his cat in a house his siblings want to sell, all he wants is to open a pub downtown, if only the bank will approve his loan. Then his long-lost uncle Jake dies and leaves his supervillain business (complete with island volcano lair) to Charlie.
But becoming a supervillain isn't all giant laser death rays and lava pits. Jake had enemies, and now they're coming after Charlie. His uncle might have been a stand-up, old-fashioned kind of villain, but these are the real thing: rich, soulless predators backed by multinational corporations.
Release Date: September 19, 2023
---
Dragonfall
L. R. Lam
Long ago, humans betrayed dragons, stealing their magic and banishing them to a dying world. Centuries later, their descendants worship dragons as gods. But the "gods" remember, and they do not forgive. Thief Arcady scrapes a living on the streets of Vatra. Desperate, Arcady steals a powerful artifact from the bones of the Plaguebringer, the most hated person in Lumet history. Only Arcady knows the artifact's magic holds the key to a new life among the nobles at court and a chance for revenge. The spell connects to Everen, the last male dragon foretold to save his kind, dragging him through the Veil.
Release Date: May 2, 2023
---
Of Light and Shadow
Tanaz Bhathena
Roshan Chaya is out for justice. Abandoned by her parents at birth and adopted by the kingdom of Jwala's most notorious bandit before his brutal murder, she is now leader of the Shadow Clan, a gang of farmers-turned-bandits impoverished by the provincial governor's atrocities and corruption. Roshan's goal: to avenge her adoptive father and earn back rights and dignity for her people.

Prince Navin has always felt like an outcast. Second in line for the throne, he has never been close to his grandmother, Queen Bhairavi of Jwala. When a night out drinking with friends leads to his capture by the infamous Shadow Clan.
Release Date: May 23, 2023
---
The Sun and the Void
Gabriela Romero-Lacruz
Stuck on the edges of society, Reina's only hope lies in an invitation from a grandmother she's never met. But the journey to her is dangerous, and prayer can't always avert disaster. Attacked by creatures that stalk the mountains, Reina is on the verge of death until her grandmother, a dark sorceress, intervenes. Now dependent on the Doña's magic for her life, Reina will do anything to earn—and keep—her favor. Even the bidding of an ancient god who whispers to her at night.
Illegitimate and of mixed heritage, Eva is her family's shame. She tries to be the perfect daughter.
Release Date: July 25, 2023
---
Shanghai Immortal
A.Y. Chao
Pawned by her mother to the King of Hell as a child, Lady Jing is half-vampire, half-hulijing fox-spirit and all sasshole. As the King's ward, she has spent the past ninety years running errands, dodging the taunts of the spiteful hulijing courtiers, and trying to control her explosive temper – with varying levels of success.
So when Jing overhears the courtiers plotting to steal a priceless dragon pearl from the King, she seizes her chance to expose them, once and for all. With the help of a gentle mortal tasked with setting up the Central Bank of Hell, Jing embarks on a wild chase for intel.
Release Date: June 1, 2023
---
The Jasad Heir
Sara Hashem
Ten years ago, the kingdom of Jasad burned. Its magic was outlawed. Its royal family murdered. At least, that's what Sylvia wants people to believe. The Heir of Jasad escaped the massacre, and she intends to stay hidden, especially from the armies of Nizahl that continue to hunt her people.
But a moment of anger changes everything. When Arin, the Nizahl Heir, tracks a group of Jasadi rebels to her village, Sylvia accidentally reveals her magic—and captures his attention. Now Sylvia's forced to make a deal with her greatest enemy: Help him hunt the rebels in exchange for her life.
Release Date: July 18, 2023
---
Spring's Arcana
Lilith Saintcrow
Nat Drozdova is desperate to save a life. Doctors can do little for her cancer-ridden mother, who insists there is only one cure—and that Nat must visit a skyscraper in Manhattan to get it. Amid a snow-locked city, inside a sleek glass-walled office, Nat makes her plea and is whisked into a terrifying new world. For the skyscraper holds a hungry winter goddess who has the power to cure her mother…if Nat finds a stolen object of great power.

Now Nat must travel with a razor-wielding assassin across an American continent brimming with terror, wonder, and hungry divinities with every reason to consume a young woman.
Release Date: May 2, 2023
---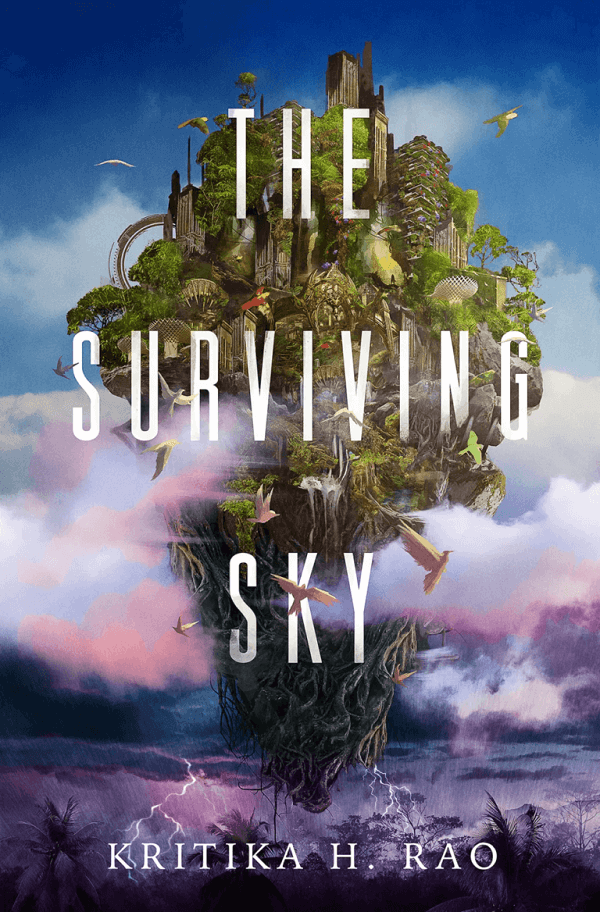 The Surviving Sky
Kritika H. Rao
High above a jungle-planet float the last refuges of humanity—plant-made civilizations held together by tradition, technology, and arcane science. Here, architects are revered deeply, with humanity's survival reliant on a privileged few. If not for their abilities, the cities would plunge into the devastating earthrage storms below.
Charismatic and powerful, Iravan is one such architect. His abilities are his identity, but to Ahilya, his archeologist wife, they are a method to suppress non-architects. Their marriage is thorny and fraught—yet when a jungle expedition goes terribly wrong, jeopardizing their careers.
Release Date: June 13, 2023
---
More Perfect
Temi Oh
When Moremi connects her brain to the Panopticon, a network which allows you to see inside the minds and dreams of others, she believes that it will save her from depression, loneliness and, eventually, death. That is until she meets Orpheus. Orpheus was brought up in isolation by a Neo-luddite father. He was raised to question everything, including the government who plan to make the connection procedure compulsory. 

They promise that connecting everyone to the Panopticon will end human suffering and usher in a more perfect world. But when Orpheus and Moremi uncover the dark side of the technology.
Release Date: May 25, 2023
---