Artificial Intelligence (AI) tools are transforming industries, boosting productivity, and providing ground-breaking answers to complicated challenges as we stand on the cusp of a historic technological revolution.
Artificial intelligence (AI) solutions are essential to contemporary corporate strategy and operations, from automating laborious jobs to delivering priceless insights through data analysis. These ground-breaking tools are used in a wide range of industries, such as healthcare, education, marketing, agriculture, and many others.
This thorough list will provide a resource to suit your specific requirements and interests, whether you're an entrepreneur looking to grow your firm, a professional looking to keep on top of trends, or a tech enthusiast keen to experience the most recent AI developments. Prepare to delve into the exciting and dynamic world of artificial intelligence.
---
AdCreative.ai
AdCreative.ai, the best Artificial Intelligence solution, will help you up your social media and advertising game. Say good-bye to hours of creative labor and welcome to social media posts and ads with excellent conversion rates that are created in a matter of seconds. Utilize AdCreative.ai today to increase your success and reduce your effort.
Features
Trained Artificial Intelligence: Their machine learning models continue to improve to deliver contemporary creatives that perform better.
Integrations: ADYOUNEED, Facebook, Google, and AdCreative.ai are all integrated.
Better Conversion Rates: Clients of AdCreative.ai report conversion rates that are up to 14 times higher than those of ads created without using data-driven design principles.
Collaborative: You can create an account with AdCreative.ai and invite up to 25 users to create creatives simultaneously.
Seamless Design: Their distinctive AI generates branded solutions using the colors and fonts that fit well with the logo of your company.
Pricing
Starting Price: $21 per month
Free Version: Available.
---
Aragon
With Aragon, you can easily obtain gorgeous professional headshots. Use the most recent A.I. technologies to quickly produce high-quality headshots of yourself! Avoid the stress of scheduling a photo shoot or getting dressed. Don't wait days to get your images edited and enhanced. Get 40 HD photographs to help you stand out while applying for your next position.
Features
Fast and Easy: Create 40 HD images from 10 uploaded selfies without scheduling a studio appointment.
Affordable: Priced at just $39 with the promo code ILOVEAI, it is considerably less expensive than visiting a regular photographic studio.
Trusted: Students and professionals use it to strengthen their personal branding.
Privacy-Focused: Utilizes AES256 encryption and partners with SOC 2 and ISO 27001 certified providers.
Pricing
Starting Price: $29 per month
---
Grammarly
Make your writing better by using Grammarly! Using cutting-edge AI technology, it assists you in writing effectively on a variety of platforms, including Gmail, Facebook, Twitter, LinkedIn, and text messaging. Grammarly is a practical way to enhance writing abilities for both professionals and students.
Features
Quality Checker: Grammarly Online's spelling and grammar check examines the words users choose, keeps track of their typing habits, checks for spelling errors, places punctuation correctly, and occasionally makes suggestions.
Compatibility: Users may apply the Grammarly plugin to Chrome and use it to write expert content for numerous social media platforms, including Facebook, Twitter, WordPress, and others.
Grammarly Premium: Grammarly Premium's style-specific suggestions, assistance in identifying instances of plagiarism, and ability to add citations all help users improve the quality of their writing.
Detects Your Tone: Before the writer publishes the material, Grammarly evaluates the tone, phrasing, and punctuation in their writing and provides pertinent comments to improve the writing.
Pricing
Starting Price: $11.89 per month
Free Version: Available.
---
Motion
A innovative program called Motion uses AI to make daily plans that take into consideration your appointments, assignments, and projects. Get rid of the burden of planning and say welcome to a life that is more productive.
Features
Automate Planning: Motion schedules your day so you don't have to waste time and effort on it. Motion makes a realistic and effective plan for you by taking into account your deadlines, priorities, preferences, and availability.
Complete Everything: Motion automatically prioritizes your tasks and projects based on their relevance and urgency, assisting you in staying on top of them. Motion provides you a clear picture of what to do next and adds tasks to your agenda to fit around your meetings.
Focus: You can focus and concentrate better on your work when you're moving around. Your calendar is blocked by motion, shielding the unbroken work time from interruptions or other requests.
One Tool: Motion unifies everything into a single app and integrates with all of your tools. You don't have to switch between multiple tools or tabs to manage your work. You can access everything from one place and streamline your workflow.
Pricing
Starting Price: $19 per month
Free Version: Available.
---
Notion
Notion wants to grow its user base by utilizing its cutting-edge AI technologies. Their most recent product, Notion AI, is a powerful generative AI tool that helps users with tasks like note summarization, picking meeting action items, and producing and editing text. Notion AI improves user experience by streamlining processes by automating time-consuming operations, offering users suggestions, and providing templates.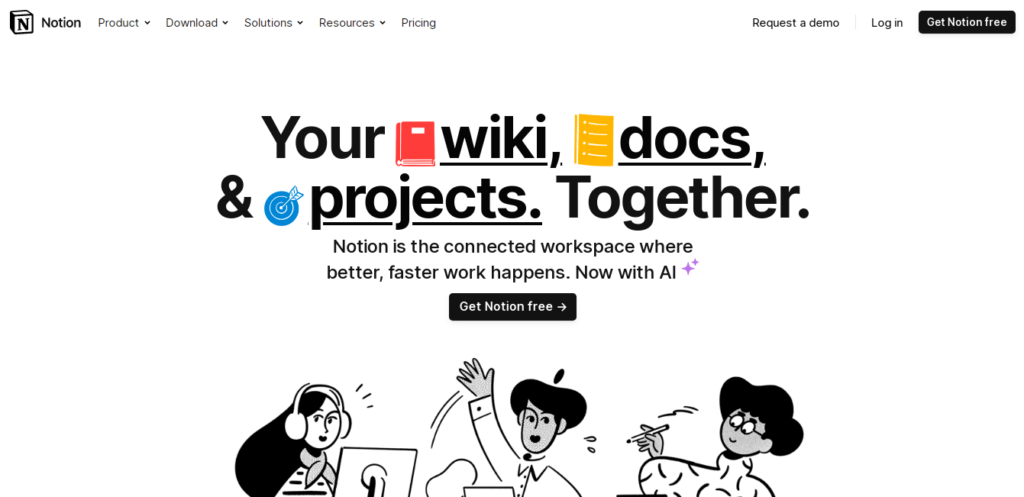 Features
Continue Writing: The Notion AI feature known as "continue writing" is the most popular. It reads your earlier work and makes an effort to build on it. Although it occasionally may not be relevant, most of the time it is effective.
Find Action Items: This function will attempt to extract actionable bullet points from a text after reading it. quite helpful for, say, summarizing and writing down the main points of a meeting.
Translate: There is a translation option in Notion AI. A bit more than 10 languages are currently supported, including English, Korean, Chinese, Japanese, Spanish, Russian, French, Portuguese, German, Italian, Dutch, Indonesian, and Vietnamese.
Summarize Text: This one is quite helpful; Notion AI can condense lengthy text portions and highlight the key ideas.
Pricing
Starting Price: $8 per month
Free Version: Available.
---
SaneBox
Although AI is the wave of the future, SaneBox has successfully used AI to power email for the past 12 years and counting, saving the typical user more than 3 hours per week on inbox management.
Features
AI-Powered Filters: Keep your Inbox clutter-free by using sophisticated filters to automatically identify and move irrelevant emails to designated folders.
Customizable Folders: Create customized folders to classify emails according to specific criteria, such as newsletters, emails that were copied on or ignored.
Email Activity Digest: To ensure that you never miss a crucial piece of information, receive daily notifications summarizing sorted emails and other email activities.
Advanced Email Organization: Automate email activities like snoozing emails that aren't urgent, forwarding emails for later use, and managing attachments online.
Pricing
Starting Price: $3.49 per month
Free Version: Available.
---
StoryBird AI
Introducing Storybird.ai, a platform for telling engrossing stories that is powered by AI. Create anything you want, from children's books to business regulations, with simplicity. The Storybird plugin, which provides storytellers with AI support, is a popular pick in the ChatGPT plugin marketplace. Use Storybird.ai to free your imagination today.
Features
Personalized Story Creation: By choosing three components that will be included in the generated story, users of StoryBird can write stories that are specifically tailored for children.
Narrated Stories: To give kids a more immersive experience, the gadget reads the stories in the host of Maked Up Stories' voice.
Personalization Options: The stories' content can be altered by users to suit their preferences, resulting in an experience that is unique to the child.
Interactive Chatbot Conversations: The program comes with a plugin that lets users have chatbot discussions with figures from particular stories, increasing interaction and involvement.
Pricing
Starting Price: $9.99 per month
Free Version: Available.
---
Taplio
With the platform driven by AI from Taplio, transform your LinkedIn presence. Just ten minutes a day can help you improve your personal brand. Create engaging content, organize your posting schedule, build relationships, and easily track your progress.
Features
AI Content Inspiration: In just 30 minutes, you can get post ideas and fill your content calendar. With the help of your AI writing coach, raise your talents.
Viral Post Library: Examine the viral components of the millions of popular posts in your niche.
LinkedIn Outreach: Create effective content, engage with relevant accounts, and develop solid relationships.
Performance Analytics: Your most crucial LinkedIn statistics are never far away. Adjust your LinkedIn strategy based on what is and is not working.
Pricing
Starting Price: $39 per month
Free Version: Available.
---
tinyEinstein
With the aid of artificial intelligence, tinyEinstein is an AI marketing solution created to assist Shopify store owners in automating essential marketing tasks. With absolutely no user involvement, it automatically generates and distributes stunning, brand-consistent emails, as well as enabling sophisticated automations with just one click.
Features
Automated Email Creation: Without the requirement for design or coding, automatically creates email templates that are on-brand and customized to a brand's distinctive voices, assets, and visual styles.
Triggered Automations: Enables intricate triggered-automations with a single click to expand the store on autopilot with a variety of automations, including weekly newsletters, abandoned cart emails, and purchase thank-you emails.
Form and Pop-up Creation: To overcome list growth problems and develop a client email list, the software automatically develops and inserts email capture forms and pop-ups on the user's store.
Easy Integration: Saves users hours of setup, monitoring, and reporting time by seamlessly integrating with Shopify stores and working with the majority of e-commerce platforms.
Pricing
Starting Price: $3 per month
Free Version: Available.
---
VEED
VEED helps in the production of fantastic videos that anybody may watch, including you! Why not dazzle them with your VEED talents given the audience's propensity for watching videos? Quickly produce videos of professional quality with our easy-to-use platform.
Features
Video Editor: With the help of VEED's video editing capability, you may edit films by trimming, resizing, rotating, merging, and looping them, changing their backgrounds, adding sound effects, and more.
Screen Recorder: With the use of your webcam and microphone, VEED's screen recorder feature enables you to record presentations, business meetings, gaming sessions, tutorials, and more in high-quality.
Live Streaming: The software makes it simple to stream on many channels, record the stream, and instantly invite viewers. After the stream, you can edit the recording by text or turn it into short clips for TikTok, LinkedIn, or YouTube.
Subtitles and Transcription: VEED can automatically create subtitles with just one click, unlike some video editing programs, by converting your audio or video files to text.
Pricing
Starting Price: $291 per month
Free Version: Available.
---