This year is seeing a tonne of buzz-generating romance novels hit the shelves, which is wonderful news indeed. However, with so many books on the market, it can be difficult to keep up with the releases of your favourite authors. Check out these eagerly awaited 2023 releases from well-known romance authors, including works by Ana Huang, Sarina Bowen, Kennedy Ryan, E L James, and more! Here are 10 new romance novels from your favorite authors you won't want to miss.
---
King of Pride
Ana Huang
Reserved, controlled, and proper to a fault, Kai Young has neither the time nor inclination for chaos—and Isabella, with her purple hair and inappropriate jokes, is chaos personified. With a crucial CEO vote looming and a media empire at stake, the billionaire heir can't afford the distraction she brings.
Isabella is everything he shouldn't want, but with every look and every touch, he's tempted to break all his rules…and claim her as his own.
Bold, impulsive, and full of life, Isabella Valencia has never met a party she doesn't like or a man she couldn't charm…except for Kai Young.
Release Date: April 27, 2023
---
Just One Fling
Carly Phillips
It was just supposed to be a fling. Now she's having his baby.Winter Capwell knows all about billionaire Harrison Dare's bad-boy reputation. His all-pleasure, no-commitment rule worked well for her, too. Until fate changed everything.
Harrison never wanted a wife or kids. His incredibly large family provides all the siblings and children he needs. Besides, no woman has ever tempted him to give up his bachelor lifestyle.
Until the mysterious and sexy Winter entered his life. But when someone comes after the woman he loves, he will stop at nothing to protect her and make her his. For good.
Release Date: April 18, 2023
---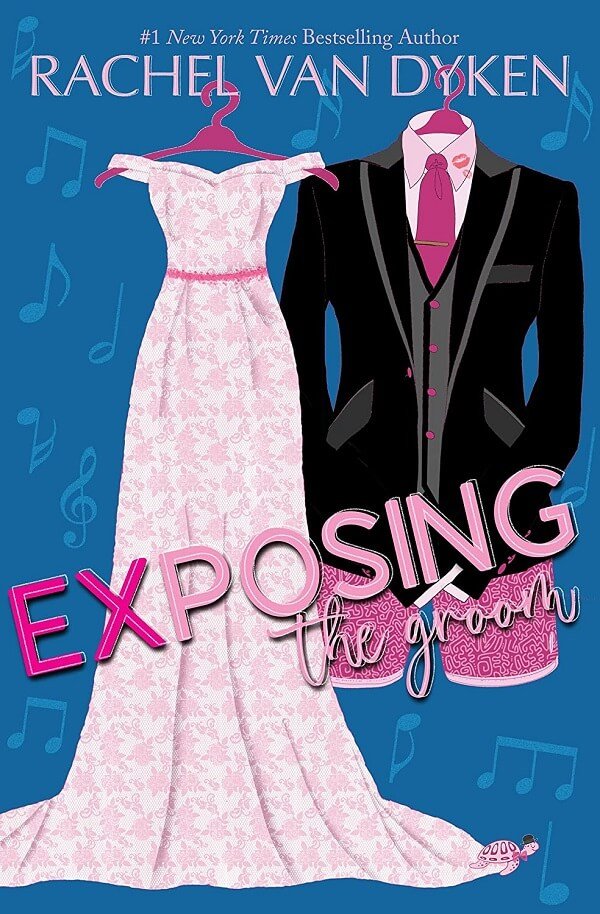 Exposing the Groom
Rachel Van Dyken
An accidental phone grab during my rehearsal dinner while my fiancé went to use the restroom. Reading all the dirty texts between him and my maid of honor, aka little sister, during our vows in front of the world in what would later be considered one of the most viral wedding videos on TikTok.
Did I mention his vows were before mine, and he compared me to my adopted dog because… and I quote, "I'm so loyal." It's not my fault that my first instinct, after exposing his dirty lies, was to run up to the clueless rockstar that was supposed to headline my reception and ask him to sing my tears away.
Release Date: May 19, 2023
---
The New Guy
Sarina Bowen
My name is Hudson Newgate, but my teammates call me New Guy. That was my nickname in Chicago, too. And Vancouver. That's what happens when you keep getting traded. Brooklyn is my last chance, especially after my poor performance last season. But I can make this work. The new guy knows to keep his head down and shoot the puck. The new guy puts the game first.
What he doesn't do is hook up with the other new guy—a hot athletic trainer who lives in my building. Gavin needs this job with my team. He's a single dad with responsibilities. We can't be a couple. My arrogant agent–who's also my father–will lose his mind if I'm dating a dude.
Release Date: February 28, 2023
---
The Kingmaker
Kennedy Ryan
In a world of haves and have-nots, Maxim Cade's family and their oil empire have it all…and he wants nothing to do with it. At odds with his mogul father, he's determined to build his own empire, even if it means traveling far from home, painted as the black sheep.
Lennix Hunter is the exception to every one of Maxim's rules. At a protest for the oil pipeline that threatens to mar her ancestral land forever, they meet in a flurry of stars and sparks, and that one moment changes everything. But Maxim's family is the one stealing from hers, and his father is the man she hates most.
Release Date: May 23, 2023
---
Deserving Reese
Susan Stoker
Having a crush on one of your brother's friends is so cliché. But Reese Woodall isn't too worried…it's not as if she'd ever have a chance with the former Delta Force Operative. For one thing, he lives in New Mexico, and she's in Missouri. For another, since Woody and his team chaptered out of the Army several years ago, she hasn't seen Gus even once. She's free to lust after him from afar…but with her brother currently missing, Reese has far more important things to worry about.
Gus "Spike" Fowler doesn't think twice before heading to South America when he learns his old Army buddy has disappeared—and his younger sister has gone to Colombia to find him.
Release Date: May 30, 2023
---
Stinger
Mia Sheridan
Grace Hamilton is the girl with a plan. She knows exactly where her life is going, and prides herself on always achieving her goals. She's never stepped outside the lines she draws for herself, and never considered what her heart truly wants. That is, until him.
Carson Stinger doesn't play by any rules except his own. Working in the adult entertainment industry, he doesn't care what others think of his choices, and takes each day as it comes. No direction, no plan. He knows what women want from him, and in his eyes, it's all he has to offer…until her.
Release Date: June 6, 2023
---
The Sweetheart List
Jill Shalvis
When Harper Shaw's life falls apart, she knows it's time for a change. She removes everything that doesn't spark joy—from her soul-sucking job to eating kale to making lists—and sets off for the last place she was happy, Lake Tahoe (who wouldn't feel good there, right?) to fulfill her dream of opening her own bakery.
With her Sugar Pine Bakery in between a tavern, owned by sexy, grumpy Bodie Campbell, and a bookstore, run by her new BFF, she feels a peace she's never experienced since…well, forever.. Then she meets Ivy, a teenage runaway, who barrels into her heart.
Release Date: June 13, 2023
---
The Missus
E L James
Maxim Trevelyan, reluctant Earl of Trevethick, has pursued the woman he loves to the wilds of Albania. Having fought for and won her, he now has to wed her, at the sharp end of a shotgun. But can a reformed rake like Maxim ever make a good husband — or will his own notorious reputation and the scandalous secrets of his aristocratic family destroy his newfound happiness?
Alessia Demachi has defied and outwitted kidnappers and traffickers, and won the heart of the man she loves, but can she make this marriage work? Confronted by Maxim's lurid past, his forbidding family, and the looks.
Release Date: June 20, 2023
---
Anger Bang
Avery Flynn
Shy paleontologist Thea Pope just wants to get through her sister's '80s-themed monstrosity of a TV reality-show wedding so she can get to her summer field work. The only problem? Her sister has turned into the ultimate bridezilla – as in pink parasols, organza hats, forcing people to shave and dye their hair levels of over-the-top, it's-my-day antics – all while on location in a place literally called hell that reeks of sulfur and lost hopes.
 
The only thing that can make it worse is when her sister declares that she never even wanted Thea in the wedding at all but that the producers insisted.
Release Date: June 27, 2023
---