Spring is right around the corner, and as the weather slowly starts to change, there's always something so exciting when we get to make our book club reading plan, too! There are a lot of exciting books coming out this year. Here are 10 perfect book club selection for spiring 2023.
---
A Spell of Good Things
Ayobami Adebayo
Eniola is tall for his age, a boy who looks like a man. Because his father has lost his job, Eniola spends his days running errands for the local tailor, collecting newspapers, begging when he must, dreaming of a big future. Wuraola is a golden girl, the perfect child of a wealthy family. Now an exhausted young doctor in her first year of practice, she is beloved by Kunle, the volatile son of an ascendant politician.
When a local politician takes an interest in Eniola and sudden violence shatters a family party, Wuraola's and Eniola's lives become intertwined. In her breathtaking second novel.
Release Date: February 7, 2023
---
The Ten Percent Thief
Lavanya Lakshminarayan
Welcome to Apex City, formerly Bangalore, where everything is decided by the mathematically perfect Bell Curve. With the right image, values and opinions, you can ascend to the glittering heights of the Twenty Percent – the Virtual elite – and have the world at your feet. Otherwise you risk falling to the precarious Ten Percent, and deportation to the ranks of the Analogs, with no access to electricity, running water or even humanity.
The system has no flaws. Until the elusive "Ten Percent Thief" steals a single jacaranda seed from the Virtual city and plants a revolution in the barren soil of the Analog world.
Release Date: March 28, 2023
---
The Half of It
Juliette Fay
When 58-year-old Helen Spencer reviews her life, what she sees are the mistakes. Over the years, things seemed to go sideways incrementally, one little wrong decision at a time. She can even pinpoint where it all started to go awry: a wonderous, romantic night in the woods her senior year of high school with a boy named Cal Crosby. A night she would soon work hard to forget.
Forty years, one marriage, three children, and one grandbaby later, suddenly there he is—Cal Crosby!—right in front of her with grandchildren of his own in tow. The chance to finally get some answers and sort out.
Release Date: April 11, 2023
---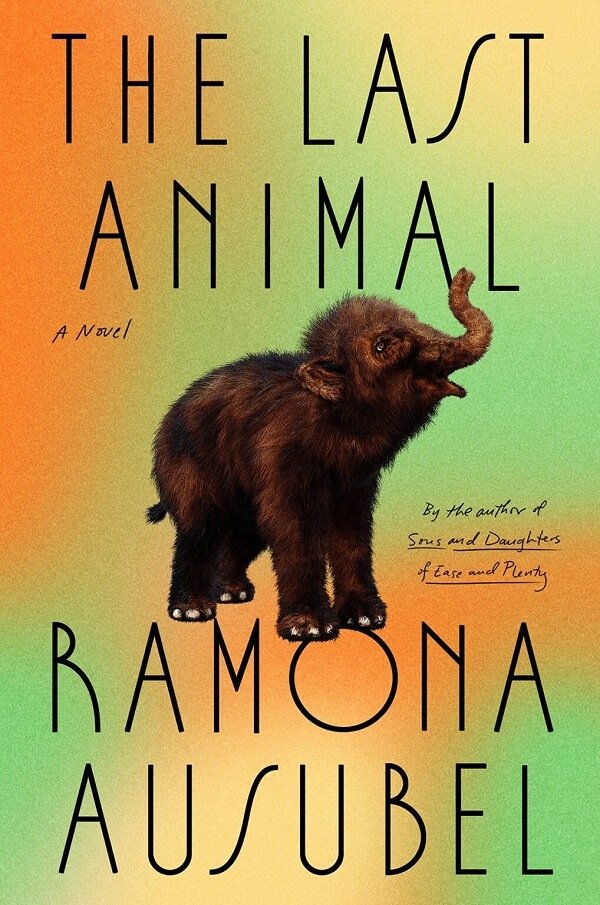 The Last Animal
Ramona Ausubel
Teenage sisters Eve and Vera never imagined their summer vacation would be spent in the Arctic, tagging along on their mother's scientific expedition. But there's a lot about their lives lately that hasn't been going as planned, and truth be told, their single mother might not be so happy either.
Now in Siberia with a bunch of serious biologists, Eve and Vera are just bored enough to cause trouble. Fooling around in the permafrost, they accidentally discover a perfectly preserved, four-thousand-year-old baby mammoth, and things finally start to get interesting. The discovery sets off a surprising chain of events, leading mother.
Release Date: April 18, 2023
---
The Half Moon
Mary Beth Keane
Malcolm Gephardt, handsome and gregarious longtime bartender at the Half Moon, has always dreamed of owning a bar. When his boss finally retires, Malcolm stretches to buy the place. He sees unquantifiable magic and potential in the Half Moon and hopes to transform it into a bigger success, but struggles to stay afloat.
His smart and confident wife, Jess, has devoted herself to her law career. After years of trying for a baby, she is facing the idea that motherhood may not be in the cards for her. Like Malcolm, she feels her youth beginning to slip away and wonders how to reshape her future.
Release Date: May 2, 2023
---
Pieces of Blue
Holly Goldberg Sloan
When Paul Hill drowns in a surfing accident, his broken-hearted wife, Lindsey, and their three children are left in huge financial trouble. Once Paul's life insurance finally comes through, Lindsey impulsively uses the money to buy a charmingly ramshackle motel in Hawai'i, hoping for a fresh start. Teenage Olivia quickly develops a crush on a handsome but monosyllabic skateboarder. Twelve-year-old Carlos reinvents himself as a popular kid named Carl. And Sena, the youngest, will do whatever it takes to protect her beloved motel chickens. But while the kids adjust, Lindsey is flailing, trying to pretend she knows how to bring a motel—and herself—back to life.
Release Date: May 9, 2023
---
Someone Else's Bucket List
Amy T. Matthews
Jodie Boyd is a shy and anxious twenty-something, completely unsure what to do with her life. Her older sister, Bree, is an adventurous, globe-trotting, hugely successful Instagram influencer with more than a million followers. She's the most alive person Jodie knows—up until Bree's unfathomable, untimely death from Leukemia. The Boyds are devastated, not to mention overwhelmed with medical debt. But Bree thought of everything—and soon, Jodie is shocked by a new post on her sister's Instagram feed. The first of many Bree recorded in secret.
Release Date: May 23, 2023
---
The Collected Regrets of Clover
Mikki Brammer
From the day she watched her kindergarten teacher drop dead during a dramatic telling of Peter Rabbit, Clover Brooks has felt a stronger connection with the dying than she has with the living. After the beloved grandfather who raised her dies alone while she is traveling, Clover becomes a death doula in New York City, dedicating her life to ushering people peacefully through their end-of-life process. Clover spends so much time with the dying that she has no life of her own, until the final wishes of a feisty old woman send Clover on a trip across the country to uncover a forgotten love story.
Release Date: May 9, 2023
---
The Summer of Songbirds
Kristy Woodson Harvey
Nearly thirty years ago, in the wake of a personal tragedy, June Moore bought Camp Holly Springs and turned it into a thriving summer haven for girls. But now, June is in danger of losing the place she has sacrificed everything for, and begins to realize how much she has used the camp to avoid facing difficulties in her life.
June's niece, Daphne, met her two best friends, Lanier and Mary Stuart, during a fateful summer at camp. They've all helped each other through hard things, from heartbreak and loss to substance abuse.
Release Date: July 11, 2023
---
Small Worlds
Caleb Azumah Nelson
One of the most acclaimed and internationally bestselling "unforgettable" (New York Times) debuts of the 2021, Caleb Azumah Nelson's London-set love story Open Water took the US by storm and introduced the world to a salient and insightful new voice in fiction. Now, with his second novel Small Worlds, the prodigious Azumah Nelson brings another set of enduring characters to brilliant life in his signature rhythmic, melodic prose.
Set over the course of three summers, Small Worlds follows Stephen, a first-generation Londoner born to Ghanian immigrant parents, brother to Ray, and best friend to Adeline.
Release Date: July 18, 2023
---