More people than ever are joining book clubs, and summer book clubs may be the best seasonal pastime. Highly anticipated books in a variety of genres by both notable debut authors and some of your favourite authors are guaranteed to ignite lively book club discussions and establish themselves as summertime favourites for 2023. Here are 10 perfect book club selection for summer 2023.
---
The Marriage Box
Corie Adjmi
Casey Cohen, a Middle Eastern Jew, is a sixteen-year-old in New Orleans in the 1970s when she starts hanging out with the wrong crowd. Then she gets in trouble and her parents turn her whole world upside down by deciding to return to their roots, the Orthodox Syrian Jewish community in Brooklyn.
In this new and foreign world, families gather weekly for Shabbat dinner; parties are extravagant events at the Museum of Natural History; and the Marriage Box is a real place, a pool deck designated for teenage girls to put themselves on display for potential husbands. Casey is at first shocked by this unfamiliar culture.
Release Date: May 2, 2023
---
You Were Always Mine
Christine Pride
Cinnamon Haynes has fought hard for a life she never thought was possible—a good man by her side, a steady job as a career counselor at a local community college, and a cozy house in a quaint little beach town. It may not look like much, but it's more than she ever dreamed of or what her difficult childhood promised. Her life's mantra is to be good, quiet, grateful. Until something shifts and Cinnamon is suddenly haunted by a terrifying question: "Is this all there is?"
Daisy Dunlap has had her own share of problems in her nineteen years on earth—she also has her own big dreams for a life that's barely begun.
Release Date: June 13, 2023
---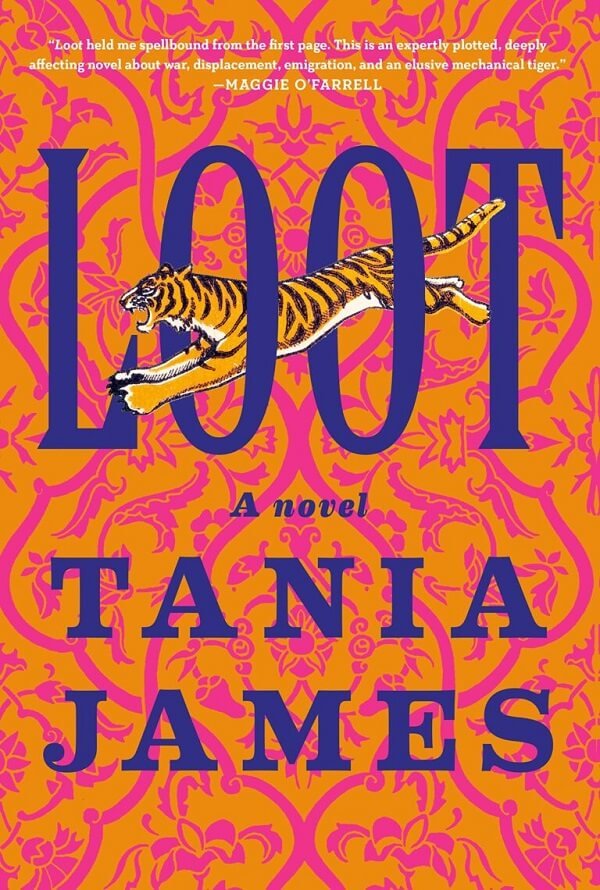 Loot
Tania James
Abbas is just seventeen years old when his gifts as a woodcarver come to the attention of Tipu Sultan, and he is drawn into service at the palace in order to build a giant tiger automaton for Tipu's sons, a gift to commemorate their return from British captivity. His fate—and the fate of the wooden tiger he helps create—will mirror the vicissitudes of nations and dynasties ravaged by war across India and Europe.
Working alongside the legendary French clockmaker Lucien du Leze, Abbas hones his craft, learns French, and meets Jehanne, the daughter of a French expatriate.
Release Date: June 13, 2023
---
Nightbloom
Peace Adzo Medie
When Selasi and Akorfa were young girls in Ghana, they were more than just cousins; they were inseparable. Selasi was exuberant and funny, Akorfa quiet and studious. They would do anything for each other, imploring their parents to let them be together, sharing their secrets and desires and private jokes.
Then Selasi begins to change, becoming hostile and quiet; her grades suffer and she builds a space around herself, shutting Akorfa out. Meanwhile, Akorfa is accepted to an American university with the goal of becoming a doctor. Although hopeful that she can create a fuller life.
Release Date: June 13, 2023
---
The Mythmakers
Keziah Weir
Sal Cannon's life is in shambles. Her relationship is crumbling, and her career in journalism hits a low point after it's revealed that her profile of a playwright is full of inaccuracies. She's close to rock-bottom when she reads a short story by Martin Keller: a much older author she met at a literary event years ago. Much to her shock, the story is about her and the moment they met. When Sal learns the story is excerpted from his unpublished novel, she reaches out to the story's editor—only to learn that Martin is deceased. Desperate to leave her crumbling life behind and to read the manuscript from which the story was excerpted.
Release Date: June 13, 2023
---
The Air Raid Book Club
Annie Lyons
London, 1938: The bookstore just doesn't feel the same to Gertie Bingham ever since the death of her beloved husband Harry. Bingham Books was a dream they shared together, and without Harry, Gertie wonders if it's time to take her faithful old lab, Hemingway, and retire to the seaside. But fate has other plans for Gertie.
In Germany, Hitler is on the rise, and Jewish families are making the heart-wrenching decision to send their children away from the growing turmoil. After a nudge from her dear friend Charles, Gertie decides to take in one of these refugees, a headstrong teenage girl named Hedy.
Release Date: July 11, 2023
---
Women of the Post
Joshunda Sanders
1944, New York City. Judy Washington is tired of having to work at the Bronx Slave Market, cleaning white women's houses for next to nothing. She dreams of a bigger life, but with her husband fighting overseas, it's up to her and her mother to earn enough for food and rent. When she's recruited to join the Women's Army Corps—offering a steady paycheck and the chance to see the world—Judy jumps at the opportunity.

During training, Judy becomes fast friends with the other women in her unit—Stacy, Bernadette and Mary Alyce—who all come from different cities and circumstances. Under Second Officer Charity.
Release Date: July 18, 2023
---
The Beauty of Rain
Jamie Beck
Winning the lottery changed Amy Walsh's life, but the cost was greater than she could bear. In the aftermath, she struggles to find joy and purpose. Only one thing feels certain now—she will never spend one cent of the prize money on herself. Worried, her older sister, Kristin DeMarco, invites Amy to live with her family while she heals. Unfortunately, this arrangement leads to trouble for Kristin: Divided focus affects her career. Her daughter prefers Amy to her. And Amy's unsolicited opinions provoke tension between Kristin and her husband.
Meanwhile, Amy is making drastic plans of her own, which include giving away all her money.
Release Date: July 18, 2023
---
Jackal, Jackal
Tobi Ogundiran
From Shirley Jackson award-nominated author Tobi Ogundiran, comes a highly anticipated debut collection of stories full of magic and wonder and breathtaking imagination! In "The Lady of the Yellow-Painted Library" — featured in Levar Burton Reads — a hapless salesman flees the otherworldly librarian hell-bent on retrieving her lost library book.
"The Tale of Jaja and Canti" sees Ogundiran riffing off of Pinocchio. But this wooden boy doesn't seek to become real. Wanting to be loved, he journeys the world in search of his mother-an ancient and powerful entity who is best not sought out.
Release Date: July 18, 2023
---
Time's Mouth
Edan Lepucki
Ursa possesses a very special gift. She can travel through memory and revisit her past. After she flees her hometown for the counterculture glory of 1950's California, the intoxicating potential of her unique ability eventually draws a group of women into her orbit and into a ramshackle Victorian mansion in the woods outside Santa Cruz. Yet Ursa's powers come with a cost. Soon this cultish community of sisterhood takes an ominous turn, prompting her son, Ray, and his pregnant lover, Cherry, to flee their home for Los Angeles and reinvent themselves far from Ursa's insidious influence. But escaping their past won't be so easy.
Release Date: August 1, 2023
---