ChatGPT is an extremely sophisticated language model that can effortlessly predict the next word and generate written material with astounding precision. Reinforcement Learning with Human Feedback (RLHF), a novel additional layer that improves the model's capacity for understanding and participating in natural language conversations, has been used to train it to respond to human requests.
Don't undervalue how crucial it is to give precise instructions if you want to use ChatGPT to its full potential. You are teaching yourself how to ask the appropriate questions and provide the proper information, not just the AI bot. Once the desired result is attained, you must diligently analyse ChatGPT's responses and modify your prompts as necessary.
You can utilise the programme Originality.ai (currently in beta) to look for AI-generated content and possible plagiarism to confirm that ChatGPT's output is accurate. Despite its strength, ChatGPT still has a chance of producing incomplete information. Always double-check your facts and edit as necessary.
---
Create E-books
A full-fledged fiction novel can be created with ChatGPT, but it takes time and teamwork. You may make your story into a stunning piece of art by clearly explaining your goal to the AI and continually improving your prompts. Romance is a classic genre that provides a great illustration of this.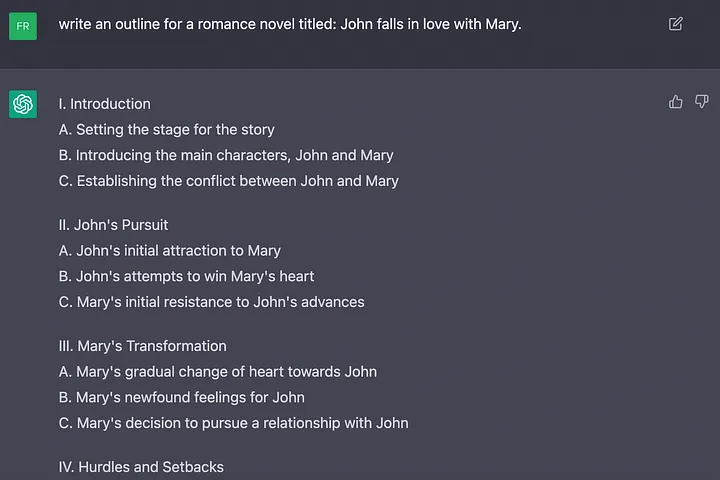 Well-written romance stories are known for being lucrative and having a set pattern. A heartwarming romance story is simple to write if you have a handle on the essential components and the star character who steals the show.
Don't stop there though. You might just find the secret to creating bestselling e-books at breakneck speed by pushing ChatGPT to its boundaries, improving your writing abilities, and embracing patience.
---
Translation Services With ChatGPT
A number of factors, such as cultural subtleties, technical terminology, audience, and goal, must be considered in order to achieve an accurate translation. ChatGPT can be taught to understand the subtleties of several languages through machine learning, but this process is time-consuming and expensive.
Offering translation as a service is the best option if you want to make rapid money in the translation industry. This kind of translation does not necessitate a thorough knowledge of cultural nuances or idioms. You may simply translate instruction manuals, product descriptions, and training materials using ChatGPT, which opens up a wide range of possibilities.
Choose a straightforward paragraph and translate it into another language to judge ChatGPT's translation capabilities. Let's take an English text that has been translated into Spanish as an example.
You can check the text's accuracy by comparing it to Google Translate or having ChatGPT translate the content from Spanish to English. The translation was flawless, as can be seen in the example. This shows that you can still easily execute conventional translations even if you don't speak the destination language.
---
Create Web Tools With Simple Code
ChatGPT is a versatile programme that does more than just create realistic text. Imagine having instant access to the tools you need to create unique web tools.
It is a fact with ChatGPT. Consider the possibility that your sales crew has access to a calculator for commission calculations. There's no need to rely on a site designer or pay for upgrades if commission rates change because ChatGPT makes the procedure simple and quick.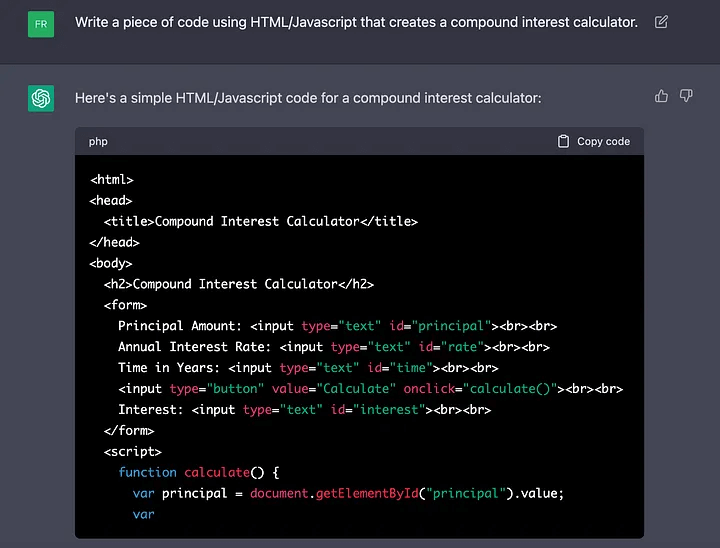 ---
Rewrite Blog Titles and Blog Posts
It has never been easier to improve the content of an existing blog article. Let ChatGPT help you make your writing more search engine friendly. You may increase the exposure of your blog by learning the foundations of SEO, choosing the right keywords to use, and letting AI execute the labor-intensive tasks.
While the results might not always be perfect, using AI to update numerous blog entries can substantially speed up the process and save you a lot of time. Don't pass up the chance to promote your writing abilities and profit from the lucrative market of often updated blog content.
---
Create an Online Course and Sell It On Learning Platforms
Make your course design process more effective with ChatGPT. Wow your audience with dynamic marketing materials and outlines produced by this AI application. Add multimedia elements from video creation platforms like Synthesia to the experience to further improve it. To reach a larger audience, offer your course on reputable e-learning sites like Udemy, Skillshare, and Thinkific.
Prepare to create a 3-week, 3-hour-per-day course on using ChatGPT to make money that will have an impact. Let ChatGPT be your ally while you pursue this educational goal.
---
Copywriting Services
Writing captivating copy may be quite difficult, especially if you have to produce it frequently. When you need a spark of inspiration or help getting beyond writer's block, ChatGPT can help. This AI tool is a useful asset whether you're producing convincing content that converts or simply need a new viewpoint.
ChatGPT's capacity to write utilising certain copywriting frameworks is one of its distinctive qualities. AIDA, PAS, and BAB fall under this. Give the AI instructions like "Generate a PAS" or "Write an AIDA" and see it at work.
This makes it simple to provide copywriting services, whether for website content, ad text, or product descriptions. Hence, ChatGPT is here to help you optimise your process and produce high-quality copy faster, whether you're a content creator or a professional copywriter. Write effectively and efficiently instead of laboriously.
---
Create Business Names and Slogans
With ChatGPT, coming up with titles and catchphrases for your company is a breeze. If you choose to use a step-by-step manual or provide the AI model with details about your target market, location, budgetary situation, etc., the model will generate personalised recommendations based on its training data. Think about opening a clothing shop in the thriving city of San Francisco, for instance.
Simply request ChatGPT to generate ten possible titles and taglines. You'll have a selection of choices at your disposal in a matter of seconds. However, make sure to quickly check Google and social media to make sure the name is available before deciding on it. Additionally, you can check up trademarks state by state or conduct a free nationwide trademark search online.
And who knows, with ChatGPT's assistance, you might just stumble upon a unique moniker and slogan that could earn you a healthy profit on Fiverr. Why not give it a try and differentiate your company from the competition?
---
Blogging
It's crucial to give the AI clear and detailed directions in order for ChatGPT to produce exceptional and unique content. As a result, the model will be able to create unique content that represents a particular point of view. When writing, be sure to state your intentions for the article clearly and include any background information that is required.
But keep in mind that it's essential to add your unique viewpoint and touch to the writing. Make sure your material is original and free of plagiarism by using Originality.ai.
---
Create Social Media Posts
In the world of social media, ChatGPT truly shines, producing outstanding outcomes in the form of quick tweets, captivating Instagram captions, educational essays on LinkedIn, and even scripts for TikTok. ChatGPT can manage both short texts and lengthy compositions with lightning speed.
A recent Facebook post showed how much information was needed, and ChatGPT provided a strong base that only required a little personalization through editing. Even with the odd repetition of introductory phrases like "Are you tired of…", the output was initially impressive. However, with a little adjustment, it can be made into a completely one-of-a-kind and customised creation.
---
Write Bios and Resumes
It can be exhausting to look for a new job. Even the initial actions before pressing "submit" can seem like a difficult job. Consider taking the following actions to remain in the lead:
Renew your social media profiles to give your online image a facelift.
Update your resume to better reflect your abilities and expertise.
Create a unique resume for each different employment opportunity.
---
Offer Travel Itinerary Services
Remember that ChatGPT's database only goes until 2021, so don't count on finding the most recent data there. Its extensive understanding of cultures, countries, and geography nevertheless makes it a useful tool for organising trips.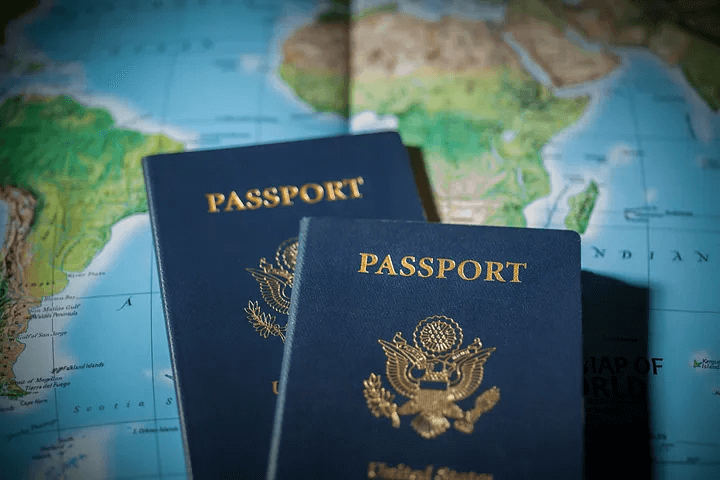 Imagine the excitement of discovering new places, and let ChatGPT be your travel advisor. You can create and fine-tune a special itinerary that is tailored to your preferences by simply conversing with it. Its capability to easily and interactively develop a vacation plan is unrivalled.
Make your vacation a reality by starting with ChatGPT's output and then adding the most recent information on costs and logistics. The outcome will be a gorgeous itinerary that is almost ready to depart. With ChatGPT by your side, you can turn your passion for travel into a profitable venture by planning itineraries for others.
---
Making Videos With ChatGPT
The possibilities are endless when it comes to creating captivating videos that will pay you handsomely when ChatGPT is by your side. Join forces with additional cutting-edge tools like Pictory, Speechify, Murf.ai, and others to easily produce genuinely remarkable videos.
These applications can quickly transform your lengthy content into shareable, bite-sized video clips that are suitable for product demonstrations, explainer films, marketing materials, and more thanks to AI technology. To make the most of these technologies, ChatGPT is essential for creating the best script and instructional videos.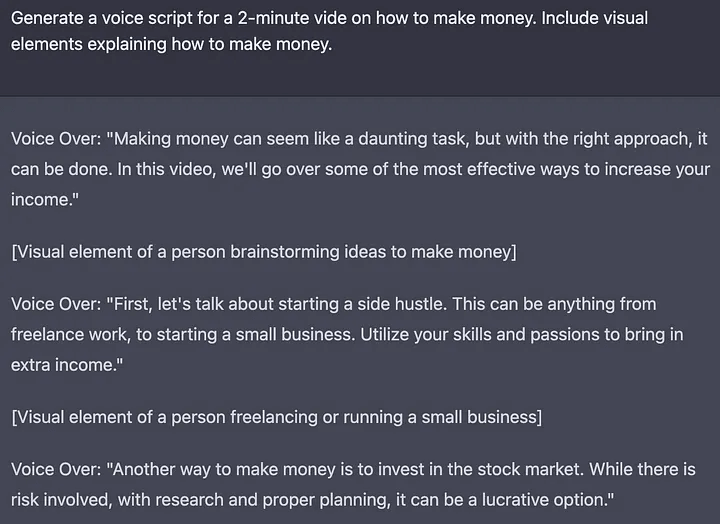 The voice-over is an essential component of every video production, so don't overlook it. The ideal screenplay can be written using ChatGPT, and with text-to-speech software, you can quickly convert those words into a voice-over that is properly presented.
Use it to create scripts and instructions that appear professional, and you can even use it to create keywords to improve SEO. You may have a voice-over prepared and a script for a video available in a matter of seconds. The results will be better the more information you include. People prefer to watch videos than read books, hence video production is in high demand.
---
Final Thoughts
With ChatGPT, unleash the limitless earning potential. With its extensive possibilities, your creativity and inventiveness are only limited by your imagination. The question of whether robots will eventually replace people in the workforce makes some people nervous about advances in AI. It's a two-edged sword, though, since although certain industries may see employment losses, others, like prompt engineering, may see new career opportunities arise.
Remember that while ChatGPT is currently accessible for free, this offer won't endure indefinitely. With major firms like Microsoft investing in OpenAI, monetization is imminent as they prepare to incorporate the technology into their products and provide it as a platform to other businesses. The chance to monetize ChatGPT won't wait, so act quickly and seize the moment.
---