The importance of artificial intelligence (AI) is growing as organisations and individuals strive for greater agility and efficiency. AI solutions are being used more and more to boost productivity and streamline corporate processes.
AI is transforming the way we work, from sentiment analysis and image/video production to predictive analytics. This article analyses the top AI technologies on the market to assist you in increasing productivity across the board.
This page discusses a wide variety of AI tools, which is sometimes perplexing. Given the disparities between each AI productivity tool and its intended use, ranking them in a particular order is difficult. However, we have made an effort to give you a thorough list of practically everything AI can assist you with. You may be sure that a tool is worthwhile to consider for enhancing your workflows and overall productivity if it has made our list. Let's explore these excellent AI options to see which one best suits your requirements.
---
10Web
10Web AI WordPress Builder is a potent AI-powered platform that makes it simple and quick to build high-quality WordPress websites. You can modify your website to your exact specifications with its drag-and-drop editor without having any prior coding experience.
Key Features
Creating websites with text and photos using AI.
Based on WordPress, the most flexible platform for building websites.
For an even speedier procedure, use AI to reconstruct outdated websites.
Best For
10Web AI Businesses and agencies looking to quickly and easily build quality websites should consider WordPress Builder. With its AI-powered features, 10Web can assist you in building a website that is both aesthetically pleasing and educational. The WordPress platform also enables you to further modify your website to suit your unique requirements.
Pricing
$10/mo, including AI, hosting, and security tools.
---
Alli AI
Alli AI is an AI-powered SEO tool that offers practical insights and suggestions to optimise websites, raise search rankings, and boost organic traffic. From its user-friendly interface, Alli may begin modifying your entire website with a straightforward embed script (or WordPress plugin). It makes recommendations and quickly (and dynamically) implements modifications throughout your website.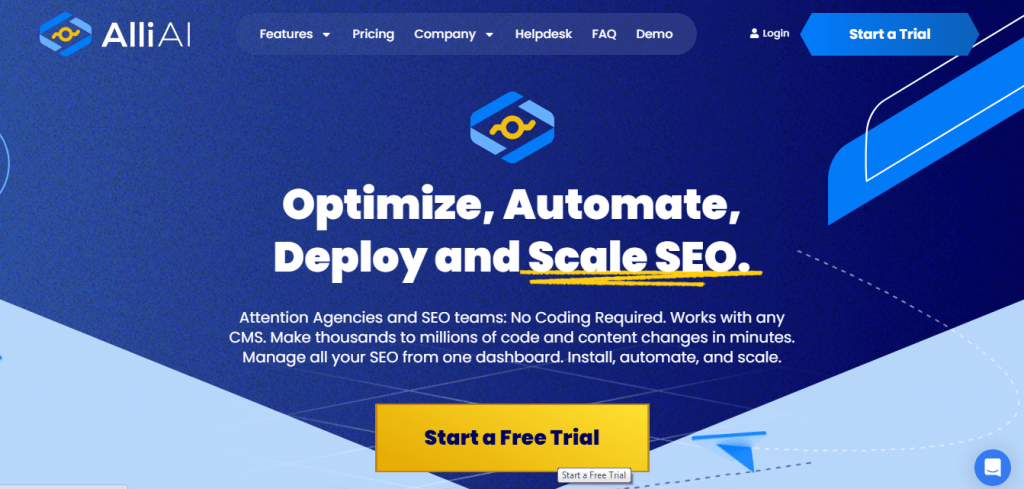 Key Features
Regardless of the CMS or website builder, your website may be optimised for performance.
Bulk content recommendations for on-page optimisation.
A/B testing for SEO that is simple to deploy.
Best For
Due to its AI-powered SEO optimisation, Alli AI is a fantastic option for companies managing numerous websites who want to raise their search positions and increase their organic traffic.
Pricing
Plans start from $249 / mo.
---
AskYourPDF
Can I have a personal ChatGPT that draws data from certain data sources? asks AskYourPDF. By analysing the content and making it simpler to understand and work with, it is an AI-driven text analyzer that assists users in extracting useful information from PDF files. AskYourPDF can make information mining as simple as talking to your document, whether you're sifting through a lengthy quarterly financial report or attempting to rapidly find the most important information in a 29-page scholarly study.
Key Features
Extraction of PDF content using AI.
Examination and synthesis of the text.
Extraction and analysis of keywords.
Best For
Professionals, students, and researchers that need to rapidly and effectively extract and analyse information from PDF files using simple queries may find AskYourPDF to be extremely useful.
Pricing
At the time of publishing, this is an entirely free AI chatbot.
---
CodeWP
CodeWP is an AI-powered WordPress code generator that makes it easier than ever for developers of all experience levels to build and extend WordPress websites. You can use pre-made and approved code snippets, generate code for a variety of tasks, and write secure, effective code that complies with WordPress standards with CodeWP.ai.
Key Features
Secure, efficient, and compliant code.
Pre-made and vetted code snippets are available.
WordPress code generation + for your favorite plugins
AI-driven WordPress code generation (PHP, CSS, HTML, JS)
Best For
Rapid code creation for CodeWP can be advantageous to WordPress design firms, independent contractors, and experienced owners of even single websites. It generates short bits of code that let you further customise your WordPress installation. Additionally, it saves everything for use on any other websites you may have in the future. This is particularly advantageous for companies building numerous websites that might share certain functionality.
Pricing
Free plan available with paid plans starting at $12/mo.
---
Fliki
Fliki is a technology that converts written text into excellent audio content using artificial intelligence (AI). It can also employ photos and b-roll films to make straightforward voiceover videos by pulling them from blogs and other sources. built by the same group that created the well-known Rytr AI writing programme.
Key Features
A process for making videos from blogs.
Background music, photos, and video clips are all included in the stock media library.
75+ language TTS voiceovers using 900+ voices.
Best For
Fliki is a game-changer for organisations, marketers, and content producers looking to produce compelling films based on text and still images and enhance their storytelling talents.
Pricing
Free plan with paid plans starting at $8 / mo.
---
Illustroke
Illustroke is a potent AI-powered tool that makes it simple for designers to produce beautiful and distinctive graphics. Other tools create generic.jpg images, but this one creates editable vectors that, once downloaded, may be resized and modified.
Key Features
drawings produced by AI that are either coloured or not.
Without the need for credit, commercial use is permitted.
API for creating graphics in mass and automatically.
Each prompt or token has four vector alternatives.
Best For
Illustroke is designed specifically for web designers, illustrators, and other creative professionals who want to use AI to quickly and easily produce eye-catching illustrations.
Pricing
Starts at $5.4 for 50 tokens. No subscription fee. Pay as you use.
---
Magic Studio
Users may quickly and easily create gorgeous visuals, such as social media posts, product photos, and other graphics, using the AI-powered design tool known as Magic Studio.
Key Features
Eraser and remover of backgrounds.
To remove undesired things from photographs, use the Magic Eraser.
Using AI, an image enlarger can scale up photographs without sacrificing quality.
Best For
Magic Studio helps artists realise their full creative potential by making it simple for them to develop aesthetically stunning graphics without the need for pricey software or complex design abilities.
Pricing
Free image creation with paid plans starting at $19.99 / mo
---
Ocoya
Ocoya is a social media platform with AI that assists businesses in automating their social media posting. Additionally, Ocoya offers tens of thousands of social media themes along with a skilled AI writer to assist you in producing eye-catching social media visuals.
Key Features
Generation of social media content using AI.
Geared towards copywriting.
Scheduling across platforms is now relatively simple.
Linkages with e-commerce for product-based marketing materials.
Best For
For companies and eCommerce projects looking for simple social media content generation and scheduling to increase their online presence, Ocoya is a dream come true.
Pricing
Starting at $19 / mo and up.
---
Originality.ai
By scanning and comparing the material to billions of web pages and academic databases, Originality.ai, an AI-powered plagiarism detection tool, lets users make sure their content is original and free of plagiarism. Its sole function is to contrast your writing with a vast database of previously published writing. It can even indicate whether the presented text was probably produced by generative AI.
Key Features
Extensive database to compare against.
Detailed similarity report.
Detects if written content is likely written by AI.
Best For
Students, teachers, editors, and content creators looking for an AI-powered solution to make sure their work is original, plagiarism-free, and upholds a high degree of integrity would love Originality.ai.
Pricing
$0.01 per credit, where one credit scans 100 words.
---
Pencil
Pencil is an AI-driven tool that helps companies develop effective digital advertising campaigns by generating original ad designs, copy, and ideas. This platform excels at just one thing. If Pencil hasn't already done it for you, other AI social content creators might.
Key Features
AI-built ad concepts and designs.
Ad analytics and recommendations.
Before you spend a penny, AI makes performance forecasts.
Multi-dimensional media files produced for cross-platform use.
Best For
Pencil is perfect for in-house marketing teams and agencies looking to produce extremely effective campaigns by leveraging AI to produce appealing digital advertising at every level.
Pricing
Plans start at $119 / mo for this advanced ad platform
---
Pro Rank Tracker
By tracking keyword ranks and generating relevant data, Pro Rank Tracker is an AI-driven search engine optimisation tool that aids companies in increasing their online presence. Once you link it to your Google Search Console (GSC) account, it begins to collect all the relevant data. The best part is that it monitors and shows ranking history so you can see how your websites have changed over time.
Key Features
Tracking of daily keyword rank.
Perfect for agencies handling client accounts are sub-accounts.
Use a SERP tracker to monitor changes among the top 100 results.
Best For
Businesses, digital marketers, and SEO experts that want to keep track of website performance, optimise content, and stay one step ahead of rivals in the dynamic digital marketplace may find Pro Rank Tracker useful.
Pricing
Free plan available with paid plans starting at $13.50 / mo.
---
Resume.io
Users can produce polished resumes that are customised to particular job positions using the AI-powered resume builder on Resume.io. In order to help you secure the bag, it takes care of resume templates and offers assistance with appropriate phrasing.
Key Features
Tested resume formats that export to Word or PDF.
AI cover letter and summary generator.
Simple job monitoring to keep track of applications submitted.
Best For
For those looking for unique resumes for job applications, Resume.io offers a user-friendly interface that makes them stand out.
Pricing
Limited free plan with paid plans starting at $44.95 / 6 mo.
---
Retention Science
Retention Science is an AI-driven platform for client retention that aids firms with customer behaviour analysis, campaign personalization, and increased customer loyalty. To provide individualised email marketing campaigns, thorough segmentation, and analytics / reporting utilising cutting-edge AI and Machine Learning (ML), it links directly to a store's data layer.
Key Features
Customer behaviour analysis driven by AI.
Dedicated success managers are available to assist with system onboarding.
Adapts email marketing campaigns to each recipient's preferences to maximise customer retention.
Best For
Large eCommerce organisations may use Retention Science to increase client retention rates, encourage customer loyalty, and spur growth through data-driven insights and tailored marketing initiatives.
Pricing
Custom pricing only via a sales representative.
---
Surfer SEO
An AI-driven SEO tool called Surfer SEO assists customers in analysing and optimising their content for higher search rankings and more organic traffic. By studying SERPs and developing content briefs with detailed outlines, you can use it to get your content creation process started. After the content is developed, Surfer uses natural language processing (NPL) to compare it to the top articles in the SERPs and offers advice on how to outperform the competition.
Key Features
Real-time content analysis and optimisation in the Surfer editor can improve blog articles.
Based on actual SERP data and keyword volume, keyword research.
Grow Flow regularly scans your website for content deterioration and fast wins.
Best For
Digital marketers, content producers, and website owners looking to optimise their content, improve search engine ranks, and beat rivals in search results will find Surfer SEO to be suitable.
Pricing
Plans start at $19 / mo.
---