The atmospheric South offers a variety of ideal locations for a fascinating mystery, from the desolate plains of West Texas to the oppressive swamplands of Florida. Here are 8 of the best recent mysteries set in the South, whether you're searching for a buzzy debut like Brendan Slocumb's The Violin Conspiracy or an eagerly awaited addition to a cherished series like Bloodless by Lincoln Child and Douglas Preston.
---
Blind Tiger
Sandra Brown
Thatcher Hutton, a war-weary soldier on the way back to his cowboy life, jumps from a moving freight train to avoid trouble . . . and lands in more than he bargained for. On the day he arrives in Foley, Texas, a local woman goes missing. Thatcher, the only stranger in town, is suspected of her abduction, and worse.
Standing between him and exoneration are a corrupt mayor, a crooked sheriff, a notorious cathouse madam, a sly bootlegger, feuding moonshiners . . . and a young widow whose soft features conceal an iron will. What was supposed to be a fresh start for Laurel Plummer turns to tragedy.
Release Date: August 3, 2021
---
The Last House on the Street
Diane Chamberlain
1965 – Growing up in the well-to-do town of Round Hill, North Carolina, Ellie Hockley was raised to be a certain type of proper Southern lady. Enrolled in college and all but engaged to a bank manager, Ellie isn't as committed to her expected future as her family believes. She's chosen to spend her summer break as a volunteer helping to register black voters.
But as Ellie follows her ideals fighting for the civil rights of the marginalized, her scandalized parents scorn her efforts, and her neighbors reveal their prejudices.
Release Date: January 11, 2022
---
The Marsh Queen
Virginia Hartman
Loni Murrow is an accomplished bird artist at the Smithsonian who loves her job. But when she receives a call from her younger brother summoning her back home to help their obstinate mother recover after an accident, Loni's neat, contained life in Washington, DC, is thrown into chaos, and she finds herself exactly where she does not want to be.
Going through her mother's things, Loni uncovers scraps and snippets of a time in her life she would prefer to forget—a childhood marked by her father Boyd's death by drowning and her mother Ruth's persistent bad mood.
Release Date: September 6, 2022
---
Bloodless
Lincoln Child and Douglas Preston
A fabulous heist: On the evening of November 24, 1971, D. B. Cooper hijacked Flight 305—Portland to Seattle—with a fake bomb, collected a ransom of $200,000, and then parachuted from the rear of the plane, disappearing into the night…and into history.
A brutal crime steeped in legend and malevolence: Fifty years later, Agent Pendergast takes on a bizarre and gruesome case: in the ghost-haunted city of Savannah, Georgia, bodies are found with no blood left in their veins—sowing panic and reviving whispered tales of the infamous Savannah Vampire.
Release Date: April 26, 2022
---
The Violin Conspiracy
Brendan Slocumb
Growing up Black in rural North Carolina, Ray McMillian's life is already mapped out. But Ray has a gift and a dream—he's determined to become a world-class professional violinist, and nothing will stand in his way. Not his mother, who wants him to stop making such a racket; not the fact that he can't afford a violin suitable to his talents; not even the racism inherent in the world of classical music.
When he discovers that his beat-up, family fiddle is actually a priceless Stradivarius, all his dreams suddenly seem within reach, and together, Ray and his violin take the world by storm.
Release Date: February 1, 2022
---
A Flicker in the Dark
Stacy Willingham
When Chloe Davis was twelve, six teenage girls went missing in her small Louisiana town. By the end of the summer, her own father had confessed to the crimes and was put away for life, leaving Chloe and the rest of her family to grapple with the truth and try to move forward while dealing with the aftermath.
Now twenty years later, Chloe is a psychologist in Baton Rouge and getting ready for her wedding. While she finally has a fragile grasp on the happiness she's worked so hard to achieve, she sometimes feels as out of control of her own life as the troubled teens who are her patients.
Release Date: January 11, 2022
---
Long Shadows
David Baldacci
When Amos Decker is called to South Florida to investigate a double homicide, the case appears straightforward: A federal judge and her bodyguard have been found dead, the judge's face sporting a blindfold with two eye holes crudely cut out, a clear sign that she'd made one too many enemies over her years on the bench. What at first seems cut and dry is anything but: Not only did the judge have more enemies than Decker can count—from violent gang members, drug dealers, and smugglers to a resentful ex-husband—but the bodyguard presents additional conundrums that muddy the waters even further. Who was the real target in this vicious attack?
Release Date: October 11, 2022
---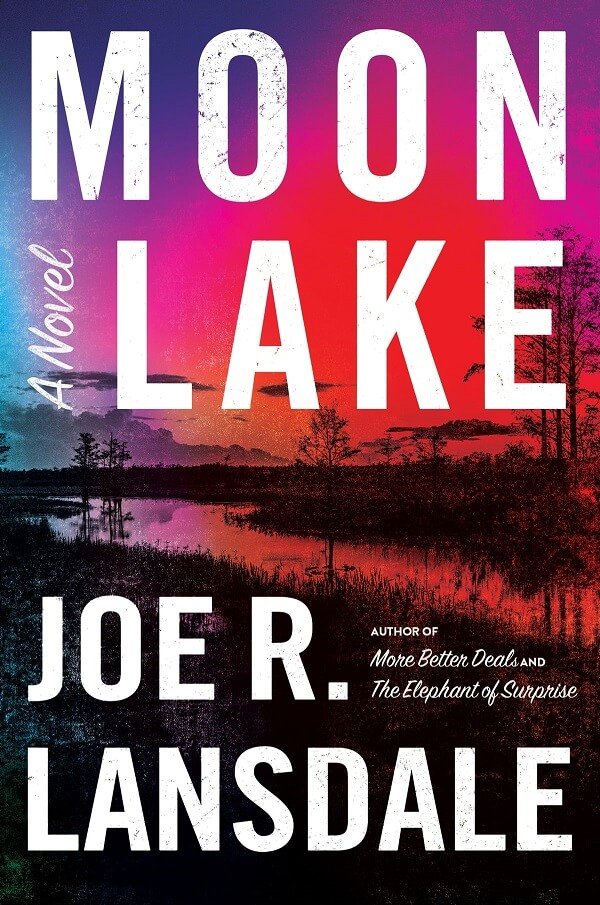 Moon Lake
Joe R. Lansdale
Daniel Russell was only thirteen years old when his father tried to kill them both by driving their car into Moon Lake. Miraculously surviving the crash—and growing into adulthood—Daniel returns to the site of this traumatic incident in the hopes of recovering his father's car and bones. As he attempts to finally put to rest the memories that have plagued him for years, he discovers something even more shocking among the wreckage that has ties to a twisted web of dark deeds, old grudges, and strange murders. As Daniel diligently follows where the mysterious trail of vengeance leads, he unveils the heroic revelation at its core.
Release Date: June 22, 2021
---