Have you ever left a long meeting, gone to the kitchen to get some soda water, and then remembered your next steps? Then you must have an AI meeting tool on hand. The top AI-powered meeting solutions can do a lot of things, like providing advanced analytics, real-time transcription of spoken dialogues, automatic task generation when they are discussed in the discussion, and much more. This technology makes every meeting more productive and actionable, similar to having a personal administrator in your pocket.
For startups and small businesses who do not have the marketing resources to develop high-quality creative assets, image generating software can be a very useful AI tool. They're also great tools for designers to use in their own thought processes to generate first sketches, research fresh artistic trajectories, and get inspired. These AI image-generation tools can help you if you want to edit images, visualize data, or establish the artistic voice of your company.
The ability to generate, evaluate, and improve your recordings is provided by AI tools for video, which resemble a cross between writing assistant software and AI image generation. Here are 8 best AI Tools you should use in 2023.
---
BlueWillow
Brand logos, marketing materials, and visuals may be quickly created with BlueWillow's AI art-generating capabilities. With a verified Discord account, you may access this tool, which generates four images for each word description you enter. Your results will be greater the more specific your description is!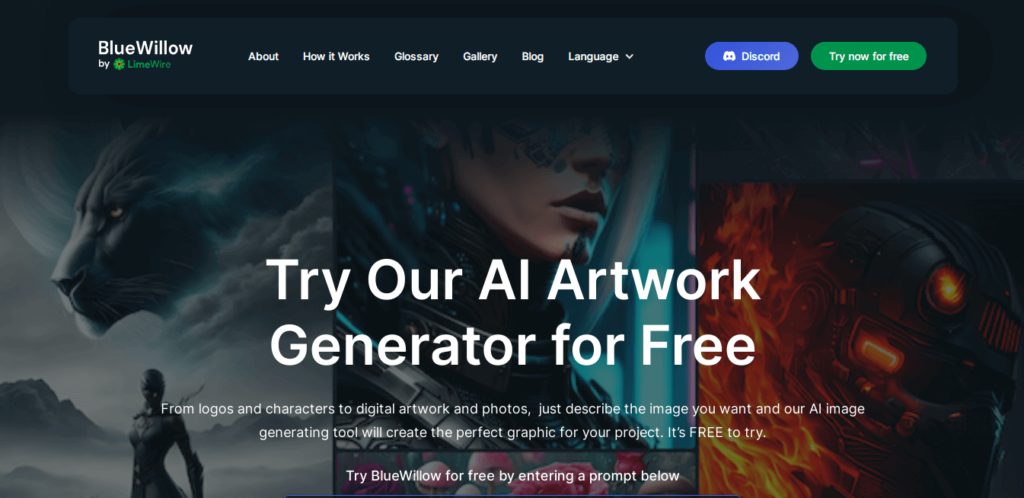 Features
If BlueWillow doesn't produce the desired results, you can improve its output quality or reorder your results to produce four more photos.
Several artistic techniques to produce graphics or photostylized images.
A significant Discord user base of over 300 million.
Directly save your BlueWillow pictures to your PC.
Limitations
Individual art requests might be handled with this technique more effectively than with rolling campaigns or expert branding.
To use BlueWillow, you need a Discord account.
Pricing
Contact BlueWillow for all other pricing information.
---
Bria
Bria uses AI to easily and quickly produce ethical and individualized visual content at scale. It is intended for businesses, teams of professionals, artists, and developers who need to produce aesthetically appealing marketing material, social media assets, advertising content, or any other type of creative project. Bria has the ability to speed up the content development process, enabling teams to save time and effort without compromising quality when used properly.
Features
To fine-tune your material, use the object re-generator and background generator.
Possibility of changing the appearance, facial expressions, and people featured in your content.
Promotes moral AI research to give artists complete control over their creations.
Open access for academics and organizations.
Limitations
For a fully streamlined experience, it might not be compatible with your existing operating systems or tech stack.
Learning Bria's user interface can be a little difficult at first.
Paid services can be quite expensive.
Pricing
Pay as You Go: Contact for pricing.
For Business $1700 per month.
Enterprise Ready: Contact for pricing.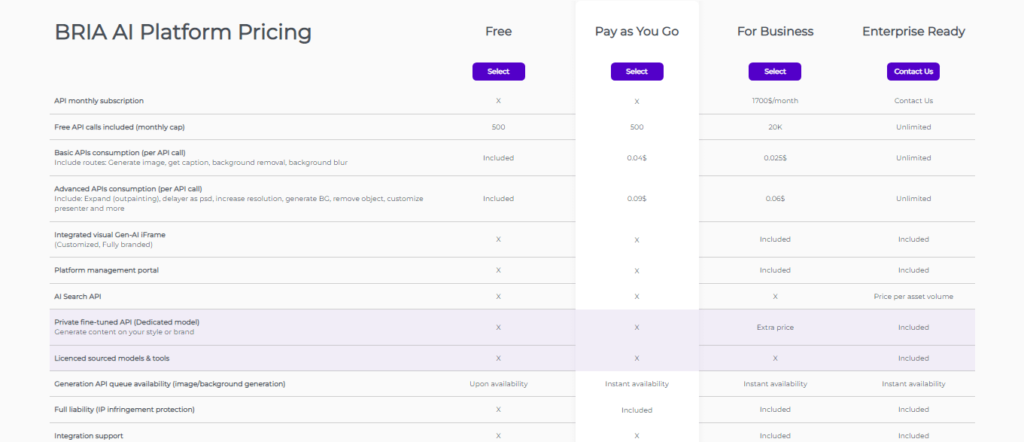 ---
DeepBrain AI
DeepBrain AI is known for its conversational AI avatars and specializes in offering video generation services. You can utilize DeepBrain to create a lifelike avatar that is tailored to your brand identity and guidelines rather than paying actors or anchors to facilitate your training videos.
Features
The app's user interface (UI) is simple to use, and there are a number of video templates available for instant use.
Automated subtitles and text-to-speech features for creating voiceovers from scripts.
The capacity to generate avatars and films from text descriptions.
Has 100 AI avatars and supports more than 80 languages.
Limitations
Expensive, especially if you require this kind of film for several ventures.
Pricing
Starter: Starts at $30 for 10 minutes per month, up to $180 for 60 minutes per month.
Pro: Starts at $225 for 90 minutes per month, up to $600 for 240 minutes per month.
Enterprise: Contact DeepBrain for pricing
---
Fathom
To automate the tedious tasks associated with virtual conference calls, organizations and individuals can use the artificial intelligence application called Fathom. Fathom can rapidly highlight, transcribe, summarize, and arrange your key takeaways whether you're utilizing Zoom, Microsoft Teams, or Google Meet. It also provides a variety of features made specifically for your team! Fathom may compile the essential points of your meetings into "playlists" to speed up training processes and serves as a searchable library for calls to separate out themes.
Features
Generous free plan for users experimenting with the most popular AI meeting helper capabilities.
Features that are team-oriented to improve the effectiveness and efficiency of the sales process for all parties.
To share only the most intriguing videos from your meeting, create a "playlist" of the highlights.
Your call notes can be generated automatically and synced with different CRM programs.
Limitations
Limited language support compared to other tools of a similar nature.
At first, some users find the UI to be overwhelming.
Pricing
Contact Fathom for other pricing details.
---
Sembly
Sembly produces actionable insights rather than just the standard meeting notes. The task, project, and activities capabilities of Sembly, an AI tool that has all the characteristics of the majority of machine-learning meeting apps, set it apart from its rivals and help you match your takeaways with your to-do list.
Features
In the case that you are double booked, Sembly can "attend" a meeting on your behalf and offer notes from the conversation.
Utilize its integrated chatbot to create emails, summaries, or transcriptions based on the subjects discussed in any meeting.
Follow-ups that are automated with the ability to transmit meeting insights to other task management applications.
It can keep track of significant information like KPIs and revenue mentioned in meetings.
Limitations
The functionality of Sembly does not lend itself well to complex processes or workflows, despite the fact that it offers certain task and project management functions.
Pricing
Professional: $10 per month.
Team: $20 per user, per month.
Enterprise: For over 40 users, contact Sembly for pricing.
---
Spinach
Other leafy greens would be shaken out of their boots by the level of functionality that Spinach packs because it was created with development teams in mind. Spinach can manage your daily standups, write meeting recaps, and recommend tickets with the touch of a button, acting as your very own personal AI Scrum Master. This GPT-4-based agile meeting solution interfaces with a variety of different work products, like as ClickUp, to facilitate more effective workflows. Spinach creates organized summaries rather than meeting recordings or transcripts to identify roadblocks and motivate your team to act.
Features
Manages all written updates and judgments, including minutes, notes, action items, and major decisions, made throughout any meeting.
For your sprint planning, daily standups, sprint retrospectives, and backlog grooming sessions, there are numerous integrations available.
Provides context from appropriate meetings to attendees and creates your agenda for you.
Directs suggestions for bug or feature tickets into Slack.
Limitations
Lacking some traditional AI meeting capabilities that other platforms offer to further record dialogues.
Pricing
Enterprise: Contact Spinach for other pricing details.
---
Stockimg
Stockimg creates expert, high-quality photos quickly using AI. Stockimg offers inventive brand solutions for a variety of use cases, including book covers, posters, and stock photos. Users can simply obtain personalized photos that meet their unique requirements by entering descriptions or other text.
Features
To create stock pictures, book covers, posters, wallpaper, logos, graphics, icons, and even web or mobile UI, Stockimg was created.
Create your own design or pick a fast use option from a selection of AI-created stock images.
A simple to use interface that is clear and intuitive.
Limitations
Sometimes, Stockimg has trouble comprehending images that need text (such as book covers, graphics, and posters) and will produce text that is illegible.
Not a lot of ways to customize your AI-generated output
Pricing
Enterprise: Contact Stockimg for information.
---
tl;dv
tl;dv, which stands for "too long, didn't view," is a GPT-powered tool for quickly catching up on meetings. Teams in charge of recruiting, sales, and customer success can all significantly reduce the amount of time spent on meetings by combining tl;dv with popular meeting apps like Google Meet or Zoom.
Features
Simple editing tools to extract the best moments from your meeting and showcase them for investors or clients.
In the case that you were OOO or overslept, look up themes covered in meetings throughout your firm.
Your meetings will be automatically translated into more than 30 languages, including English, French, Spanish, German, Japanese, and others.
tl;dr aligns your meetings with your workflows by integrating with well-known CRMs and collaboration tools.
Limitations
Each meeting is recorded for three hours. If you go above that amount, you'll have to stop the meeting and restart it in order to record more.
The recording and transcribing functions of tl;dv are currently only supported by Google Meet and Zoom. You're out of luck on this one if you use Microsoft Teams.
Before you go all-in, make sure your tech stack is entirely compatible with tl;dv because some of its integrations are more valuable than others.
Pricing
Pro: $20 per user, per month.
Enterprise: Contact for custom pricing.
---