Spring is quickly approaching, and now is a great time to arrange your book club selections as the weather slowly begins to change. These are 8 of the most thought-provoking book club selections for spring 2023, whether you're looking for a tale about parenting, resiliency, sorrow, or redemption.
---
Fractured Soul
Akira Mizubayashi
Tokyo, 1938. An amateur quartet, led by the compassionate Yu, gathers to practice. Suddenly, their rehearsal is brutally interrupted by military police. In the ensuing skirmish, Yu's violin is smashed while his son, Rei, witnesses his father's arrest. He will never see him again. Salvaging his father's instrument, Rei escapes thanks to a mysterious lieutenant. Paris, 2003. Raised in France, Rei–now Jacques–has dedicated his life to the broken violin's repair: studying music, becoming an apprentice, and, eventually, a luthier. However, despite his effort to rehabilitate the damage of years ago, he struggles to reconcile his past with the present.
Release Date: March 14, 2023
---
A Broken People's Playlist
Chimeka Garricks
A Broken People's Playlist is set to the soundtrack of life, comprised of twelve music-inspired tales about love, the human condition, micro-moments, and the search for meaning and sometimes, redemption. It is also Chimeka Garricks's love letter to his native city, Port Harcourt, introducing us to a cast of indelible characters in these loosely interlocked tales. There is the teenage wannabe-DJ eager to play his first gig even as his family disastrously falls apart—who reappears many years later as an unhappy middle-aged man drunk-calling his ex-wife; a man who throws a living funeral for his dying brother.
Release Date: March 21, 2023
---
Wandering Souls
Cecile Pin
After the last American troops leave Vietnam, siblings Anh, Minh, and Thanh journey to Hong Kong with the promise that their parents and younger siblings will soon follow. But when tragedy strikes, the three children are left orphaned, and sixteen-year-old Anh becomes the caretaker for her two younger brothers overnight. In the years that follow, Anh and her brothers immigrate to the UK, living first in overcrowded camps and resettlement centers and then, later, in a modernizing London plagued by social inequality. Anh works in a factory to pay the bills. Minh loiters about with fellow high school dropouts.
Release Date: March 21, 2023
---
Evil Eye
Etaf Rum
After Yara is placed on probation at work for fighting with a racist coworker, her Palestinian mother claims the provocation and all that's come after were the result of a family curse. While Yara doesn't believe in old superstitions, she finds herself unpacking her strict, often volatile childhood growing up in Brooklyn, looking for clues as to why she feels so unfulfilled in a life her mother could only dream of. Etaf Rum's follow-up to her 2019 debut, A Woman Is No Man, is a complicated mother-daughter drama that looks at the lasting effects of intergenerational trauma and what it takes to break the cycle of abuse.
Release Date: September 5, 2023
---
The House Is on Fire
Rachel Beanland
It's the height of the winter social season, the General Assembly is in session, and many of Virginia's gentleman planters, along with their wives and children, have made the long and arduous journey to the capital in hopes of whiling away the darkest days of the year.
At the city's only theater, the Charleston-based Placide & Green Company puts on two plays a night to meet the demand of a populace that's done looking for enlightenment at the front of a church. On the night after Christmas, the theater is packed with more than six hundred holiday revelers. In the third-floor boxes, sits newly-widowed Sally Henry Campbell.
Release Date: April 4, 2023
---
Shadows We Carry
Meryl Ain
In this eagerly anticipated sequel to Meryl Ain's award-winning post-Holocaust novel The Takeaway Men, we follow Bronka and JoJo Lubinski as they find themselves on the cusp of momentous change for women in the late 1960s. With the United States in the grip of political and social upheaval, the twins and a number of their peers, including a Catholic priest and the son of a Nazi, struggle with their family's ancestry and how much influence it has on their lives. Meanwhile, both young women seek to define their roles as women, and as individuals. Enlightening and evocative, Shadows We Carry explores the experience of navigating deeply held family secrets and bloodlines.
Release Date: April 25, 2023
---
Ghost Girl, Banana
Wiz Wharton
Hong Kong, 1966. Sook-Yin is exiled from Kowloon to London with orders to restore honor to her family. But as she trains to become a nurse in cold and wet England, Sook-Yin realizes that, like so many transplants, she must carve out a destiny of her own to survive. Thirty years later in London, having lost her mother as a small child, biracial misfit Lily can only remember what Maya, her preternaturally perfect older sister, has told her about Sook-Yin. Unexpectedly named in the will of a powerful Chinese stranger, Lily embarks on a secret pilgrimage across the world to discover the lost side of her identity and claim the reward.
Release Date: April 25, 2023
---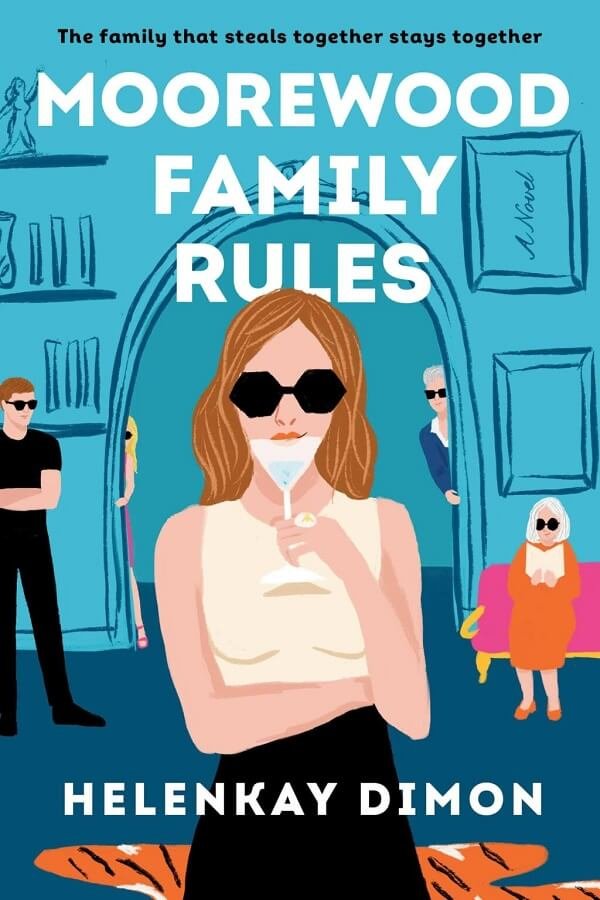 Moorewood Family Rules
HelenKay Dimon
One day a con man met an heiress, wooed her, married her, had two kids…and kept on conning. Jillian Moorewood is the oldest child from that meet-cute-gone-wrong marriage. The stable one. The sensible and dependable one. The one who protects and fixes. The one who went to prison to save their sorry butts. Now, thirty-nine months later, she's out and she's more than a little pissed. Finally home she finds the scheming clan in full family fleecing mode. They all claim they didn't really agree to Jillian's previous go-legit-or-else ultimatum before she went away.
Release Date: April 25, 2023
---