There's just something about summer that screams romance. It's always possible to meet your soul mate when you least expect it, especially now that it's warmer outside and there are more outside activities to enjoy. These 8 books will have you feeling smitten if you're seeking for some swoon-worthy LGBTQ+ romance books to read this summer by the pool or on the beach.
---
6 Times We Almost Kissed
Tess Sharpe
After years of bickering, Penny and Tate have called a truce: they'll play nice. They have to. Their mothers (life-long best friends) need them to be perfect, drama-free daughters when Penny's mother becomes a living liver donor to Tate's mom. Forced to live together as the Moms recover, the girls' truce is essential in keeping everything—their jobs, the house, the finances, the Moms' healing—running smoothly. They've got to let this thing between them go.  
 
There's one little hitch: Penny and Tate keep almost kissing. It's just this confusing thing that keeps happening.
Release Date: January 24, 2023
---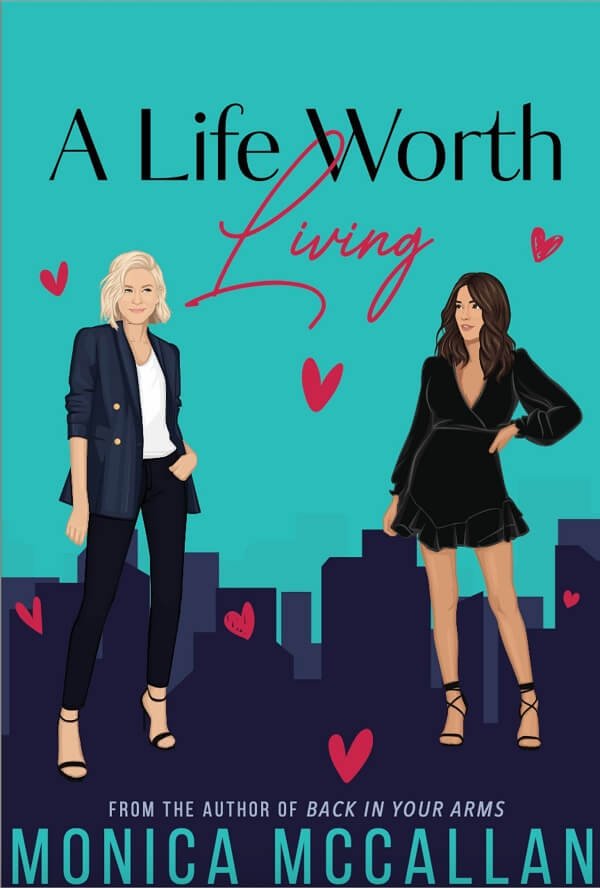 A Life Worth Living
Monica McCallan
Nora Gallagher can begrudgingly admit that she and Gray Ferris are both stellar Philadelphia real estate agents, but that's the beginning and the end of the similarities between them. Nora's life has been in a self-imposed holding pattern for half a decade. Depending on people in her personal life only leads to disappointment, and she has no plans of making that mistake again.
Gray Ferris is extroversion personified. Bubbly. Conversational. Vibrant. She's trying to make the best of life, even if it hasn't always gone her way. When the two women begin to learn that maybe.
Release Date: February 7, 2023
---
Stars Collide
Rachel Lacey
Eden Sands has been a star for twenty years, but it's lonely at the top. Her mediocre marriage just ended, and her inner circle is smaller than ever. The stage is the only place she's ever felt like she truly belonged, and yet, her last album flopped, and her upcoming tour hasn't sold out. Eden's desperate for her star to shine bright again, but when her team suggests a collaboration with an up-and-coming young star to give her a boost, she balks.
Anna Moss is pop music's rising star. She's idolized Eden Sands for most of her life—so it's a dream come true when she's invited to perform with her at the Grammys.
Release Date: May 2, 2023
---
The Gay Best Friend
Nicolas DiDomizio
Domenic Marino has become an expert at code-switching between the hypermasculine and ultrafeminine worlds of his two soon-to-be-wed best friends. But this summer—reeling from his own failed engagement and tasked with attending their bachelor and bachelorette parties—he's anxious over having to play both sides.
The pressure is on. The bride wants Dom to keep things clean. The groom wants Dom to "let loose" with the guys. And Dom just wants to get out of this whole mess with his friendships intact. But once the rowdy groomsmen show up at the beach house—including a surprise visit.
Release Date: May 30, 2023
---
Sammy Espinoza's Last Review
Tehlor Kay Mejia
Sammy Espinoza's life is a raging dumpster fire. Her desperate attempt to win back her singer ex-girlfriend has landed her in hot water at work, and she has one last chance before her editor cuts her column. Luckily, Sammy has a plan to redeem herself, but it won't be easy.
Rumor has it that Max Ryan, the former rock god, is secretly recording his first-ever solo album years after he dramatically quit performing. And it just so happens that he and Sammy have history: Right before Max got his big break, he and Sammy spent an unforgettable night together.
Release Date: July 18, 2023
---
In the Case of Heartbreak
Courtney Kae
Ben has been baking his mother's cinnamon rolls at the family café for years. He's been quietly in love with Adam Reed, his musician-slash-mechanic neighbor, for just as long. But Ben's done waiting behind the pastry case. Despite his fear of failure, he's entered a make-or-break competition to build his recipes into a national brand. He's going to take charge of his business instead of nearly tanking the café—again. And he's going to finally confess his feelings for Adam. ON LIVE TV.
Except his big plans get punched down before they even half-rise.
Release Date: July 25, 2023
---
New Adult
Timothy Janovsky
Twenty-three-year-old Nolan Baker wants it all by the time he's thirty. Too bad he's single, barely able to cover his own expenses, and still paying his dues at a prominent NYC comedy club. When faced with his perfect sister's wedding, Nolan takes it as a wakeup call. It's time to quit comedy and make good on his practical dreams—most importantly, asking Drew Techler, his best friend, to be his date.
But right as Nolan is about to give it all up, he's asked to fill a last-minute spot for a famous comedian. Score! He crushes his set, but stands Drew up, misses his sister's big day, and disappoints his entire family.
Release Date: August 15, 2023
---
Cleat Cute
Meryl Wilsner
Grace Henderson has been a star of the US Women's National Team for ten years, even though she's only 26. But when she's sidelined with an injury, a bold new upstart, Phoebe Matthews, takes her spot. 22-year-old Phoebe is everything Grace isn't—a gregarious jokester who plays with a joy that Grace lost somewhere along the way. The last thing Grace expects is to become teammates with benefits with this class clown she sees as her rival.
Phoebe Matthews is too focused on her first season as a professional soccer player to think about seducing her longtime idol. But when Grace ends up making the first move, they can't keep their hands of each other.
Release Date: September 19, 2023
---