This year, if you're seeking for YA books that are action-packed and addictive that you can read by the pool or on the beach, look no further! These YA thrillers are ideal for all audiences and provide that extra level of thrills and chills that makes you wonder how you may have handled some of these circumstances when you were under twenty by using a younger cast and placing them in intriguing and frightening scenarios. Here are 8 most anticipated YA thriller novels of summer 2023.
---
The Lake House
Sarah Beth Durst
Claire's grown up triple-checking locks. Counting her steps. Second-guessing every decision. It's just how she's wired—her worst-case scenarios never actually come true. Until she arrives at an off-the-grid summer camp to find a blackened, burned husk instead of a lodge—and no survivors, except her and two other late arrivals: Reyva and Mariana.
When the three girls find a dead body in the woods, they realize none of this is an accident. Someone, something, is hunting them. Something that hides in the shadows.
Something that refuses to let them leave.
Release Date: April 25, 2023
---
Lying in the Deep
Diana Urban
After being jilted by her ex-boyfriend and best friend, Jade couldn't be more ready to embark on the adventure of a lifetime—11 countries in 4 months, all from the luxurious Campus on Board ship—and to wedge an entire globe between her and the people who broke her heart.
But when Jade discovers the backstabbing couple are also setting sail, her obsession with them grows and festers, leading to a shocking murder. And as their friends begin to drop like flies, Jade and her new crush must race to clear her name and find the killer they're trapped at sea with….before anyone else winds up in body bags.
Release Date: May 2, 2023
---
Stranger Danger
Maren Stoffels
No phones. No internet. No social media at all. That's what it's going to take to finally get serious about school and focus on exams. Nova, Vin, and Lotus even rented a farmhouse in the middle of nowhere so they won't get distracted. After that, everything can go back to normal.
But they aren't alone. Someone is watching them from the forest.
Someone who knows their secrets. Someone who wants revenge.
And things will never be the same again.
Release Date: May 2, 2023
---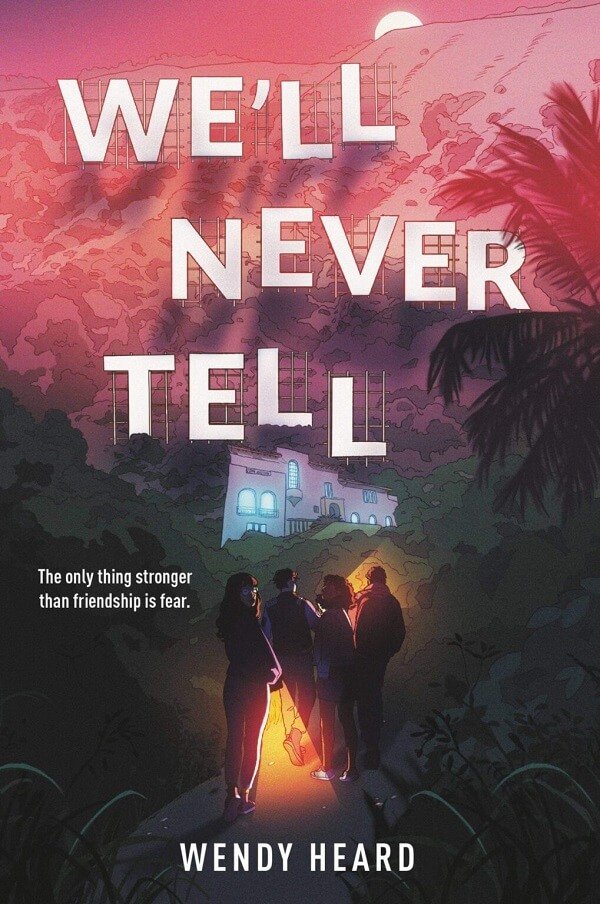 We'll Never Tell
Wendy Heard
No one at Hollywood High knows who's behind We'll Never Tell—a viral YouTube channel where the anonymous creators trespass behind the scenes of LA's most intriguing locales. The team includes CASEY, quiet researcher and trivia champ; JACOB, voice narrator and video editor, who is secretly dating EDDIE, aspiring filmmaker; and ZOE, coder and breaking-and-entering extraordinaire.
 
Now senior year is winding down, and with their lives heading in different directions, the YouTubers vow to go out with a bang. Their last episode will be filmed at the infamous Valentini.
Release Date: May 16, 2023
---
The Shadow Sister
Lily Meade
Sutton going missing is the worst thing to happen to Casey, to their family. She's trying to help find her sister, but Casey is furious. She knows Sutton is manipulative, meanwhile everyone paints a picture of her perfection. People don't look for missing Black girls–or half-Black girls–without believing there is an angel to be saved.
When Sutton reappears, Casey knows she should be relieved. Except Sutton isn't the same. She remembers nothing about while she was gone—or anything from her old life, including how she made Casey miserable. There's something unsettling about the way she wants to spend time.
Release Date: June 27, 2023
---
Murder on a School Night
Kate Weston
Kerry had different plans for her first high school party—like not going. All she wanted to do was stay home in the safety of retro rom-coms and her strict retainer schedule. Instead her BFF, fiercely outgoing mystery-fanatic Annie, has roped her into going to the party to investigate who's cyberbullying Heather, the most popular girl in school.
Finding herself getting close with her dreamy crush is odd enough, but when the two of them discover Heather's second in command, Selena, suffocated with a menstrual cup, things get really weird.
Release Date: July 4, 2023
---
Something Terrible Happened Last Night
Sam Blake
It's Katie's 17th birthday – the dancefloor is packed, the drink is flowing and Rave-fess, the Raven's Hill School confession site, is alight with gossip. Then a huge fight breaks out, sending guests fleeing. When Frankie, Jess and Sorcha go back to help Katie clear up her wrecked house before her parents get home, they find more than broken bottles …
There's a body on the living room floor.
The gripping teen thriller that will keep everyone guessing.
Release Date: May 4, 2023
---
The Legacies
Jessica Goodman
Scoring an invitation for membership to the exclusive Legacy Club in New York City is more than an honor. It gives you a lifetime of access to power and wealth beyond any prep school doors and guaranteed safety and security as Legacy Club members always look out for their own. That is, after you make it through a rigorous week of events and the extravagant gala, the Legacy Ball.
So it's not surprising when Excelsior Prep seniors Bernie Kaplan, Isobel Rothcroft, and Skyler Hawkins are nominated as Legacies; their family pedigrees have assured their membership.
Release Date: July 25, 2023
---