If you ask us, a transition from one season to the next makes for the ideal March read. A contemplation on spring and its hope for development and change. What are the top nonfiction and memoir to read in March 2023? These are 8 new nonfiction books that you can't wait to read.
---
What's Gotten Into You
Dan Levitt
Every one of us contains a billion times more atoms than all the grains of sand in the earth's deserts. If you weigh 150 pounds, you've got enough carbon to make 25 pounds of charcoal, enough salt to fill a saltshaker, enough chlorine to disinfect several backyard swimming pools, and enough iron to forge a 3-inch nail. But how did these elements combine to make us human?
All matter—everything around us and within us—has an ultimate birthday: the day the universe was born. This informative and eminently readable book is the story of our atoms' long strange journey.
Release Date: January 24, 2023
---
Unraveling
Peggy Orenstein
The COVID pandemic propelled many people to change their lives in ways large and small. Some adopted puppies. Others stress-baked. Peggy Orenstein, a lifelong knitter, went just a little further. To keep herself engaged and cope with a series of seismic shifts in family life, she set out to make a garment from the ground up: learning to shear sheep, spin and dye yarn, then knitting herself a sweater.
Orenstein hoped the project would help her process not just wool but her grief over the recent death of her mother and the decline of her dad, the impending departure of her college-bound daughter.
Release Date: January 24, 2023
---
Fool Proof
Tess Wilkinson-Ryan
In the American moral vernacular, we have a whole thesaurus for victims of exploitation. They are suckers (born every minute), fools (not suffered gladly), dupes, marks, chumps, pawns, and losers. Fool me once, shame on you; fool me twice, shame on me. Cultural stories about suckers abound too: the Trojan Horse, the Boy Who Cried Wolf, the Emperor's New Clothes, even Hansel and Gretel.
If you believe that, I have a bridge to sell you. Don't go out with him; he only wants one thing. The fear of playing the fool is not just a descriptive fact; it is a prescriptive theme: Don't let that be you.
Release Date: February 7, 2023
---
The Big Myth
Naomi Oreskes and Erik M. Conway
In the early 20th century, business elites, trade associations, wealthy powerbrokers, and media allies set out to build a new American orthodoxy: down with "big government" and up with unfettered markets. With startling archival evidence, Oreskes and Conway document campaigns to rewrite textbooks, combat unions, and defend child labor. They detail the ploys that turned hardline economists Friedrich von Hayek and Milton Friedman into household names; recount the libertarian roots of the Little House on the Prairie books; and tune into the General Electric-sponsored TV show that beamed free-market doctrine to millions and launched Ronald Reagan's political career.
Release Date: February 21, 2023
---
Four Battlegrounds
Paul Scharre
A new industrial revolution has begun. Like mechanization or electricity before it, artificial intelligence will touch every aspect of our lives—and cause profound disruptions in the balance of global power, especially among the AI superpowers: China, the United States, and Europe. Autonomous weapons expert Paul Scharre takes readers inside the fierce competition to develop and implement this game-changing technology and dominate the future.
Four Battlegrounds argues that four key elements define this struggle: data, computing power, talent, and institutions. Data is a vital resource like coal or oil.
Release Date: February 28, 2023
---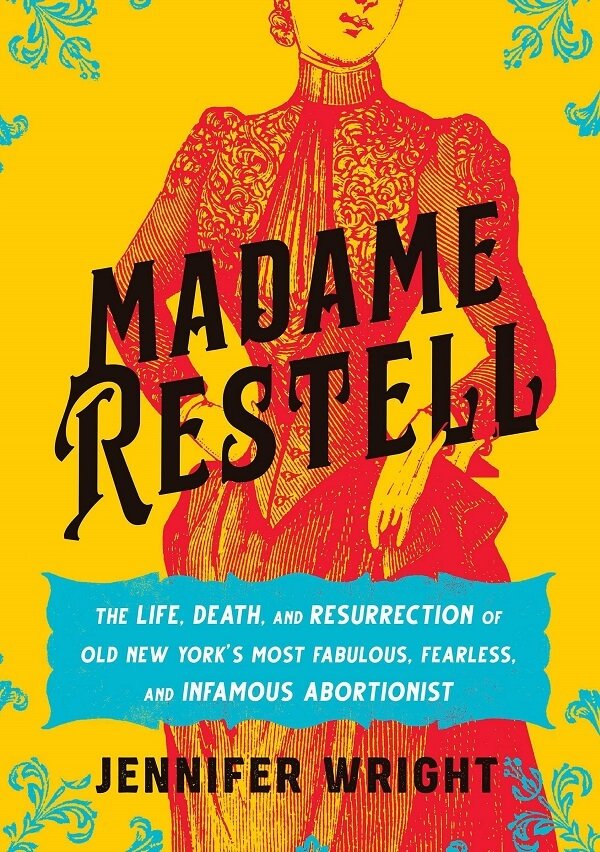 Madame Restell
Jennifer Wright
An industrious immigrant who built her business from the ground up, Madame Restell was a self-taught surgeon on the cutting edge of healthcare in pre-Gilded Age New York, and her bustling "boarding house" provided birth control, abortions, and medical assistance to thousands of women—rich and poor alike. As her practice expanded, her notoriety swelled, and Restell established her-self as a prime target for tabloids, threats, and lawsuits galore. But far from fading into the background, she defiantly flaunted her wealth, parading across the city in designer clothes, and expensive jewelry.
Release Date: February 28, 2023
---
We Are Electric
Sally Adee
You may be familiar with the idea of our body's biome: the bacterial fauna that populate our gut and can so profoundly affect our health. In We Are Electric we cross into new scientific understanding: discovering your body's electrome. Every cell in our bodies—bones, skin, nerves, muscle—has a voltage, like a tiny battery. It is the reason our brain can send signals to the rest of our body, how we develop in the womb, and why our body knows to heal itself from injury. When bioelectricity goes awry, illness, deformity, and cancer can result. But if we can control or correct this bioelectricity, the implications for our health are remarkable: an undo switch for cancer.
Release Date: February 28, 2023
---
Without a Doubt
Surbhi Sarna
The very qualities that make you an outlier are, in fact, your strengths. Or so Surbhi Sarna discovered after a teenage cancer scare inspired her to reimagine healthcare, founding a medical start-up to detect early ovarian cancer. In Without a Doubt, she shares how she proved the doubters wrong. As a young, brown woman without a medical degree or Ivy-league or Silicon Valley contacts—and who had felt different throughout her life—she was often overlooked and underrated. Undeterred, Sarna used the naysayers as ammunition to help her surpass expectations and achieve her dreams. This book is her powerful story of becoming a leader without an MBA, networking without a network.
Release Date: March 7, 2023
---