Crossing time barriers is seldom important when it comes to love. We are reminded of this by characters in time travel romance stories who wander into the past or emerge from the future. In any situation, pure love triumphs and overcomes all obstacles. Check out these 8 hot time travel romance books and fall in love with all of the generations, then.
---
Opposite of Always
Justin A. Reynolds
When Jack and Kate meet at a party, bonding until sunrise over their mutual love of Froot Loops and their favorite flicks, Jack knows he's falling—hard. Soon she's meeting his best friends, Jillian and Franny, and Kate wins them over as easily as she did Jack. But then Kate dies. And their story should end there.
Yet Kate's death sends Jack back to the beginning, the moment they first meet, and Kate's there again. Healthy, happy, and charming as ever. Jack isn't sure if he's losing his mind. Still, if he has a chance to prevent Kate's death, he'll take it. Even if that means believing in time travel.
Release Date: March 5, 2019
---
One Last Stop
Casey McQuiston
For cynical twenty-three-year-old August, moving to New York City is supposed to prove her right: that things like magic and cinematic love stories don't exist, and the only smart way to go through life is alone. She can't imagine how waiting tables at a 24-hour pancake diner and moving in with too many weird roommates could possibly change that. And there's certainly no chance of her subway commute being anything more than a daily trudge through boredom and electrical failures. But then, there's this gorgeous girl on the train. Jane. Dazzling, charming, mysterious, impossible Jane. Jane with her rough edges and swoopy hair and soft smile, showing up in a leather jacket.
Release Date: May 1, 2021
---
Intersect
Elle O'Roark
Someone has torn them apart in the past, and she plans to do it again… As Nick and Quinn piece together the truth about the life they once shared, they discover it was much deeper and darker than they ever imagined. In order to keep history from repeating, Quinn will need to master her unusual gifts—but that means admitting to herself and to Nick why she stopped using them in the first place.
He may never forgive her when he learns the truth, but Quinn is running out of options—because the clock is ticking, and it's no longer just her life that hangs in the balance.
Release Date: June 27, 2019
---
The Portrait
B.D. Anderson
Marleigh Winters accompanied her mother to yet another yard sale expecting to be bored out of her mind. She is pleasantly surprised, however, when she spots a large portrait of a soldier among paintings for sale. She's drawn to the portrait, and the soldier seems almost alive. She finds herself mesmerized and knows that she has to purchase it. She takes it home where she discovers that the portrait is under the spell of a witch, and that she as its owner has the power to draw the soldier from the portrait and into her presence. The soldier, Winston Spencer explains that he has been trapped for over one hundred years, and enlists Marleigh to help him.
Release Date: April 21, 2020
---
A Highlander for Hannah
Mary Warren
Hannah Glenn is ready for a change. After quitting her job and breaking up with her slacker boyfriend, she moves to her family's farm. In her search for clarity, she let her best friend talk her into buying a love spell. Hannah doesn't believe in magic but decides to perform the spell anyway. What harm could it do? The ancient, brutish, but also undeniably handsome Scotsman she finds in her barn the next morning might be the answer to the question.
Graham MacNeil fell asleep in his uncle's stable in 1745. He awoke over two hundred years in the future across the Atlantic. He is in a world he knows nothing about with a woman who drives him mad.
Release Date: September 20, 2022
---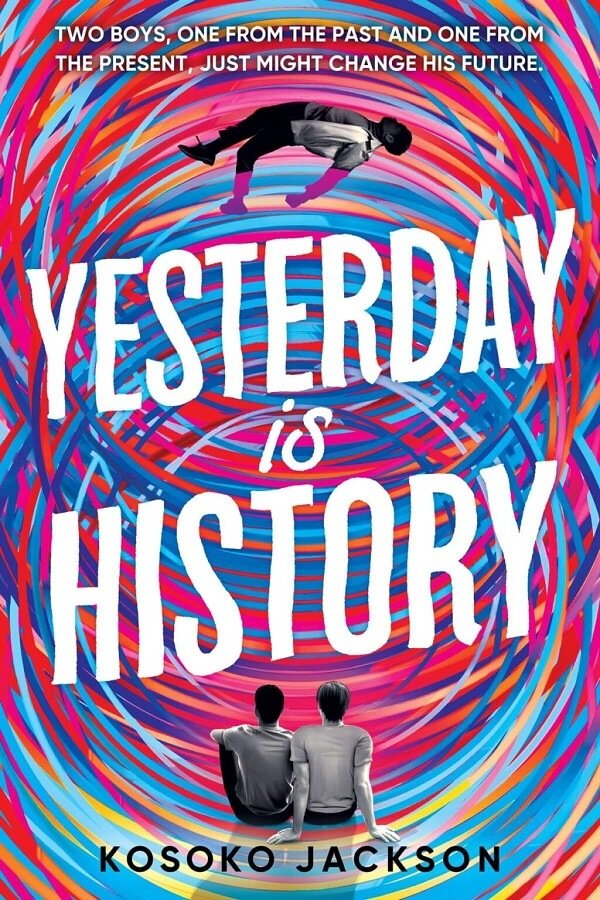 Yesterday Is History
Kosoko Jackson
Weeks ago, Andre Cobb received a much-needed liver transplant. He's ready for his life to finally begin, until one night, when he passes out and wakes up somewhere totally unexpected…in 1969, where he connects with a magnetic boy named Michael. And then, just as suddenly as he arrived, he slips back to present-day Boston, where the family of his donor is waiting to explain that his new liver came with a side effect—the ability to time travel. And they've tasked their youngest son, Blake, with teaching Andre how to use his unexpected new gift. Andre splits his time bouncing between the past and future. Between Michael and Blake.
Release Date: February 2, 2021
---
Spin Me Right Round
David Valdes
All Luis Gonzalez wants is to go to prom with his boyfriend, something his "progressive" high school still doesn't allow. Not after what happened with Chaz Wilson. But that was ages ago, when Luis's parents were in high school; it would never happen today, right? He's determined to find a way to give his LGBTQ friends the respect they deserve (while also not risking his chance to be prom king, just saying…).
When a hit on the head knocks him back in time to 1985 and he meets the doomed young Chaz himself, Luis concocts a new plan-he's going to give this guy his first real kiss.
Release Date: January 4, 2022
---
Borrowed Time
Russell Dean
Tom Jacob is bored with his life. He's stuck in a job he doesn't like, his love life is non-existent, and he's tired of being seen as boring and dependable, so when his wayward twin brother convinces him to spend a night partying instead of doing paperwork, Tom reluctantly agrees.
Stranded more than a century in the past, Tom has to overcome language barriers and suspicion as he attempts to adapt to the world around him and find a way back to his own time, but with two people from the sleepy village of Cwm Newydd now missing, one local resident seems hell bent on pinning the blame for their disappearance on the strange Englishman who appeared out of nowhere.
Release Date: July 8, 2022
---