Jon Stasiak-Gray lives on the beautiful island of Jersey with his husband and his son. In 2015 he self-published his first novel "Standing in the Shadows", a psychological thriller, under the name Jon Stasiak.
Since 2022, he's focused on writing LGBTQ romance novels (all of which are available on Amazon) with themes of family life, including marriage, adoption, affairs and betrayal. He has recently signed with Spectrum Books and his novel "Twinkle Twink Little Star" will be released in January 2023.
Let's get started with a quick rapid fire.
Q1. If you could be transformed into one mythological creature, which one would you choose?
A Phoenix – I'd love to be able to fly, and rising from the dead sounds pretty cool too.
Q2. What is one thing you wish you enjoyed more?
Going to the Gym, my characters always seem to have a blast working out.
Q3. What are the least-likely three words someone would use to describe you?
Serious, dull and unfriendly.
Q4. Where did you go on your last vacation?
I've just got back from Torremolinos in Spain.
Q5. Would you rather find your dream job or win the lottery? You can't do both.
Win the lottery, as I'm already a writer.
Q6. What is one thing you regret spending money on?
I suffer from buyer's remorse on anything I buy myself!
Q7. What object do you misplace or lose the most?
Anything that isn't physically attached to me.
Q8. If you were a spy, what would be your codename?
Longstaff. Steel Longstaff
Q9. What secret about the universe would you most want to learn?
Who or what else is out there?
Q10. Favorite Holiday Destination.
Hawaii. It's beautiful.
Q11. What do you think people misunderstand about you?
They think I'm loud, but it's just my northern accent really.
---
It's time for a more detailed conversation, Jon.
You've answered our rapid fire brilliantly, Jon. Now, it's time for our readers to know more about the person behind the book.
Q. Tell us something about yourself that's going to keep us wanting more.
I'm (only) forty, but so far, I've led a rather interesting life; including life-saving surgery, cheating spouses and the adoption my son to name just a few. I've lived through a mix of many embarrassing, funny and heartbreaking experiences, and I use these very personal stories to influence my writing when creating relatable characters and interesting journeys. I have a wild imagination too, so I also love to write about things that maybe I wanted to try, but haven't been able to. Yet.
Q. Well, that's just…memorable for sure. So, what books have you read more than once in your life?
I have three favourite books, which I read every couple of years or so. I absolutely love Jurassic Park by Michael Crichton. The film is a classic, but the book is on another level completely. It's so well researched and written that it's almost believable. It gets me wanting to book a ticket to Isla Nublar every time I read it!
My second favourite book is Bridget Jones's Diary by Helen Fielding. I really relate to Helen Fielding's titular character and her style of laugh-out-loud comedy, which is something I've definitely tried to emulate in my own writing, albeit with a little more action.
In addition to the rom-com genre, I also have a real passion for horror and supernatural novels, loving pretty much everything by Stephen King and James Herbert. The Magic Cottage by James Herbert is such an incredible book. I was drawn in decades ago by the beautiful illustration of a perfect chocolate-box cottage on the front cover, and every page makes me want to read on. It's such a charming, spooky novel that I look forward to reading each and every time I get the chance.
Q. Interesting. Who has been the biggest supporter of your writing?
My Husband proofreads everything I do. He doesn't sugar coat ANYTHING, so he'll tell me when I've missed the mark, when my characters are boring, or when there isn't enough action in my novels. He's not really a reader either, so I really appreciate all of his help.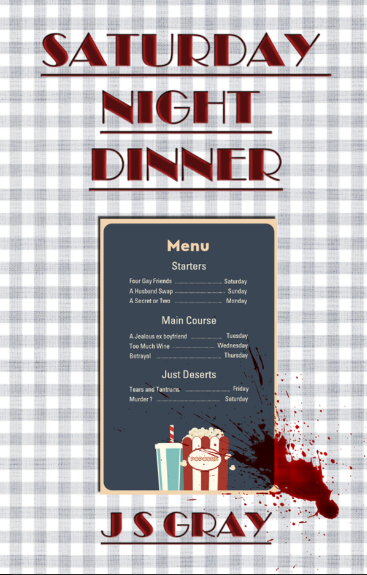 Q. Do you hide any secrets in your books that only a few die-hard fans will find?
YES, of course I do! With most of my erotic rom-com novels I like to leave people guessing as to what storylines or experiences are fact, and which ones are fiction. The one downside of this is that not many of my friends or family want to read my work for fear of learning too much about me.
Q. For an author, what do you think is worse – negative reviews or zero reviews?
Getting no reviews is far worse than getting negative reviews. At least with negative reviews, people are reading your work. And, from a decently written negative review, you might also get some suggestions or pointers for your next book. Also, having negative reviews would hopefully mean you'll also get some positive reviews as well. If you aren't getting any reviews, you're definitely not getting any good ones.
Q. What comes first for you — the plot or the characters — and why?
It depends each time I write a book. Sometimes, I have a character fully formed but I don't know what to do with them. I know what they look like, I can hear their accent, and I know who their friends are but I don't know what to do with them until I start writing. With other books I've written, I know exactly what I want to happen. I'll have three or four major scenes or events that I want to include and I then formulate people around those.
Sometimes I just really want to write but I don't know what about or who. I might have an introductory scene in mind and I just go from there. I find this method the hardest though, and sometimes I can't justify writing a full novel based on just one really good chapter. A few years ago, I learnt that writing short stories is a great way to continue going (especially if you have writers block) this because you're practicing, you're still being creative and you might get a really good short story out of it.
Q. How do you plan your plot and characters?
When I have a strong character or plot in mind for a novel, I like to think about their goal and what is it I want them to do. There has to be a journey of some kind and I find it useful starting with a one liner that sums up the novel, i.e. "Shawn Dias is finally ready to start dating and wants to find a boyfriend".
From there I then work back and think of what my character is likely to do to achieve their goal, obviously above all else, I have to make it interesting. Usually, I already have a few key themes in mind, and I then break them out into a chapter per single idea. I'll structure it this way and start building up those key chapters. I'll create supporting characters and interactions between them. Usually at this point I can imagine what my characters are doing and new ideas start coming. I'll then break those out into new chapters and repeat the process. As I work though this, I'll usually have my final chapter penciled in, knowing where I want my protagonist to end up. Sometimes this will change completely as I'm writing and that's okay, so long as it makes sense to the novel and stays true to the characters I've created.
Q. You got 100 points. You need to divide them on the basis of how relevant and important they are to you as a reader and a writer for your book or someone else's as a reader. Your options are Plot/Story, Dialogues, Book Cover, Marketing, and, Reviews.
This is really tough! I personally think the only thing that should be important here is the plot/story and dialogue. It's such a shame that we have to worry about everything else because once the reader has your book, they really only care about what happens between the sheets.
However, if you want to be a successful author, then the cover and the marketing are the first things that draw an audience in in the first place. Reviews are important too, but you won't get any of them if you're marketing and cover isn't up to scratch.
40 Plot/Story, 10 Dialogue, 20 book cover, 20 Marketing, 10 Reviews.
Q. So, now, about your book. Talk to us about it. No major spoilers.
Twinkle Twink Little Star is a coming of age, LGBTQ Erotic Rom-Com.
After spending the last few years building up his physique and confidence in the gym, Shawn is finally ready to go out onto the scene and get some action. His aim is to find a boyfriend, but that might be easier said than done. Unfortunately, without any experience himself, he turns to his best friend Ainsley for advice.
However, Ainsley is pretty clueless too and everything he suggests goes terribly wrong for Shawn, with hilariously embarrassing consequences. Nevertheless, after many questionable dates, Shawn eventually finds a nice guy to settle down with. But, a little experience finally under his belt and being young and handsome, is that really what he wants?
Q. What part of the entire book publishing process, starting from the plot idea to the book anniversary, do you find tough or tricky?
The hardest thing I've found was getting published professionally. I've been writing for several years now, and have self-published most of my work on Amazon Kindle Direct Publishing (which is great). I've always wanted to be published professionally, but the delay between submitting manuscripts and receiving a response (and that's if you're lucky enough to get one) is so long, especially, if you're like me and have new ideas you want to be getting on with in the meantime.
Sometimes I've not waited long enough, and have gone ahead and self-published in the meantime, only to find that a would-be publisher is no longer interested because I've gone and done it myself. Fortunately, I've recently signed with Spectrum Books, an LGBTQ+ publisher who are very supportive and I could be more excited.
I'm still not great at self-promotion, but I'm working on it. Promotion and marketing as important as writing a good book, if you want to be a successful author.
Q. What is your kryptonite as a writer?
My mobile phone… It's just there waiting to be picked up. There's always something new to look at on Instagram or a new dance craze to learn from TikTok.
Q. What risks have you taken with your writing that have paid off?
I wrote my very first novel thinking everyone would read it. Unfortunately, that mean that I second guessed everything I did. Maybe my parents wouldn't approve of a particular scene, or my nana might think I'd used to many swear words… I constantly thought about how everyone else might judge it.
As I developed my writing style, I realised that I had to block everyone else out and write about characters and stories that I'd be interested to read. I started to focus on LGBT characters and I stopped holding back. I've lived a lot of the experiences I write about and I know how real they'll be to other people. Because of this, I may have reduced my potential audience, but that's okay. Hopefully the people that my books do appeal to will love them all the more because they are more risqué, they are funnier and my characters are much deeper and far more relatable to the LGBTQ+ community.
Q. Let's talk about the process of writing. Do you do research while writing a book to add more authenticity? What kind and how far do you go – ever traveled to a foreign place or learned some skill, just for the sake of your book?
Although I'm not usually one to study-up, (mainly because my storylines don't require it) I'll occasionally do bit of research. For Twinkle Twink Little Star, I really wanted to get a balance of steamy romance and comedy (which don't always work well together!). I trawled through reddit posts and other embarrassing stories online to see what other people got up in the bedroom. I certainly had a lot of ideas of my own that I wanted to use, but researching other's misfortune helped me to tweak what I already had to create the funniest novel I could write.
Q. What was your hardest scene to write?
Sometimes I struggle with pacing. For this novel I had a lot of strong scenes that I found relatively easy to get down. But you can't always go at 100%. You need to create natural breaks to help with the flow, and for me these were harder to do whilst still keeping the reader entertained and invested.
I was very keen to make sure this novel had a narrative and a great leading character. It was these breaks that help to sew everything together from a collection of incidences into a journey, and ultimately elevate the novel.
Q. What is the best money you've ever spent with regard to your writing?
I don't think you need to spend a lot of money to write. Its everything you do afterwards that's important if you want to make a financial success of it. Usually, I just start with a notebook to scribble ideas down and pencil in my chapters, and my computer. My computer is frustratingly slow, so I really should get around to spending some money on something better.
Q. Well, this has been great. Now, before we wrap this up, do you have any suggestions to help someone become a better writer? If so, what are they?
Keep going. Write as much as you can. Make notes on your phone when ideas come to you, or even text them to yourself. Once you've started keep going and don't give up. The hardest part is putting something on a blank page. Just write – you'll edit most of it out anyway so don't be too precious to begin with!
If you get stuck, go onto something else in the meantime. Those little short stories you write whilst struggling on your novel can really help you. They can develop into a full-blown novel, or you can use them for writing competitions, or other promotions in the meantime.
Anything you write will help improve your craft. Just don't give up.
---