Anthropic AI created the extensive language model Claude 2 as the foundation for its Claude AI chatbot. The Claude 1 large language model, which was introduced in the first quarter of 2023, was replaced by this one. It makes sense if you haven't heard about Claude AI. Unlike Bard, ChatGPT, or Bing AI, the AI model has never been publicly shared before.
Claude is clearly equivalent in performance to the main three AI chatbots, sometimes even outperforming them in some parameters, while not receiving as much attention as they have.
---
Claude 2 AI Overview
A new competitor, Claude by Anthropic, has emerged as AI chatbots like ChatGPT generate discussions about ethics and safety. This San Francisco business has adopted a distinctive strategy to responsibly build Claude's intellect. They've taught Claude using "Constitutional AI" the tenets of fundamental texts like the Universal Declaration of Human Rights and Apple's Terms of Service.
Claude is able to naturally converse, synthesize lengthy materials, and respond to challenging queries. It renders decisions based on contemporary regulations including ethics, privacy, impersonation, etc. as well as fundamental constitutional concepts. The recently released Claude 2 strives to test the limits of artificial intelligence while avoiding damaging, risky, or unethical content.
Claude can handle lengthier prompts than GPT 4 because of his training on much more recent data. While GPT 4 can only handle 32.7k tokens, Claude can handle 75k words (100k tokens). Claude also does better on arithmetic exams (88.0% vs. 85.2% on grade school tasks) and Python coding tests (71.2% vs. 67% on Python Eval). This article will examine Claude's top 5 qualities that set it apart from the GPT 4.
---
What Can You Do With Claude AI?
There are many things you can do with the Claude AI, in case you were curious. AnthropicAI's Claude can perform the majority of the capabilities of the new generation of AI chatbots, much as OpenAI's ChatGPT and Google's Bard. Claude is capable of writing anything, including code. This includes summarizing entire books, speeches, resumes, poems, and more.
Particularly well-known for its imaginative writing is Claude. So, you might want to consider Claude AI if your preferred chatbot isn't meeting your expectations in that regard. Claude also excels in programming-related activities, which is one of the most common applications for AI chatbots. Like ChatGPT, it can write, debug, and explain code in a variety of programming languages.
Claude also allows you to load it with any text-containing file and operate with its knowledge, which is a really intriguing feature. So you can upload anything, including Word documents and PDFs, and have Claude AI analyze it to draw some conclusions.
Of course, Claude AI is capable of much more. It can be used to play games, translate documents, analyze data, and summarize content. Everything depends on your imagination. Claude AI is currently in open beta and available for testing whether you live in the US or the UK. To sign up and use the chatbot right away, go to Claude.ai.
---
Claude 2 AI Features
1. Claude's capabilities in analyzing and comparing
Although there are still processing and conceptual connection constraints, Claude is currently capable of effectively comparing several PDF documents by highlighting text/formatting similarities and differences.
Claude:
Can input multiple PDFs and extract/recognize text, tables, images.
Highlights identical, unique, and paraphrased passages across PDFs.
Compares numerical data and tables to spot matches and inconsistencies.
Produces summaries outlining key commonalities and differences.
Functions best with text-based rather than highly visual PDFs.
Works optimally when PDF topics are related rather than unrelated.
Does not make high-level conceptual connections from comparisons.
Useful for pointing out key PDF similarities and differences.
In the example below, two fictitious resumes for a data analyst and a data scientist are compared. It shows off the Claude's ability to compare and analyze data.
2. Claude's ability to efficiently read and parse CSV files
Statistical analysis, visualization, and modeling are powerful tools that Claude has for processing CSV information and extracting insights.
Claude can:
Efficiently handle large CSV datasets.
Interpret data by understanding column meanings.
Summarize data distributions statistically.
Aggregate data to identify trends and relationships.
Visualize data for intuitive insights.
Build ML models to uncover patterns.
Proficient with Python data analysis libraries.
Find correlations between columns.
The capacity of Claude to manage CSV files is seen in the example below. Data from a fictitious company's sample employee records were fed.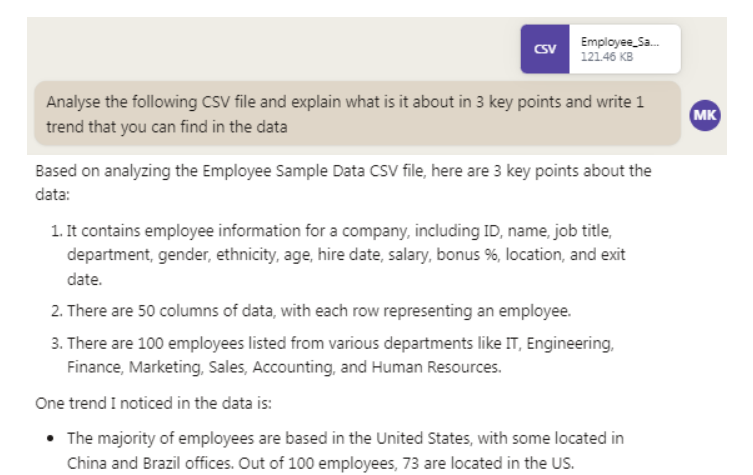 3. Claude's math capabilities
Claude is good at tackling moderately difficult arithmetic issues across domains, but he lacks sophisticated theoretical math and human-like inventiveness for coming up with original solutions.
Claude is:
Proficient in core mathematical concepts and logical reasoning.
Able to provide step-by-step workings and explanations.
Skilled across diverse domains like algebra, geometry, statistics etc.
Translating word problems into mathematical equations.
Struggling with highly advanced theoretical math concepts.
Not so accurate of very complex multipart problems.
Dependent on clear problem phrasing.
Here is an illustration of Claude's mathematical prowess.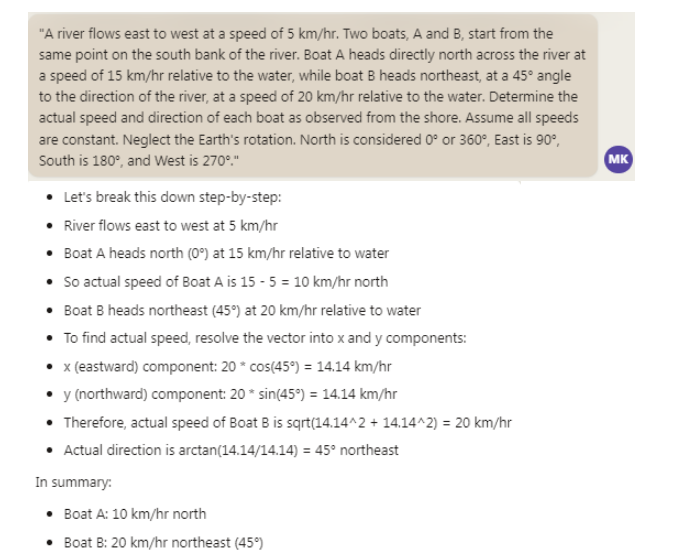 4. Claude's Python coding ability
Actually, Claude lacks any independent Python programming skills. My conversational background, not my technical programming talents, is where I get my code advice from.
Claude:
Is in natural language, not programming.
Can only provide high-level suggestions based on conversations.
Cannot write or improve code myself.
Code examples come from training data, not my own skills.
Conversational AI still has limitations in technical contexts.
AI specialized in coding would be better than general conversational AI like Claude.
However, you may still upload a script to Claude and ask him to explain the code to you, as well as for advice on how to make it better and fix mistakes. And it'll perform fairly well.
Example1:
Example2: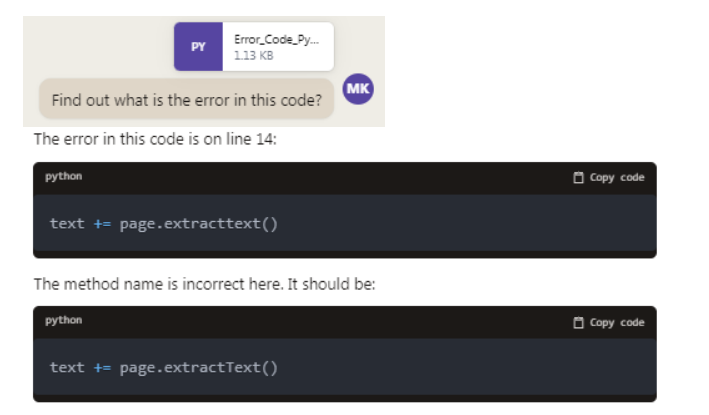 Example3:
---
How Does Claude AI Compare to Other AI Chatbots?
Claude AI, on the other hand, is a little friendlier than ChatGPT, Bing AI, and Bard. Here, the emphasis is on friendliness, not safety. Although it is still too early to say for sure, Claude does appear to be less prone to making mistakes and being jailbroken. Claude does appear to do this frequently if you've had ChatGPT and Bard AI teach you on morals and ethics. Although some individuals would find this unsettling, given the strong limitations on what it can say, this might be advantageous for kids.
Beyond security, which is a key concern for Claude AI, the chatbot outperforms Bing AI, ChatGPT, and Bard in a number of other areas. Particularly in terms of creative writing, Claude AI is more capable than Bard and competitive with ChatGPT running GPT-4. Claude AI typically performs better than Bing AI depending on what needs to be written.
Claude AI consistently excels Bard AI in terms of coding while Bing AI only occasionally does so. In terms of coding skills, ChatGPT and Claude AI are nearly equal, while ChatGPT (with GPT-4) appears to be more capable and able to tackle more challenging tasks. Overall, it appears that Claude AI is a strong rival to any of the top three AI chatbots that are now ruling the market.
---
Strengths and Weaknesses
Strengths
✅ Filtering out unnecessary details.
✅ Avoiding injection of opinions or bias.
✅ Identifying central arguments and conclusions.
✅ Tailoring summary length as needed.
✅ Summarizing different text types and topics objectively.
Weaknesses
❌ Inability to process graphical information.
❌ Inaccurately summarizing complex narratives.
❌ Sacrificing nuance for brevity in condensing text.
❌ Struggling with highly technical or esoteric topics.
❌ Missing implied meanings and subtle context.
---
Conclusion
In conclusion, Claude has excellent abilities in the analysis of various documents, including Word documents, PDF files, and CSV data. Claude is capable of reading and understanding free-form writing thanks to its natural language processing algorithms. Using common document structures and formats as a foundation, Claude may extract important data from files. Claude is adept at handling a variety of tasks, like finding keywords in reports, extracting tables from financial statements, and summarizing trends in CSV datasets. We may anticipate Claude to grow even more skilled at extracting insights from papers as its deep learning capabilities continue to advance. Because of this, it will be a crucial tool for knowledge workers and business analysts that deal with tons of papers every day. With Claude, document analytics has a promising future.
---