An all-encompassing talent intelligence tool called Eightfold helps employers find, keep, and expand a diverse workforce. It gives you a complete picture of every applicant and position within your company, enabling you to decide who to employ, keep, or promote.
It comes with a set of tools for recruiting people, including a career site powered by AI, which helps businesses find fresh talent, filter applicants, and fill positions more quickly. According on a candidate's abilities and potential, companies are paired with them. Businesses can also get in touch with individuals who were matched to opportunities, explain to them why they were matched, and ask them to apply for their employment by completing a short form.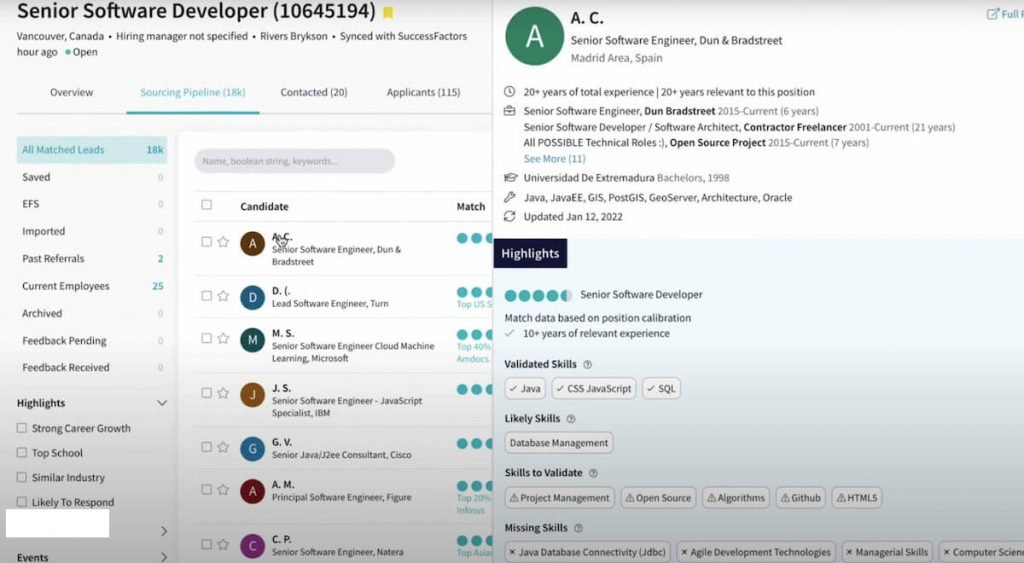 In addition, Eightfold gives recruiters access to genuine corporate data that has been gathered and enriched from many sources to instantly produce a pipeline of qualified prospects for every position they are hiring for. With the help of millions of profiles from around the world, the platform's deep learning capabilities further analyse talent pools to present the finest matches. In order to avoid prejudice, candidates are evaluated and graded according to their experience, talents, and potential while keeping their personal information secret.
The platform offered by Eightfold is more than just a means of hiring. Its career portal encourages fruitful, continuing dialogues about climbing the corporate ladder and assists you in putting some emphasis on skill development to connect your teams with business goals.
Eightfold also includes tools to manage and engage your new and existing recruits once you've secured talented staff members. By utilising development programmes that complement their professions, such as projects, classes, mentors, positions, and more, you can provide employees with individualised career plans based on their interests and ambitions.
Also, Eightfold provides a "Talent Flex" function that facilitates communication between recruiters and contractors. To access the specifics of the job request, recruiters can interface their VMS (vendor management system) with Eightfold's Talent Flex. Recruiters get immediate access to every lead from a single AI-based dashboard, allowing them to examine the full recruitment pipeline, including both current candidates and former employees. In order to remove the element of guesswork and empower the recruiter to make wise judgements, the deep learning AI assesses each prospect and rates them according to experience, abilities, and potential.
Filters can be used by recruiters to find prospects based on availability and wage range. Companies may use the platform to redistribute contingent workers or hire them on a full-time basis, and they can keep track of who they have spoken to and who they are moving on to the next phase.
---
Eightfold Benefits
With the first Talent Intelligence Platform, close the talent gap. The AI-based Eightfold Talent Intelligence Platform offers a single point of contact for all business stakeholders, including your recruited talent, current and past applicants, employees, and alumni. Based on their abilities and potential, identify the individuals most likely to succeed in a position.
For each person, a typical organisation has 200 talent profiles. This group of applicants—both recent and past—as well as employees, alumni recommendations, applicants, and others—represents a deep talent pool. They are part of your organization's Talent Network and are eager to be hired. With Eightfold's AI constantly updating the profiles in your Talent Network, a candidate from years ago who has now acquired important skills and experience may suddenly be a good fit for a position.
---
Eightfold Key Features
AI-powered Career Site: Eightfold provides a career site driven by AI that aids in recruiting, retaining, and expanding a diverse workforce. It makes it simple to advertise positions and manage candidates during all phases of the recruiting procedure. By hiding candidates' personal information, it also aids in reducing unconscious bias.
Talent Management: Beyond the hiring procedure, Eightfold offers managers resources to support staff development and retention. Its AI-driven analysis, for instance, enables managers to assess each member based on a variety of criteria, including experience, talents, career trajectories, and more.

Additionally, recruiters gain a thorough understanding of their current and former employees, including contingent workers, which enables them to strategically plan for skill shortages and future business goals. Additionally, this viewpoint enables management to respond quickly to reskill and upskill the workforce.
Talent Upskilling: Eightfold enables you to evaluate the performance of your staff, spot knowledge and skill gaps, and then offer them the necessary resources for upskilling. The development of these upskilling projects may be monitored. By observing the increase and decline of particular abilities and the locations where those skills are prevalent, you may also utilise them to spot market trends.
---
Eightfold Pros and Cons
PROS
Eightfold analyses your job advertisements using AI technology to locate the most qualified individuals. These individuals might also be ranked according to their qualifications, experience, and potential.
To ensure that you only view applicants that meet your hiring requirements, you can filter candidate searches by experience level or wage range.
The platform promotes diversity recruiting and gives you the option to remove hiring prejudice through profile masking, or anonymous screening.
By offering specialised training and development opportunities based on their skill sets and interests, it enhances the entire employee experience.
It contains an integrated CRM for managing and storing HR information about prospective prospects, present employees, and past employees.
CONS
It is somewhat irritating that hiring managers and recruiters cannot leave notes on applicant profiles within the system.
While Eightfold has a mobile app that employees can use to build their abilities, it does not yet have one for hiring managers and recruiters to manage their pipeline or carry out other employment-related tasks.
According to several users, the tool does not look for candidates outside of its database.
There is currently no free trial and the platform's price is opaque.
---