The MyHeritage AI Time Machine is a cutting-edge and fun feature that employs text-to-image AI technology to create images of a person in various historical eras. MyHeritage is a global platform for discovering your genealogy. Have you ever considered what a Viking version of you may have looked like? You may now stop speculating and take a look for yourself.
---
What is MyHeritage AI Time Machine?
A cool new feature from MyHeritage called MyHeritage AI Time Machine creates fictitious images of a person's appearance in various historical periods by using artificial intelligence (AI). With the help of MyHeritage AI Time Machine, you can easily make pictures of yourself as an astronaut, a 19th-century lord or lady, a mediaeval knight, or an Egyptian pharaoh.
The MyHeritage AI Time Machine uses your own real images to produce stunning, hyper-realistic visuals with a range of themes, from the Paleolithic Era to the Space Age and beyond.
MyHeritage AI Time Machine uses Stable Diffusion-based technology that was licenced from Astria.
Artificial intelligence is used to create the images produced by this function; although they are not actual photographs, they are remarkably lifelike. Watermarks are used on all AI-generated images to set them apart from actual photographs.
MyHeritage AI Time Machine is currently accessible via PC and mobile web browsers.
You can upload photos to create a model of one person and generate 160 images with up to 20 different themes for a one-time cost. Users of the MyHeritage Full subscription have access to a bigger usage quota at no additional cost.
MyHeritage specialises in deepfake technology, a form of synthetic media where a person in an already-existing image or video is modified or replaced with someone else's likeness.
Although controversial, deepfakes can contribute to the spread of misleading information, stolen identities, and even fraud, which is a growing cause for concern.
---
How to use MyHeritage AI Time Machine?
Follow these steps to use MyHeritage AI Time Machine and find your Viking version:
Visit the MyHeritage AI Time Machine website. Alternatively, select "AI Time MachineTM" by hovering your cursor over the "Photos" tab in the navigation bar to view the website when connected to your MyHeritage account,
You must have an account or register to MyHeritage to use AI Time Machine. You can create an account in under a minute. Select the "Log in" option at the bottom of the pop-up if you already have a MyHeritage account.
Click the "Try it now" option to begin.

You may find instructions for choosing which photographs to upload on the following screen. Follow the rules to ensure AI generates the best outcomes. You'll require 10 to 25 images of the same subject, taken over the course of several days in various locations, stances, and viewpoints. The results will improve as you add more pictures. You may upload up to 35 files. It should be noted that uploading images of people at various ages is typically not a good idea because it impairs the technology's capacity to create a consistent individual model.

Drag and drop the images into the frame from your computer or smartphone.

Crop the images first so that only you are visible if you appear in some of the pictures with someone else in the foreground.
Click "Continue" when you are finished uploading the photographs. You'll see a pop-up asking you to describe the pictures' subject. Select the gender, type the person's first name or another title, and then click "Continue" again.
As soon as you log in, MyHeritage AI Time Machine will start processing your photos. It takes between 30 minutes and two hours to build the fundamental model from your photographs. You don't need to wait on the page; as soon as your images are created, you'll receive an email.
Once your model is set up with the basic sets of photos, it usually just takes a few minutes to generate images with additional themes. Simply select the desired topic from the theme buttons to create additional thematic images.
Individual photographs, sets of 8 images, and all the sets produced can be downloaded or shared. To share the pictures on Facebook, Twitter, and WhatsApp as well as to copy the URL and post them somewhere else, click the Share icon.
By selecting the Download icon, the photographs can be downloaded as a jpeg file. The complete set of eight will be included when you share or download while watching a set. When you examine a certain image, sharing and downloading options only apply to that particular image.
Attention: A MyHeritage account is instantly created when you upload images, and these photos are then uploaded to your profile. By selecting them in the three-bar menu under "Photos," you can delete them quickly and effortlessly.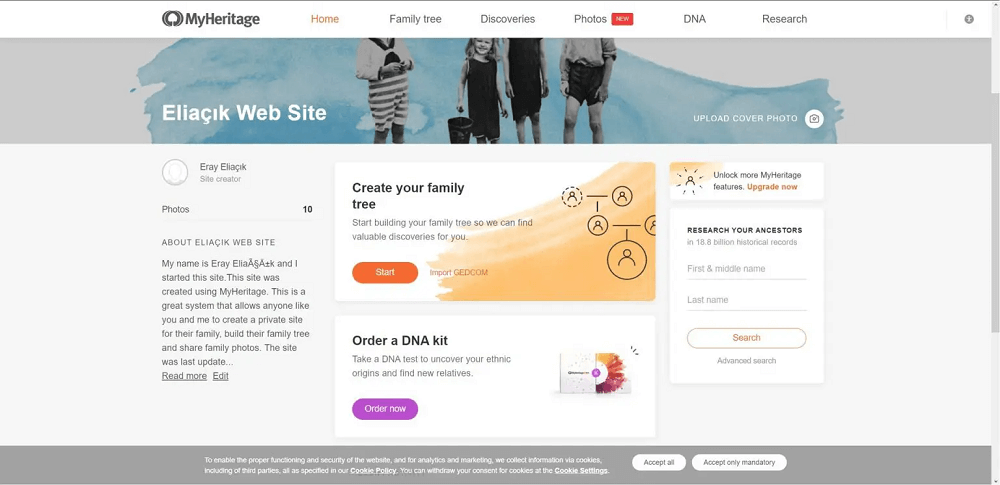 ---
MyHeritage AI Time Machine examples
Check out the different versions of MyHeritage Founder and CEO Gilad Japhet:
Here are some more examples, this time featuring Maya Lerner, the company's Senior VP of Products.
---
How does MyHeritage AI Time Machine work?
The text-to-image technology used by AI Time Machine is one that Stable Diffusion has licenced from Astria. It builds a model from many photos of a single subject that could show the subject in different poses and lighting configurations that are different from those in the original photos. The model then blends concepts from several eras while adhering to a predetermined set of themes to produce realistic visuals.
---
MyHeritage AI Time Machine pricing
Both the desktop and mobile versions of the MyHeritage website presently offer access to the AI Time Machine photo generating feature. For a one-time price of € 9,95 (VAT not included), you can submit photos to create a model of one person and 160 images with up to 20 different themes. Users with a MyHeritage Complete plan will receive a larger usage allowance at no additional cost; details on the quota will be made public soon.
---
MyHeritage AI Time Machine themes
On AI Time Machine, there are already dozens of themes that depict a variety of historical eras, from Ancient Greece to the known outer space of the 20th century. After the first five topics are automatically selected for you, you can select additional themes that appeal to you on the results page.
---