The use of AI in research is already widespread among students and academics. It makes keeping up with the most recent research much simpler, and it also aids in properly arranging and crediting your favourite research papers.
AI for research saves you a tonne of time and effort by doing everything from producing summaries of lengthy research articles to sending notifications about new trends in your field. 📚 Give these AI tools a try if you work in academics; they are quick, accurate, and economical, so you don't have to.
---
Elicit
Another AI tool for researchers built on GPT-3 is called Elicit. It is used by people to quickly identify pertinent papers and offer abstracts. You only need to write your question, and Elicit will research the finest solutions for you at no cost.
---
Genei
We are all aware of the time commitment involved in research. Genei employs AI to expedite your research process because of this. Any PDF or website can be automatically summarised by the tool. Also, you can ask it questions, and it will respond with succinct, compiled explanations based on sources. There is a free trial period and a $3.99 monthly price for the Basic plan.
---
Iris.ai
Iris.ai is a research workspace that uses AI to assist you with all aspects of your research. You can connect to various data sets, upload documents, and then use the software's robust features on those connections. It has the ability to collect and filter data, comprehend contexts, and produce summaries. On their website, you can inquire about a demo.
---
Semantic Scholar
Want to accelerate the discovery of new scientific knowledge? You may stay current with the most recent research trends in your field with the aid of Semantic Scholar. It can quickly extract essential conclusions from more than 2 million scholarly papers by indexing them. Additionally, this research AI will alert you to fresh papers or citations of relevance as well as assist you with citing and locating influential literature. It is free for you to use.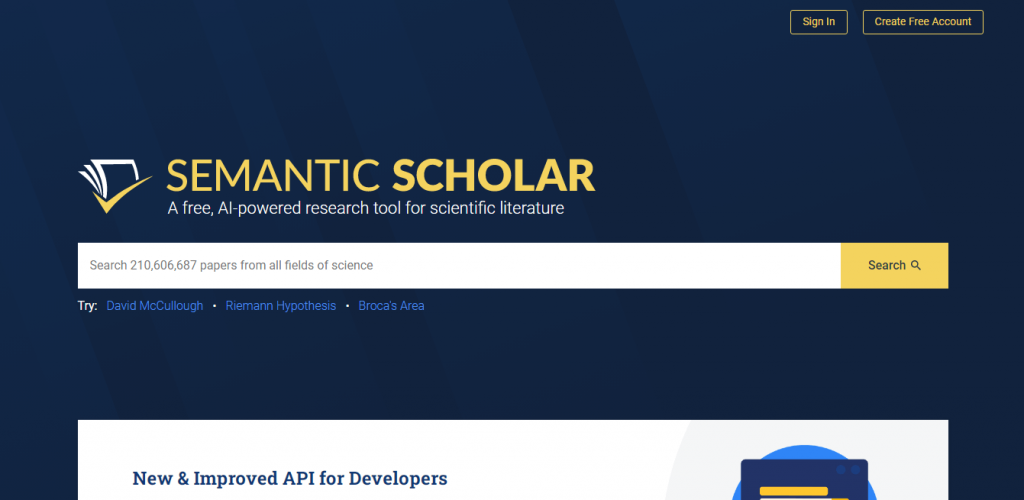 ---
Wizdom.ai
A platform for natural language processing called Wizdom.ai aids in decision-making by comprehending data and drawing conclusions from it. As you type in the subject of your choice, a variety of insights are provided, including publishing activity, citation trends, top publishers, and authors. Businesses and organisations utilise it to interpret data and get practical insights.
---