You may have been living under a rock if you aren't aware of the most recent developments in artificial intelligence (AI) tools. The world has been swept up by AI. It can help you with a wide range of jobs, from writing material and maths to creating code and images, thanks to the abundance of tools at your disposal. Where AI technology will lead us next is difficult to predict given its ongoing advancement. We're all in, though, and in this article we'll concentrate on the greatest AI design tools. We can help, whether you're a designer, developer, or just trying to organise your workflow. So let's explore the possibilities while using useful tools to spark our imaginations.
You've probably had those times as a creative worker where you feel stuck in a design rut. Thankfully, artificial intelligence is changing how designers discover inspiration. A good AI design tool can spark fresh ideas and help you approach your concepts in novel ways. With the help of these tools, designers of all ability levels may create unique colour schemes, web pages, enhance images, and create other creative materials. They may even provide you some new perspectives on your current ideas. The potential with AI is limitless.
---
Adobe Firefly
Without a question, creative workers are aware with Adobe and its line of cutting-edge products. However, you might not be familiar with their most recent product, Adobe Firefly. With the aid of a variety of AI design tools, this state-of-the-art programme can produce amazing text effects, convert text into images, and change the colour of vectors to get a wide range of colour combinations. Although Firefly is currently in beta, members to other Adobe cloud products like Illustrator or Photoshop can already use it. Acceptance into the beta often takes a few days, which is acceptable given how well-liked it is right now.
One of Adobe Firefly's most impressive features is without a doubt the text effect generator. By just typing a text prompt into the generator, you may use this tool to produce a wide variety of text effects. However, it's crucial to give your suggestion significant thought before entering it if you want to get the greatest results. For instance, when we attempted to generate a text effect with cats, the generator produced a multi-colored, comical look. When we gave it a more explicit prompt, it performed considerably better. Similar to how the text-to-image feature works, the output quality is heavily influenced by the input prompt.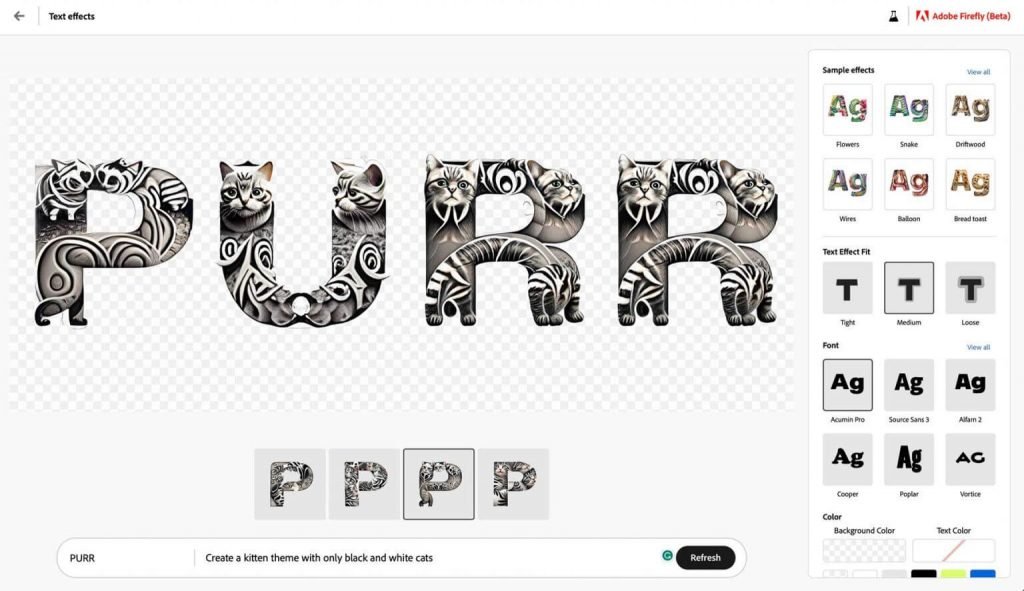 Users of Adobe's text-to-speech generator have a wide range of options to tailor the output. Everything about the output you make can be changed to fit your creative vision, including the content type, style, colour, tone, lighting, and composition. Firefly can be a great supplement to your artistic endeavour with the correct input prompt. Additionally, downloading and using the created images for your design projects is simple. It's important to remember, too, that Adobe watermarks these photographs and admonishes users not to use them for profit.
Key Features
Best For
It would be wise for devoted Adobe users to keep an eye on Firefly. Although the programme is still in beta, Adobe is constantly updating it in preparation for public release. Although you are presently unable to utilise the output photographs in projects for profit, we anticipate that once it is officially published, this will change.
---
AutoDraw
AutoDraw by Google has existed since 2017. But now that AI design tools are practically everywhere, it is receiving greater attention. Thanks to machine learning and the kind artists that freely give away their work, AutoDraw makes it possible for everyone to be an illustrator. It functions by letting users try their best to draw anything, such as a cat, a house, or anything else, and then attempting to guess what you are trying to draw. It then compares your doodle to a collection of comparable drawings that you may select from. Any platform can use AutoDraw, and you can even download your creations as PNGs for your artistic endeavours.
You can start with a simple design and let the AI design tool take care of the rest even if your drawing skills are minimal (like ours, ugh). For instance, despite our terrible attempt to design a cell phone, AutoDraw was able to understand our intentions. AutoDraw is adaptable and useful for a variety of tasks. However, as an AI design tool for web applications, it really excels. Icons may be simply added to content that would otherwise be unremarkable using AutoDraw's output, saving you time and effort.
Key Features
Turns your doodle into a work of art.
Best For
AutoDraw is quite useful for web developers and designers who aren't the best at drawing illustrations. To develop icons and other visual assets for use as accents in your web design projects, use this fantastic AI design tool. But there is a drawback. There are also concerns over whether you may use them in business applications because output is restricted to a png file. In this situation, it is preferable to err on the side of caution and limit the use of created files to personal blogs or websites that provide information.
---
Canva
One of the most well-liked design applications is Canva. It is an excellent substitute for Adobe Creative Cloud and is usable by designers of all skill levels. A large selection of pre-designed templates, a simple drag-and-drop editor, royalty-free photos, and more enable you to produce social media posts, movies, presentations, brochures, drawings, and more. The number of AI design tools Canva includes with their platform may surprise you.
The Magic Design feature, one of Canva's latest AI design tools, lets you utilise a text prompt to generate templates for your design based on the photos and text you enter. What you get from an AI model depends on the input, just like with any other AI model. The Magic Design tool is fantastic since it provides design inspiration more quickly than browsing through thousands of pre-made designs. Even though the majority of the outcomes need to be adjusted, it's a good approach to spark your imagination.
The Magic Edit tool in Canva is another fascinating feature that enables you to delete a portion of an image and then replace it with another one based on a text prompt. In our illustration, we replaced a flower with a bouquet of roses using the Magic Edit brush. It quickly carried out the desired work and did a respectable job of switching out the flowers.
There are further AI design tools as well. For instance, Magic Erase works similarly to Magic Edit, with the exception that you can erase items from photos rather than change them. Even generating written content from a text prompt is aided by an AI-powered copywriting helper. Then there's Translate, which lets you instantly switch the text in your designs between more than 100 different languages.
Key Features
Tons of pre-made templates.
Drag-and-drop visual editor.
Create graphics for multiple platforms.
Several AI design tools onboard.
Best For
Canva is a fantastic choice for those with little experience in design. Your designs can be made, edited, downloaded, and shared on social media and other sites. Canva is attractive when paired with the new AI design tools at its disposal.
---
DreamStudio
DreamStudio, our upcoming AI design tool, is based on Stable Diffusion, an energy-based text-to-image model that learns how to produce visuals while consuming as little energy as possible. AI then creates graphics in a variety of styles, including photorealism, art deco, and everything in between. DreamStudio's capacity to edit photos and upscale them while keeping fine details and sharpness and minimising visual artefacts and distortion sets it apart from other text-to-image producers.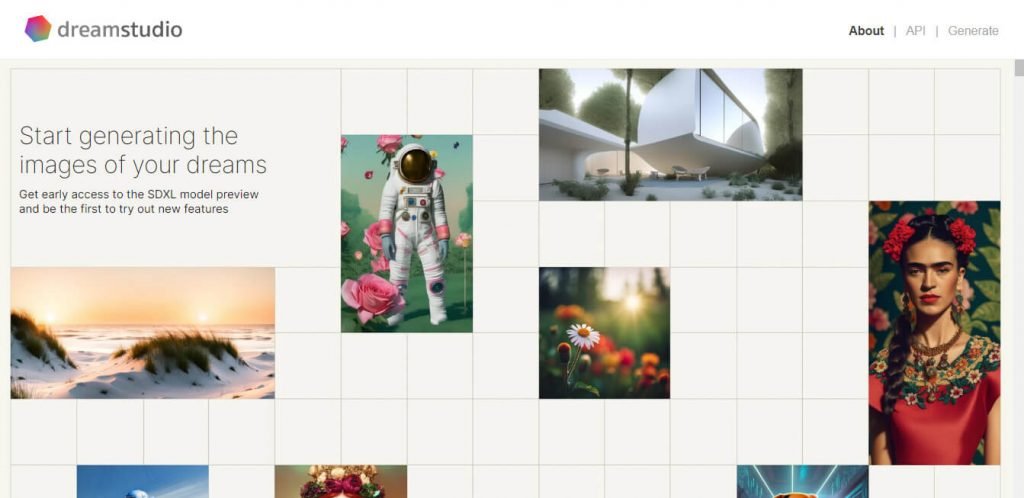 You can create a variety of images with DreamStudio's style presets, including enhanced, photographic, comic book, and others. You begin with a solid prompt, just like with other text-to-image models. A negative prompt can be included to tell DreamStudio what to avoid. Another fantastic feature is the ability to upload your own photographs and then edit them using your own prompts. You can select how many copies to create, and there are many image size formats. You can change the number of generation steps needed to produce more realistic photographs and select one of three models, each of which has differing levels of realism.
Key Features
Generate, edit, and download photos.
Generates high-quality images in less than 2 seconds.
Utilizes stable diffusion.
Best For
DreamStudio is a fantastic resource for creative inspiration. Even if the majority of the photos are somewhat absurd, you can still produce some amazing results that will inspire you in ways that go beyond what you could have imagined.
---
Khroma
Khroma, which is an excellent option for designers who frequently struggle to identify the ideal colour scheme for their projects, is our second-best AI design tool. Your guesswork regarding colour theory is eliminated with Khroma. You are first asked to choose fifty colours that you find appealing. Khroma then uses your selections to create colour palettes, graphics, and colour combinations. By adding items to your favourites list, Khroma learns more about your preferences and provides more choices. You'll have more alternatives the more you favourite.
Khroma is a great AI design tool for designers wishing to automate their colour picking process because it contains a number of remarkable characteristics. The SVG generator, which enables you to see how your chosen colours might improve photos, is one of the feature highlights. When you locate one that you like, you may copy the SVG code and use it in your online applications. Additionally, you may copy and paste the hex codes for each colour in your drawings by clicking the i icon in the top-right corner of a colour palette. With this tool, you can easily include your preferred colour scheme into your work.
Key Features
Copy hex codes for easy color implementation.
Generate endless color palettes.
Upload your own images and apply colors to them.
AI-generated images with your colors.
Best For
Khroma is perfect for people who don't need much help choosing colours for their next creative projects. Even those with the worst colour blindness may easily produce stunning graphics thanks to the AI tool, which generates colour combinations and palettes based on your preferences.
---
Let's Enhance
Let's Enhance is the second item in our list of the top AI design tools. For those who struggle to obtain quality image assets from clients, this is an excellent tool. In only a few clicks, it employs artificial intelligence to improve your photographs. To use in print, real estate, and e-commerce situations, you can eliminate noise, enhance fuzzy photographs, and upscale smaller images.
Let's Enhance's main selling point, the image enhancing tool, is its best feature. By changing the parameters for light, tone enhancement, and colour, you can produce photographs that are up to 16 times larger than their original size. Alternately, select a preset to scale and enhance your image according to how you intend to utilise it. There are printing settings that will scale up your image to the size of a poster. To highlight products on your website, the ecommerce preset also offers upscaling, Light AI, and background removal. The real estate preset, which modifies images of homes and other properties, is the last one.
The picture creation tool makes use of AI to create images from a text prompt and to improve photos. However, this tool is still in beta, and judging by the appearance of the images created with it, they still need to refine it. Having said that, we were able to easily increase a 400400 photograph to be four times its original size with amazing results, proving that the image enhancement option is worthwhile.
Key Features
Upscale photos up to 16x.
Best For
If you're a designer or developer who wants assistance modifying subpar client-provided images, Let's Enhance is a great choice. The software offers pro plans at a very affordable price but is free for up to 10 image upgrades each month.
---
Looka Logo Maker
An revolutionary tool called Looka Logo Maker makes use of artificial intelligence to make it simple for you to design a logo for your company. With the help of a user-friendly configuration wizard, the software learns more about your preferences for design by showing you a variety of pre-made logos. The wizard then asks you to choose your chosen colours, include a creative tagline, and decide which style of symbol would best represent your company. After you finish the wizard, Looka Logo Maker creates a variety of logos based on your prompts, allowing you to select one that speaks to you and modify it to your liking.
The user-friendly logo editor in Looka Logo Maker allows you to unleash your creativity by adjusting the layout, colour scheme, typefaces, symbol, and other elements to perfect the final design after you've chosen the logo concept that speaks to you the most. To give your logo a more professional appearance, you can also rearrange all the components, include a container, or add a background. One of the best features of Looka Logo Maker is how inexpensive it is; a high-resolution JPG of your logo just costs $20. For $65 more, you may subscribe to the premium logo package, which offers numerous high-resolution file types like EPS and PDF, if you want total control over your logo.
Key Features
Specify custom colors and fonts.
Pick from hundreds of icons.
Choose from dozens of logo concepts.
Best For
Looka is definitely worth checking out if you enjoy being creative or are in charge of a small business but find it difficult to produce a logo on your own. With Looka, you'll have access to dozens of dynamically created logos, increasing the likelihood that you'll find one you adore.
---
MidJourney
Our latest AI design tool, MidJourney, creates AI-generated pictures in a slightly frantic manner. MidJourney, which was created via Discord, has established a reputation as the best AI image generator. However, the application can occasionally be unorganised, annoying, and overrun with numerous other people simultaneously producing photos. Despite this, the realism of the photographs produced by MidJourney earns it a spot on our list.
MidJourney has the AI skills to stunningly produce practically any image you can imagine. Nevertheless, dealing with it does need for some patience. We found MidJourney to be so busy that they would only let us create photographs if we had a subscription. Given how many people use it, that makes obvious sense. MidJourney is actually fairly easy to use once you get past the anxiety of being a beginner, though. To get the prompt where you can enter as much information as you like to create your image, simply type in /imagine. The final products are frequently so lifelike that it can be challenging to tell them apart from human-made photos.
Key Features
Requires subscription for best results.
Creates all types of images.
Runs on the Discord server.
Best For
MidJourney is a great choice if you need materials for imaginative projects that demand a lot of flair. You will be astounded by what it is capable of with just a little bit of time and imagination.
---
Uizard
Last but not least, we have Uizard, an AI design tool that you can use to make desktop applications, websites, mobile apps, and online apps using a straightforward drag-and-drop editor. There are countless templates available in Uizard. You can even submit a hand-drawn sketch and have the programme turn it into a working wireframe (insert speech bubble here).
One of Uizard's best qualities is its user-friendly interface, which makes it simple to navigate. Users of Figma or Adobe XD will find it to be similarly set out but simpler to utilise. You can either start from scratch or choose from hundreds of design components. Uizard has you covered in either case.
However, its UI design tools, which include a wireframe and screenshot scanner that can instantly convert your sketches or images into editable mockups, are its most outstanding feature. You can generate design themes using the theme generator tool based on a supplied image or URL, complete with colours and fonts. A text-to-image generator, text helper, and focus predictor are also included. The latter shows you where you should concentrate your attention on your design the most.
Key Features
Create a functional wireframe from a sketch or screenshot.
Create webpages, web apps, and more.
Easy drag-and-drop interface.
Hundreds of templates to choose from.
Countless design elements.
Best For
Even if you have very little to no design experience, Uizard enables you to create beautiful websites and applications. There are many of templates, practical AI design tools, and a competitive price compared to other well-known design software.
---