In 2017, Uizard's trip began in Copenhagen, Denmark. They began as an experiment in machine learning. Now they want to democratise design so that anyone may create interactive, digital things. Uizard is accessible to everyone who can use PowerPoint. A popular web programme called Uizard may be used to create the user interface for many different things, including websites and mobile apps.
A rapid, AI-powered prototyping tool called Uizard may be used to quickly build wireframes, mockups, and prototypes. Uizard's intelligent capabilities also make it simple to convert hand-drawn sketches into wireframes and prototypes from wireframes. Premade design templates and other elements can be rapidly modified by dragging and dropping them into Uizard.
Uizard was created to provide designers and non-designers equal impact, making it the ideal tool for collaboration and iteration. This amazing AI-powered tool can be used by web designers to build websites with amazing features, appealing functionality, and a fantastic user experience. It doesn't require any design skills or expertise. Customers can quickly convert their crude hand-drawn concepts into polished, usable digital counterparts using Uizard.
---
Uizard Overview
The Uizard is a rapid prototype SaaS platform that gives users drag-and-drop components and templates so they can easily and quickly develop desktop applications, web apps, mobile apps, and websites. Users accustomed to Powerpoint, Keynote, or Google Slides can participate in the design process by working in Uizard. Designers can experiment with various aesthetics and concepts thanks to its themes.
In addition to e-commerce and mobile apps, Uizard offers templates for websites and landing pages. The user can alternate between a low-fidelity wireframing mode to more clearly show user flows and a high-fidelity mockup mode to explore styles that are enhanced by Uizard's themes. The deep learning algorithms used by Uizard can extract elements and styling characteristics from screenshots, photographs, and moodboards.
The user can then modify the colours, typographies, styles, and other design elements that are generated by the Uizard AI Design Assistant. Starting with hand-drawn wireframes and sketches, users can upload them to Uizard, where computer vision and machine learning transform the scribbles into digital screens and components that can be edited, customised, and combined to create interactive prototypes that can be shared with others. By collecting style properties and components from a URL, an app snapshot, or a Sketch file, Uizard may make use of preexisting assets.
Uizard seeks to offer a more straightforward experience in comparison to comparable, professional designer-focused tools like Sketch, Figma, Adobe XD, or InVision Studio so that non-designers can more readily participate in the creative process. Uizard has a Free plan that allows for trial use, and its Pro and Enterprise memberships unlock more features and access to resources like the company's whole library of templates, limitless use of its ML capabilities, and live customer support.
Uizard comes from the Copenhagen-based business of the same name. Since its founding in 2017, the business has raised seed funding several times. In 2019, they got $2.8 million from Nordic venture capital firm byFounders and other VC companies and individuals to help Uizard in the development of "sketch2code," a streamlined prototype and UI/UX design platform based on machine learning.
---
Uizard Features
Create UI themes using URLs or photos
Uizard uses effective deep-learning algorithms to generate stunning design themes from the images you enter. Using images, screen shots, or mood boards as your sources of inspiration, Uizard can swiftly make a UX/UI theme that complements. Thanks to Uizard's AI design tools, which can even extract colours, stylization, fonts, and other elements from any app screenshot, you can quickly move a design style from one project to another.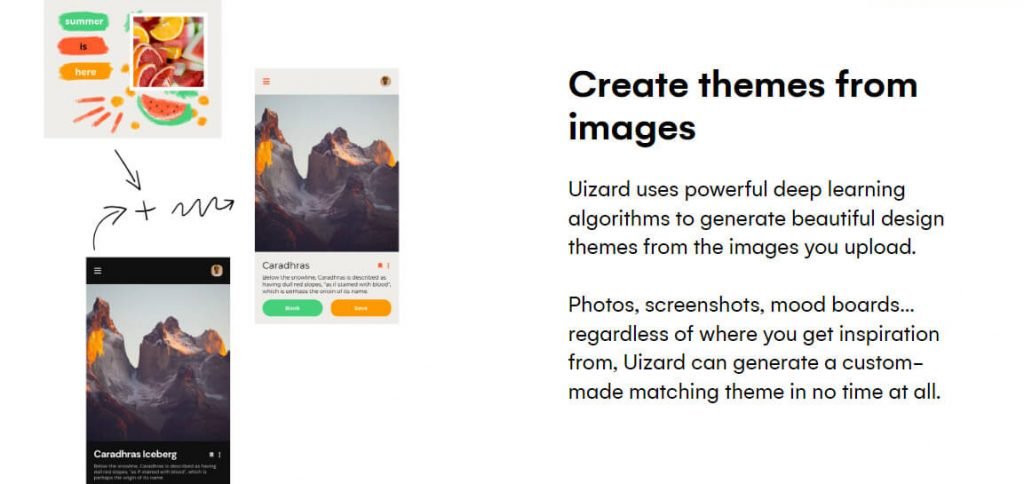 Text to Mockup Autodesigner
The newest AI design tool from Uizard, Autodesigner, enables users to build user interface (UI) mockups using only simple text inputs. The newest AI-powered tool added to Uizard is called Autodesigner, which enables users to effortlessly and rapidly bring ideas to life by simply typing a few brief commands and letting their AI technology take care of the rest.
Ready-to-use Themes and Templates
Users can quickly and simply use and modify hundreds of expertly produced templates and targeted themes on Uizard to meet their design needs.
Converts Scribble to Designs
Uizard can transform hand-drawn images into editable wireframes by automatically identifying them using AI-integrated technologies. Its deep learning technology has the ability to autonomously generate fonts, colours, images, and other elements from loaded paper prototypes.
Create Editable Mockups From Screenshots
Users can upload screenshots to Uizard, where artificial intelligence transforms the images into editable mockups in a matter of seconds. By taking screenshots of their preferred software, websites, and user interfaces, users may easily customise them.
Import/Export Features
By importing their designs from images, URLs, or Sketch projects, users can begin working on Uizard. Your Uizard creations can be exported in a number of different file kinds, including as JPG, PDF, CSS, APK, etc.
Immediate Collaboration and Sharing
A unique URL can be created for the user's Uizard project, which they can share with others. Without needing to install any software, other people can view the project on their web pages. Additionally, the application provides specialised cloud collaboration tools for the user's team.
---
Uizard Use Cases
Designers: Professional UI/UX designers can easily iterate on designs, develop prototypes quickly, and optimise their workflow.
Developers: To expedite the development process, front-end developers can generate React, Vue, or HTML/CSS code using Uizard's code export capability.
Product Managers: Product managers may swiftly obtain user feedback and evaluate concepts by producing interactive prototypes early in the development cycle.
Entrepreneurs: Without hiring a specialised design staff, startups and lone entrepreneurs can use Uizard's AI-driven design capabilities to realise their ideas.
Educators: In design and development courses, Uizard can be used as a teaching tool to assist students understand the principles and methods of UI design.
---
Uizard Core Functionality
Design System Integration: Users have the option to import their existing design systems or develop new ones within Uizard, facilitating smooth project collaboration and uniformity in design.
Smart Design Suggestions: Uizard's AI engine makes intelligent suggestions for colours, typefaces, and layout components as users develop their interfaces, resulting in a unified and aesthetically pleasing user experience.
Rapid Prototyping: By uploading hand-drawn or digital wireframes, which Uizard instantly transforms into interactive designs, users can swiftly build high-fidelity prototypes.
Component Recognition: Uizard automatically applies consistent design styles and recognises individual interface components, streamlining component maintenance.
Version Control: Uizard has a built-in version control system that you may use to keep track of design changes and roll back to earlier versions if necessary.
Real-Time Collaboration: To work on projects, discuss design systems, and offer input through in-app comments, invite team members to join you.
Integration With Popular Design Tools: Export your Uizard projects back to Figma, Sketch, or Adobe XD after importing your designs from those programmes.
Code Export: Reducing development time and guaranteeing design consistency are achieved by producing production-ready code in HTML/CSS, React, or Vue.
---
Uizard Pros and Cons
PROS
✅ Great design features as well as it's easy to use.
✅ Use of templates (like a pre-made Login Screen) makes you much faster at the beginning to set up your design.
CONS
❌ Difficulty to reach out some features making it hard to find.
❌ Adding new components to the library can be a pain at times, because it's not completely obvious how.
---
Uizard Pricing
Uizard provides three primary pricing plans to suit various user requirements and financial constraints:
Free: The Free plan offers access to Uizard's essential features, 3 active projects, 10 free templates, and is perfect for solo users and small teams.
Pro: The Pro plan, which costs $12 per month if paid annually, includes priority assistance, limitless projects and design systems, and premium features like code export.
Business: Startups and expanding companies can upgrade to Business plan with unlimited screens, access to all templates, and 24/7 support for $39 per month.
Enterprise: The Enterprise plan, designed for large organisations, offers unique features, devoted support, and cutting-edge security choices. On request, pricing information is provided.
---
Conclusion
The approach to UI design taken by designers, developers, product managers, and business owners will be revolutionised by the AI-driven UI design platform known as Uizard. Uizard speeds up the design process while retaining quality and consistency because to its user-friendly interface, intelligent design ideas, and strong collaboration tools. Uizard is a complete solution for quickly and easily building stunning, useful user interfaces, regardless of whether you're a front-end developer, a professional designer, or the founder of a startup.
---