What happens when you blend the twists and turns of a traditional whodunit with the richly detailed world-building and technological advancements of a science fiction book? You are given a book that you can't put down! Check out this list of 10 works that expertly meld the murder mystery and science fiction genres to show how speculative aspects can alter the conventional structure of a crime scene and its investigation.
---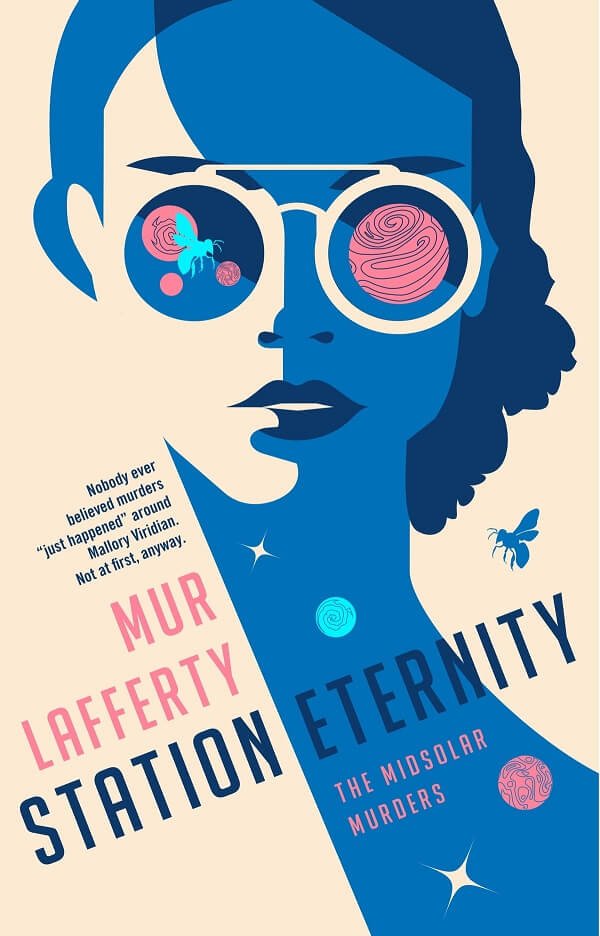 Station Eternity
Mur Lafferty
From idyllic small towns to claustrophobic urban landscapes, Mallory Viridian is constantly embroiled in murder cases that only she has the insight to solve. But outside of a classic mystery novel, being surrounded by death doesn't make you a charming amateur detective, it makes you a suspect and a social pariah. So when Mallory gets the opportunity to take refuge on a sentient space station, she thinks she has the solution. Surely the murders will stop if her only company is alien beings. At first her new existence is peacefully quiet…and markedly devoid of homicide. But when the station agrees to allow additional human guests, Mallory knows the break from her peculiar reality is over.
Release Date: October 4, 2022
---
The Paradox Hotel
Rob Hart
January Cole's job just got a whole lot harder. Not that running security at the Paradox was ever really easy. Nothing's simple at a hotel where the ultra-wealthy tourists arrive costumed for a dozen different time periods, all eagerly waiting to catch their "flights" to the past. Or where proximity to the timeport makes the clocks run backward on occasion—and, rumor has it, allows ghosts to stroll the halls.
None of that compares to the corpse in room 526. The one that seems to be both there and not there. The one that somehow only January can see. On top of that, some very important new guests have just checked in.
Release Date: February 22, 2022
---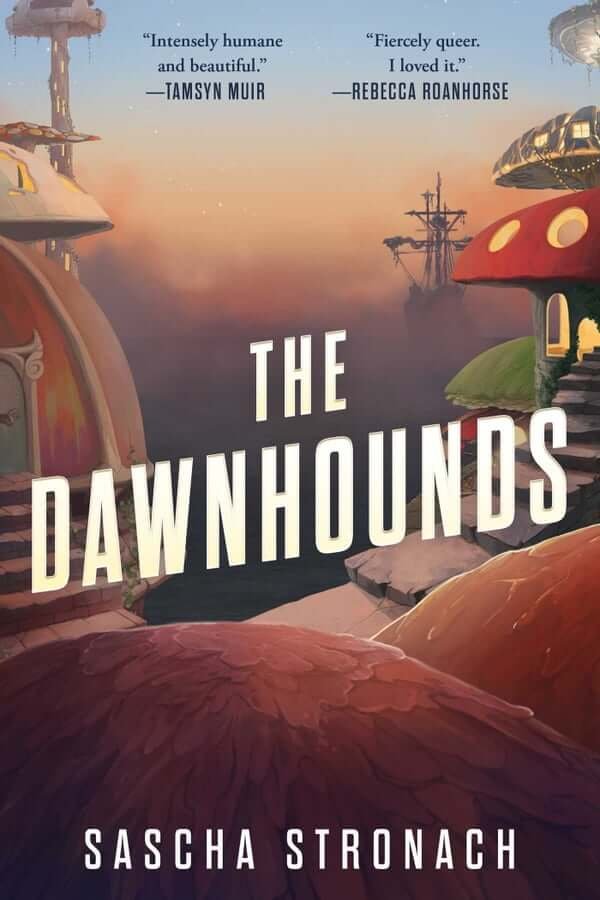 The Dawnhounds
Sascha Stronach
The port city of Hainak is alive: its buildings, its fashion, even its weapons. But, after a devastating war and a sweeping biotech revolution, all its inhabitants want is peace, no one more so than Yat Jyn-Hok a reformed-thief-turned-cop who patrols the streets at night. Yat has recently been demoted on the force due to "lifestyle choices" after being caught at a gay club. She's barely holding it together, haunted by memories of a lover who vanished and voices that float in and out of her head like radio signals. When she stumbles across a dead body on her patrol, two fellow officers gruesomely murder her.
Release Date: June 14, 2022
---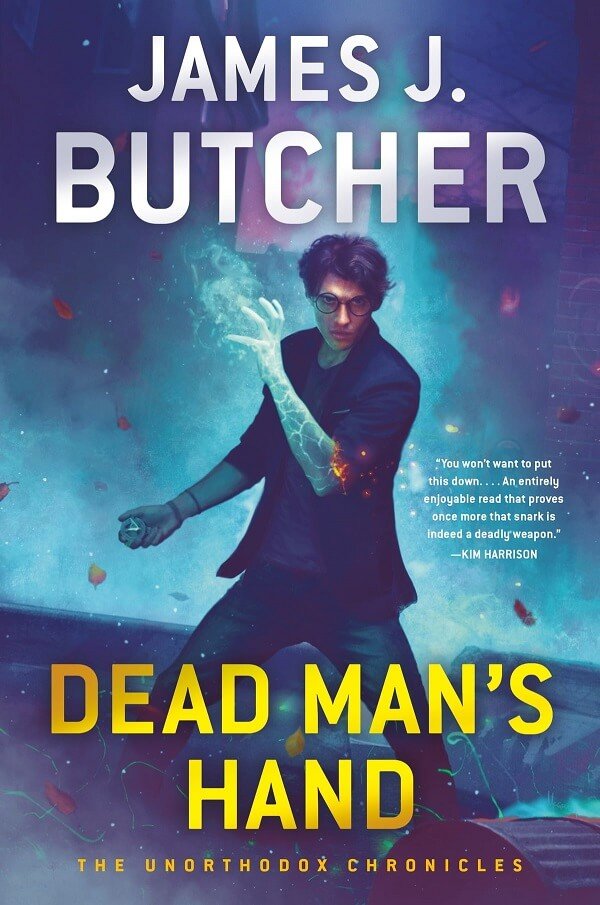 Dead Man's Hand
James J. Butcher
On the streets of Boston, the world is divided into the ordinary Usuals, and the paranormal Unorthodox. And in the Department of Unorthodox Affairs, the Auditors are the magical elite, government-sanctioned witches with spells at their command and all the power and prestige that comes with it. Grimshaw Griswald Grimsby is…not one of those witches. After flunking out of the Auditor training program and being dismissed as "not Department material," Grimsby tried to resign himself to life as a mediocre witch. But he can't help hoping he'll somehow, someway, get another chance to prove his skill.
Release Date: October 11, 2022
---
Even Though I Knew the End
C. L. Polk
A magical detective dives into the affairs of Chicago's divine monsters to secure a future with the love of her life. This sapphic period piece will dazzle anyone looking for mystery, intrigue, romance, magic, or all of the above. An exiled augur who sold her soul to save her brother's life is offered one last job before serving an eternity in hell. When she turns it down, her client sweetens the pot by offering up the one payment she can't resist—the chance to have a future where she grows old with the woman she loves. To succeed, she is given three days to track down the White City Vampire.
Release Date: November 8, 2022
---
Lost in Time
A.G. Riddle
One morning, Dr. Sam Anderson wakes up to find that the woman he loves has been murdered. For Sam, the horror is only beginning. He and his daughter are accused of the crime. The evidence is ironclad. They will be convicted. And so, to ensure his daughter goes free, Sam does what he must: he confesses.
But in the future, murderers aren't sent to prison. Thanks to a machine Sam helped invent, the world's worst criminals are now sent to the past – approximately 200 million years into the past, to the dawn of the time of the dinosaurs – where they must live out their lives alone, in exile from the human race.
Release Date: September 1, 2022
---
River Woman, River Demon
Jennifer Givhan
Eva Santos Moon is a burgeoning Chicana artist who practices the ancient, spiritual ways of brujería and curanderisma, but she's at one of her lowest points—suffering from disorienting blackouts, creative stagnation, and a feeling of disconnect from her magickal roots. When her husband, a beloved university professor and the glue that holds their family together, is taken into custody for the shocking murder of their friend, Eva doesn't know whom to trust—least of all, herself. She soon falls under suspicion as a potential suspect, and her past rises to the surface, dredging up the truth about an eerily similar death from her childhood.
Release Date: October 4, 2022
---
The Spare Man
Mary Robinette Kowal
Tesla Crane, a brilliant inventor and an heiress, is on her honeymoon on an interplanetary space liner, cruising between the Moon and Mars. She's traveling incognito and is reveling in her anonymity. Then someone is murdered and the festering chowderheads who run security have the audacity to arrest her spouse. Armed with banter, martinis and her small service dog, Tesla is determined to solve the crime so that the newlyweds can get back to canoodling—and keep the real killer from striking again.
At the Publisher's request, this title is being sold without Digital Rights Management Software (DRM) applied.
Release Date: October 11, 2022
---
Lock In
John Scalzi
Not too long from today, a new, highly contagious virus makes its way across the globe. Most who get sick experience nothing worse than flu, fever and headaches. But for the unlucky one percent – and nearly five million souls in the United States alone – the disease causes "Lock In": Victims fully awake and aware, but unable to move or respond to stimulus. The disease affects young, old, rich, poor, people of every color and creed. The world changes to meet the challenge. A quarter of a century later, in a world shaped by what's now known as "Haden's syndrome," rookie FBI agent Chris Shane is paired with veteran agent Leslie Vann.
Release Date: August 26, 2014
---
The Caves of Steel
Isaac Asimov
Like most people left behind on an over-populated Earth, New York City police detective Elijah Baley had little love for either the arrogant Spacers or their robotic companions. But when a prominent Spacer is murdered under mysterious circumstances, Baley is ordered to the Outer Worlds to help track down the killer.
The relationship between Life and his Spacer superiors, who distrusted all Earthmen, was strained from the start. Then he learned that they had assigned him a partner: R. Daneel Olivaw.
Worst of all was that the "R" stood for robot—and his positronic partner was made in the image and likeness of the murder victim!
Release Date: April 13, 2011
---