There is nothing better than cozying up by the fire with a wonderful book and a mug of steaming hot chocolate as the weather turns colder and the holidays approach. Check out this list of 2022 releases if you're searching for a cozy book that's ideal for the winter, Christmas, and the full holiday season, including festive rom-coms, charming mysteries, and more.
---
The Christmas Spirit
Debbie Macomber
Peter Armstrong and Hank Colfax are best friends, but their lives couldn't be more different. Peter, the local pastor who is dedicated to his community, spending time visiting the flock, attending meetings, and, with the holiday season approaching, preparing for the Christmas service and live nativity. As a bartender, Hank serves a much different customer base at his family-owned tavern, including a handful of lonely regulars and the local biker gang.
When Peter scoffs that Hank has it easy compared to him, the two decide to switch jobs until Christmas Eve.
Release Date: October 18, 2022
---
Eight Nights of Flirting
Hannah Reynolds
Shira Barbanel has a plan: this Hanukkah, she's going to get a boyfriend. And she has the perfect candidate in mind—her great-uncle's assistant, Isaac. He's reliable, brilliant, and of course, super hot. The only problem? Shira's an absolute disaster when it comes to flirting. Enter Tyler Nelson, Shira's nemesis-slash-former-crush. As much as she hates to admit it, Tyler is the most charming and popular guy she knows. Which means he's the perfect person to teach her how to win Isaac over. When Shira and Tyler get snowed in together at Golden Doors, they strike a deal—flirting lessons for Shira in exchange for career connections for Tyler.
Release Date: October 25, 2022
---
The Noel Diary
Richard Paul Evans
Bestselling romance author Jacob Churcher hasn't been home for almost twenty years—not since his mentally ill mother kicked him out of the house when he was just sixteen. When a lawyer calls, days before Christmas, to inform him that his estranged mother has passed away and left her house to him, Jacob returns not just to settle the estate but to try and reconcile with the past and the pain and abuse he experienced as a child. Also, maybe cleaning out her house will be slightly less depressing than spending the holidays alone, watching re-runs of Christmas classics.
Release Date: November 7, 2017
---
The Christmas Clash
Suzanne Park
Chloe Kwon can't stand Peter Li. It's always been that way. Their families don't get along either: their parents operate rival restaurants in the Riverwood Mall food court—Korean food for the Kwons and Chinese food for the Lis. Now it's the holiday season and Chloe's the photographer at the mall's Santa's Village, and Peter works at the virtual reality North Pole experience right across the atrium. It's all Chloe can do to avoid Peter's smug, incredibly photogenic face.
But it turns out the mall is about to be sold to a developer and demolished for condos. Eviction notices are being handed out right before Christmas.
Release Date: October 4, 2022
---
Whiteout
Dhonielle Clayton, Tiffany D. Jackson, Nic Stone, Angie Thomas, Ashley Woodfolk, Nicola Yoon
As the city grinds to a halt, twelve teens band together to help a friend pull off the most epic apology of her life. But will they be able to make it happen, in spite of the storm? No one is prepared for this whiteout. But then, we can't always prepare for the magical moments that change everything. From the bestselling authors who brought us Blackout—Dhonielle Clayton, Tiffany D. Jackson, Nic Stone, Angie Thomas, Ashley Woodfolk, and Nicola Yoon—comes another novel of Black teen love, each relationship within as unique and sparkling as Southern snowflakes.  
Release Date: November 8, 2022
---
Season of Love
Helena Greer
Thanks to her thriving art career, Miriam Blum finally has her decoupaged glitter ducks in a row—until devastating news forces her to a very unwanted family reunion. Her beloved great-aunt Cass has passed and left Miriam part-owner of Carrigan's, her (ironically) Jewish-run Christmas tree farm. But Miriam's plans to sit shiva, avoid her parents, then put Carrigan's in her rearview mirror are spoiled when she learns the business is at risk of going under. To have any chance at turning things around, she'll need to work with the farm's grumpy manager—as long as the attraction sparking between them doesn't set all their trees on fire first.
Release Date: October 11, 2022
---
Murder on the Christmas Express
Alexandra Benedict
In the early hours of Christmas Eve, the sleeper train to the Highlands is derailed, along with the festive plans of its travellers. With the train stuck in snow in the middle of nowhere, a killer stalks its carriages, picking off passengers one by one.
Those who sleep on the sleeper train may never wake again.

Can former Met detective Roz Parker find the killer before they kill again?

All aboard for . . . Murder on the Christmas Express
Release Date: November 10, 2022
---
The Tsarina's Daughter
Ellen Alpsten
Born into the House of Romanov to the all-powerful Peter the Great and his wife, Catherine, a former serf, beautiful Tsarevna Elizabeth is the envy of the Russian empire. She is insulated by luxury and spoiled by her father, who dreams for her to marry King Louis XV of France and rule in Versailles. But when a woodland creature gives her a Delphic prophecy, her life is turned upside down. Her volatile father suddenly dies, her only brother has been executed and her mother takes the throne of Russia. As friends turn to foes in the dangerous atmosphere of the Court, the princess must fear for her freedom and her life. Fate deals her blow after blow, and even loving her becomes a crime that warrants cruel torture.
Release Date: March 15, 2022
---
A Merry Little Meet Cute
Sierra Simone and Julie Murphy
Bee Hobbes (aka Bianca Von Honey) has a successful career as a plus-size adult film star. With a huge following and two supportive moms, Bee couldn't ask for more. But when Bee's favorite producer casts her to star in a Christmas movie he's making for the squeaky-clean Hope Channel, Bee's career is about to take a more family-friendly direction. Forced to keep her work as Bianca under wraps, Bee quickly learns this is a task a lot easier said than done. Though it all becomes worthwhilewhen she discovers her co-star is none other than childhood crush Nolan Shaw, an ex-boy band member in desperate need of career rehab.
Release Date: September 20, 2022
---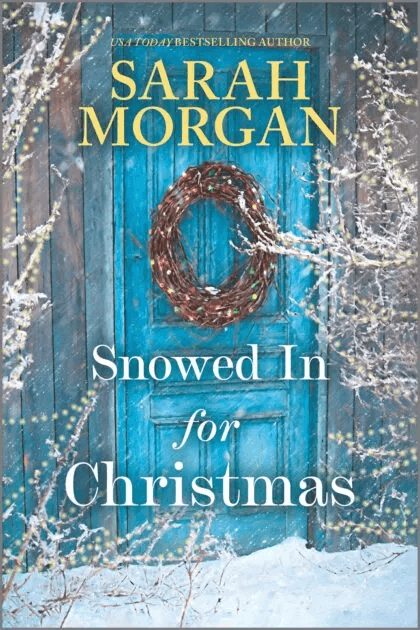 Snowed in for Christmas
Sarah Morgan
This Christmas the Miller siblings have one goal—to avoid their well-meaning family's endless stream of prying questions. Ross, Alice and Clemmie have secrets that they don't intend to share, and they are relying on each other to deflect attention. Lucy Clarke is facing a Christmas alone and the prospect of losing her job. Unless she can win a major piece of business from Ross Miller, the season promises to be anything but festive. She'll just deliver her proposal to his family home and then leave. After all, she wouldn't want to intrude on the Miller family's perfect Christmas.
Release Date: September 20, 2022
---