It's a perfect time to pick up a new book that broadens your understanding of the world and the people that inhabit it when the rain begins to fall and the flowers begin to bloom. The exploration of key themes like love, pain, social inequity, family, and the environment is one of the many ways that nonfiction provides insight into a variety of subjects. Here are 10 most anticipated nonfiction books of spring 2023.
---
If It Sounds Like a Quack
Matthew Hongoltz-Hetling
It's no secret that American health care has become too costly and politicized to help everyone. So where do you turn if you can't afford doctors, or don't trust them? In this book, Matthew Hongoltz-Hetling examines the growing universe of non-traditional treatments — including some that are really non-traditional. With costs skyrocketing and anti-science sentiment spreading, the so-called "medical freedom" movement has grown. Now it faces its greatest challenge: going mainstream. In these pages you'll meet medical freedom advocates including an international leech smuggler.
Release Date: April 4, 2023
---
Justice is Served
Leslie Karst
When Leslie Karst learned that her offer to cook dinner for Supreme Court Justice Ruth Bader Ginsburg and her renowned tax law professor husband, Marty, had been accepted, she was thrilled—and terrified. A small-town lawyer who hated her job and had taken up cooking as a way to add a bit of spice to the daily grind of pumping out billable hours, Karst had never before thrown such a high-stakes dinner party. Could she really pull this off?
Justice Is Served is Karst's light-hearted, earnest account of the journey this unexpected challenge launched her on—starting with a trip to Paris for culinary inspiration.
Release Date: April 4, 2023
---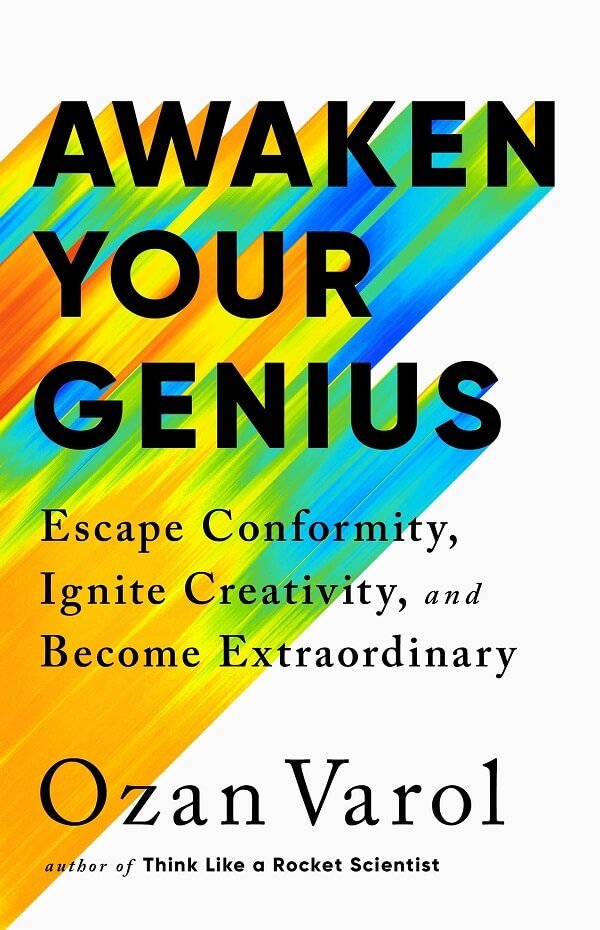 Awaken Your Genius
Ozan Varol
We say some people march to the beat of a different drummer. But implicit in this cliché is that the rest of us march to the same beat. We sleepwalk through life, find ourselves on well-worn paths that were never ours to walk, and become a silent extra in someone else's story.
Extraordinary people carve their own paths as leaders and creators. They think and act with genuine independence. They stand out from the crowd because they embody their own shape and color. We call these people geniuses—as if they're another breed. But genius isn't for a special few. It can be cultivated.
Release Date: April 11, 2023
---
The Anxious Achiever
Morra Aarons-Mele
Anxiety disorders are the most common mental illnesses in the world. But in our workplaces, anxiety has been a hidden problem—there in plain sight but ignored. Until now. The Anxious Achiever is a book with a mission: to normalize anxiety and leadership. As leadership expert and self-proclaimed anxious achiever Morra Aarons-Mele argues, anxiety is built into the very nature of leadership. It can—and should—be harnessed into a force for good. Inspired by the popular podcast of the same name, The Anxious Achiever is filled with personal stories, research-based insights into mental health, and lots of practical advice.
Release Date: April 11, 2023
---
On the Origin of Time
Thomas Hertog
Perhaps the biggest question Stephen Hawking tried to answer in his extraordinary life was how the universe could have created conditions so perfectly hospitable to life. In order to solve this mystery, Hawking studied the big bang origin of the universe, but his early work ran into a crisis when the math predicted many big bangs producing a multiverse—countless different universes, most of which would be far too bizarre to ​harbor life. Holed up in the theoretical physics department at Cambridge, Stephen Hawking and his friend and collaborator Thomas Hertog worked on this problem for twenty years.
Release Date: April 11, 2023
---
In Our Shoes
Brianna Holt
In Our Shoes: On Being a Young Black Woman in Not-So "Post-Racial" America is a memoir in essays about young Black women and the stereotypes and preconceived notions they are expected to live up to, examined through the lens of Brianna Holt's lived experience and pop culture to help readers unlearn their biases and expand their worldviews.
Part memoir, part cultural critique, In Our Shoes will walk readers through the common stereotypes and issues young Black women have to overcome in modern America, in order to dismantle myths about Black womanhood and explore the roles.
Release Date: April 11, 2023
---
The Microstress Effect
Rob Cross and Karen Dillon
There's a force we encounter every day that we aren't aware of—and it threatens to derail otherwise promising careers and lives: microstress. This hidden epidemic of small moments of stress has insidiously infiltrated both our work and our personal lives with invisible but devastating effects. Microstress doesn't trigger the normal stress response in our brains to help us deal with it. Instead, it embeds itself in our minds and accumulates daily, one microstress on top of the other. The long-term impact can be debilitating. Unregistered microstress weighs us down, damages our physical.
Release Date: April 18, 2023
---
The Golden Ticket
Irena Smith
Palo Alto, California, is home to stratospheric real estate prices and equally high expectations, a place where everyone has to be good at something and where success is often defined by the name of a prestigious college on the back of a late-model luxury car. It's also the place where Irena Smith—Soviet émigré, PhD in comparative literature, former Stanford admission reader—works as a private college counselor to some of the country's most ambitious and tightly wound students . . . even as, at home, her own children unravel. Narrated as a series of responses to college application essay prompts, The Golden Ticket combines sharp social commentary.
Release Date: April 18, 2023
---
Honey, Baby, Mine
Laura Dern & Diane Ladd
Laura Dern and Diane Ladd always had a close relationship, but the stakes were raised when Diane developed a sudden life-threatening illness. Diane's doctor prescribed long walks to build back her lung capacity. The exertion was challenging, and Laura soon learned the best way to distract her mom was to get her talking and telling stories.
Their conversations along the way began to break down the traditional barriers between mothers and daughters. They discussed the most personal topics: love, sex, marriage, divorce, art, and legacy.
Release Date: April 25, 2023
---
Underwater Daughter
Antonia Deignan
Tuni's father began sexually abusing her when she was just four years old. Her mother, though aware of the abuse, was a silent witness—one either incapable or unwilling to intervene—and the abuse continued until Tuni was eleven. Three years later, when Tuni was fourteen, she was raped by an adult actor who was part of her cast in a professional theater production.
These traumas would go on to shape much of her life. Underwater Daughter follows how Tuni grappled with her relationship with her parents, the aftermath of her rape, an eating disorder, drug and alcohol excesses.
Release Date: May 2, 2023
---