With the aid of the content intelligence SaaS platform Scalenut, you can find and produce the most pertinent content for your company. It produces the finest content it can using deep learning and AI. Writing long-form content for users may be a lot of work, and we do mean a LOT of work, as brand owners and content producers. The creation of content for blogs never stops because I work as a full-time content generator.
Realistically, you have two options for addressing your content needs:
Either become good at writing tons of content fast with AI copywriting tools.
Or outsource it to a marketing team of writing agencies and businesses.
The problem with the latter is that, when you're first establishing an online business with few consumers, not everyone has thousands of dollars to pay for a company that provides these services. Yet the entire process can be made LOT more manageable with the correct AI authoring tools, and that's where Scalenut comes in.
By automating many of the procedures involved in producing long-form content, Scalenut is a new artificial intelligence (AI) copywriter that enables you to generate material more quickly and with less effort. We'll go over all you need to know about Scalenut in this frank review so you can decide whether to buy it or see if there are any other options available to you. Nevertheless, if you like, you can simply test it out for free.
---
How Scalenut Can Help You Write Content Effortlessly
Anyone who has trouble coming up with ideas for first draughts and the development of content should definitely check out Scalenut. Without having to worry about spending HOURS in front of a blank page staring you in the face, it enables you to write, edit, and design your blog entries. This editor makes it simple to write articles with a clear structure that are well-organized and easy to read, as well as product descriptions for your online store.
Also, because Scalenut also offers SEO optimization and NLP capabilities, more readers will probably find your material online on the SERP (Search Engine Results Page). In fact, Scalenut has been used to help with everything you've read up to this point. If we didn't use the tool to do the evaluation, it wouldn't be fair, right?
Even though the writing will ALWAYS require careful, sometimes intense editing, the outcomes are respectable enough for a first draught! Actually, you'll spend most of your time editing rather than writing, which greatly reduces stress and greatly boosts productivity.
---
How Scalenut Works And Its Best Features
Scalenut is a programme made to make writing easier for you at every stage, from brainstorming content ideas to producing finished pieces. The user interface is simple enough for beginners to utilise while still being helpful for seasoned marketing teams.
It uses information from a variety of sources, including blog posts and articles on social media, to assist you in creating better context that will rank highly on search engines. Let's start with my personal favourites that set this AI writer apart from the competition. It includes a variety of features that make writing simple.
1. The Cruise Mode
The so-called Cruise Mode provides a set of actions in a well-thought-out workflow that can help you speed up the process of writing an article with important content. Simply adhere to the directions and provide the AI your topic.
You may either provide the title of your blog article or let the AI come up with some titles.
The framework of your blog post should then be worked on. You can find the top 10 Google-ranked websites' content to the right and use it as inspiration for your own article.
The writing points will take up a significant quantity of your time after that. The AI needs to be directed here to stay on subject and actually write meaningful content, therefore this is the most crucial step. If you get this wrong, it will be difficult to produce content that is both good and readable. Thankfully, you can always go back and make changes.
That's all, then! Simply press the regenerate button for each part until you see something you like if you don't like what the AI writes up.
As you can see, the entire posting process is quite simple. You can have the first draught in your hands in a matter of minutes if you just follow the directions!
2. Scalenut SEO Assistant
Anybody interested in using SEO to increase the likelihood that their content will rank higher than the competition should check out Scalenut SEO Helper (Search Engine Optimization). Using keyword research and analysis to help you choose the best keywords for your post, the SEO assistant is helpful in making content optimization accessible. Of course, using specific SEO software is more effective. But you'll also need to fork up several hundred dollars more for them.
3. The Outline Generator
A helpful tool that makes it simple to develop a precise and succinct structure for your essay is the outline generator. By providing pertinent suggestions for additional research subjects and queries, it aids in revision and guarantees that your content is correct and current.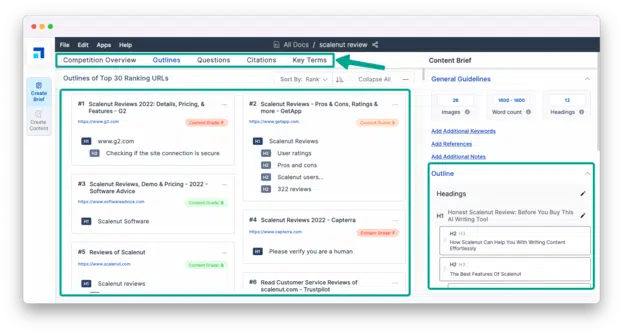 4. Scalenuts Statistics Scraper
In my opinion, this is priceless, and I wish other tools could benefit from it too. Scalenut examines the sources and statistics used by the top 10 to 30 websites, as well as the anchor texts and source URLs. You can bet that if ten websites use a particular metric, you should use it as well to improve your ranking.
5. Copywriting Frameworks
Like most AI writing programmes, Scalenut includes copywriting templates like PAS and AIDA. They function as planned, and there are many other AI templates available that are all built into the UI.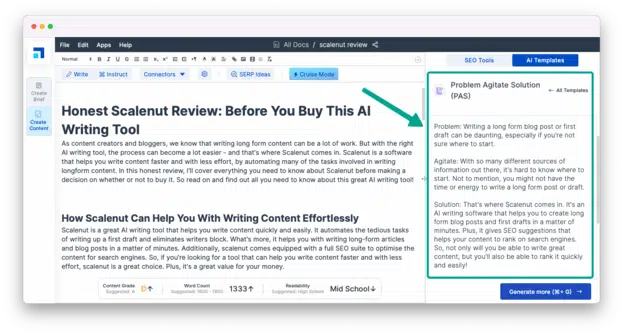 ---
Scalenut Pros and Cons
PROS
Well-designed user interface.
Attractive pricing.
Many short-form templates.
Strong long-form content creation.
"What Google Loves" clearly shown.
Cluster Builder is very useful.
Helps to create content that will outperform competitors.
CONS
No customizable templates.
Sometimes generates repetitive content.
Top 30 competitors used in identifying key terms.
Not enough tutorials.
---
Scalenut Plans and Pricing
One of the most important software suppliers for small enterprises is Scalenut. They provide a range of features and programmes that can help your business in a number of ways. Scalenut offers its clients useful tools to boost the success of their initiatives.
By registering for a free trial, during which you will have access to all of Scalenut's tools, you may test out these plans and decide which one best suits your company's needs. When you want to, you can increase your plan, and Scalenut's features will expand along with your business. They have the following plans: after a free trial, you can upgrade to:
Individual plan for $23/mo
Growth for $47/mo
Pro for $89/mo
You get access to all Pro plan features, such as Cruising Mode and Topic Clusters, throughout the seven-day free trial. This will provide you a thorough understanding of the instrument.
---
Scalenut Use Cases
1. Website Content
Increase conversions and drive more traffic with captivating stories that express the soul of your company. Scalenut has the skills and resources to provide engaging website content for you.
AI Short-form copies – Employ one of the most capable AI copywriters for your blog posts, product descriptions, website copy, blog introductions, and other writing tasks. Provide a description, and AI will work its magic.
Automated Content research – Increase on-page automated content research and SEO. SEO Assistant, which was created utilising NLP algorithms, helps you outperform the competition.
AI Long-form writing – You can create long-form AI-assisted content using its powerful editor in a matter of minutes. Add photographs, videos, and real-time quality ratings to your material.
2. Social Media Content
Make social media your growth engine by publishing content that attracts attention, fosters participation, and eventually increases your revenue. Artificial intelligence-driven GenerateAI from Scalenut immediately creates numerous useful social copies.
Enter Brand Name
Enter Product Description
Hit Generate
---
Summary
To assist you in creating high-quality, SEO-friendly content, Scalenut combines cutting-edge technology like AI, NLP, Subject Clusters, and seamless content creation processes. You'll dominate Google searches and position your website as a subject-matter expert.
Google considers how frequently you post content since it considers you to be an authority. To keep up, Scalenut provides you with "Managed Marketplace," a content development service. Scalenut writers will create any type of content for you, from short to long form, at a reasonable cost.
With strong short- and long-form content-generating features and a wide selection of templates, Scalenut is an AI-powered writer. You can easily generate long form content with Cruising Mode. Furthermore, Scalenut features a robust SEO component to assist you in producing material that will outrank your rivals. To plan content around your primary keywords and establish yourself as an authority in your industry, use the Cluster Builder. In short, Scalenut has a lot to offer.
---