Picking up a beautiful book about the queer experience is a great way to celebrate Pride Month! June is LGBTQIA+ identity month, commemorating the Stonewall riots of 1969, which helped kick off the LGBTQIA+ rights movement. From swoon-worthy romances to coming-of-age stories to laugh-out-loud memoirs and more, we've compiled a list of books on queer delight.
Detransition, Baby
Torrey Peters
Reese almost had it all: a loving relationship with Amy, an apartment in New York City, a job she didn't hate. She had scraped together what previous generations of trans women could only dream of: a life of mundane, bourgeois comforts. The only thing missing was a child. But then her girlfriend, Amy, detransitioned and became Ames, and everything fell apart. Now Reese is caught in a self-destructive pattern: avoiding her loneliness by sleeping with married men.
Release Date: October 5, 2021
Honey Girl
Morgan Rogers
With her newly completed PhD in astronomy in hand, twenty-eight-year-old Grace Porter goes on a girls' trip to Vegas to celebrate. She's a straight A, work-through-the-summer certified high achiever. She is not the kind of person who goes to Vegas and gets drunkenly married to a woman whose name she doesn't know…until she does exactly that.
Release Date: February 23, 2021
Heartstopper: Volume 1
Alice Oseman
Shy and softhearted Charlie Spring sits next to rugby player Nick Nelson in class one morning. A warm and intimate friendship follows, and that soon develops into something more for Charlie, who doesn't think he has a chance.
But Nick is struggling with feelings of his own, and as the two grow closer and take on the ups and downs of high school, they come to understand the surprising and delightful ways in which love works.
Release Date: February 7, 2019
The Guncle
Steven Rowley
Patrick, or Gay Uncle Patrick (GUP, for short), has always loved his niece, Maisie, and nephew, Grant. That is, he loves spending time with them when they come out to Palm Springs for weeklong visits, or when he heads home to Connecticut for the holidays. But in terms of caretaking and relating to two children, no matter how adorable, Patrick is, honestly, overwhelmed.
Release Date: May 25, 2021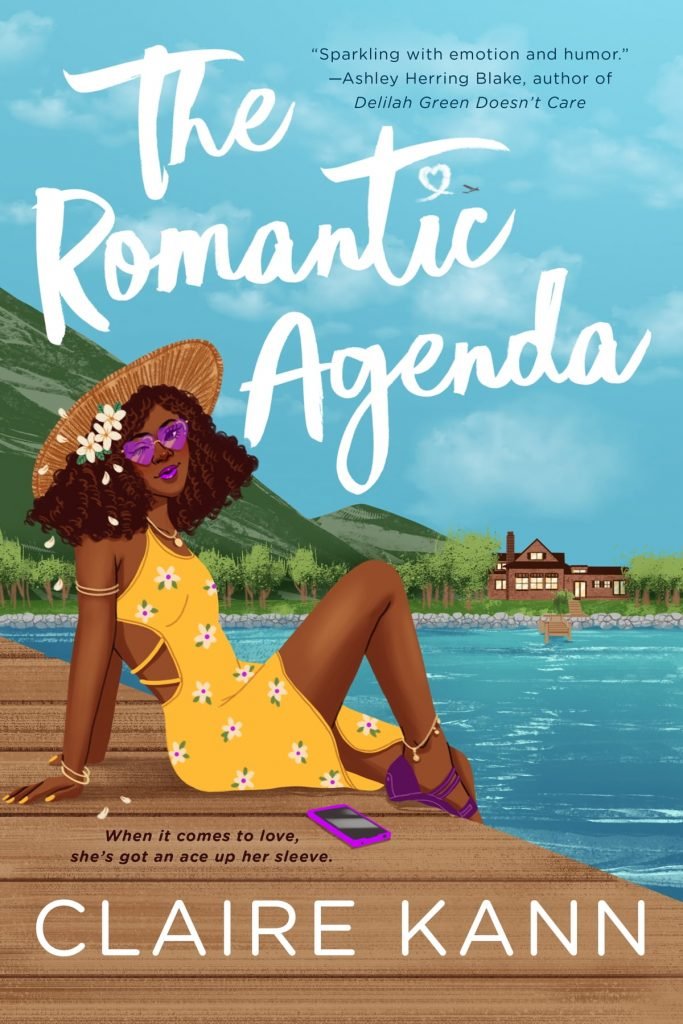 The Romantic Agenda
Claire Kann
Thirty, flirty, and asexual Joy is secretly in love with her best friend Malcolm, but she's never been brave enough to say so. When he unexpectedly announces that he's met the love of his life—and no, it's not Joy—she's heartbroken. Malcolm invites her on a weekend getaway, and Joy decides it's her last chance to show him exactly what he's overlooking. But maybe Joy is the one missing something…or someone…and his name is Fox.
Release Date: April 12, 2022
Here for It
R. Eric Thomas
R. Eric Thomas didn't know he was different until the world told him so. Everywhere he went—whether it was his rich, mostly white, suburban high school, his conservative black church, or his Ivy League college in a big city—he found himself on the outside looking in.
Here for It will resonate deeply and joyfully with everyone who has ever felt pushed to the margins, struggled with self-acceptance, or wished to shine more brightly in a dark world. Stay here for it—the future may surprise you.
The Queer Principles of Kit Webb
Cat Sebastian
Kit Webb has left his stand-and-deliver days behind him. But dreary days at his coffee shop have begun to make him pine for the heady rush of thievery. When a handsome yet arrogant aristocrat storms into his shop, Kit quickly realizes he may be unable to deny whatever this highborn man desires.
Kit refuses to participate in the robbery but agrees to teach Percy how to do the deed. Percy knows he has little choice but to submit and as the lessons in thievery begin, he discovers thievery isn't the only crime he's desperate to commit with Kit.
How to Find a Princess
Alyssa Cole
Makeda Hicks has lost her job and her girlfriend in one fell swoop. The last thing she's in the mood for is to rehash the story of her grandmother's infamous summer fling with a runaway prince from Ibarania, or the investigator from the World Federation of Monarchies tasked with searching for Ibarania's missing heir.
Yet when Beznaria Chetchevaliere crashes into her life, the sleek and sexy investigator exudes exactly the kind of chaos that organized and efficient Makeda finds irresistible, even if Bez is determined to drag her into a world of royal duty Makeda wants nothing to do with.
One Last Stop
Casey McQuiston
For cynical twenty-three-year-old August, moving to New York City is supposed to prove her right: that things like magic and cinematic love stories don't exist, and the only smart way to go through life is alone. She can't imagine how waiting tables at a 24-hour pancake diner and moving in with too many weird roommates could possibly change that. And there's certainly no chance of her subway commute being anything more than a daily trudge through boredom and electrical failures.
Release Date: June 1, 2021
Rosaline Palmer Takes the Cake
Alexis Hall
Following the recipe is the key to a successful bake. Rosaline Palmer has always lived by those rules—well, except for when she dropped out of college to raise her daughter, Amelie. Now, with a paycheck as useful as greaseproof paper and a house crumbling faster than biscuits in tea, she's teetering on the edge of financial disaster. But where there's a whisk there's a way . . . and Rosaline has just landed a spot on the nation's most beloved baking show.
Winning the prize money would give her daughter the life she deserves—and Rosaline is determined to stick to the instructions. However, more than collapsing trifles stand between Rosaline and sweet, sweet victory.
Burn It All Down
Nicolas DiDomizio
Eighteen-year-old aspiring comic Joey Rossi just found out his boyfriend has been cheating on him for the past ten months. But what did he expect? Joey was born with an addiction to toxic jerks—something he inherited from his lovably messy, wisecracking, Italian-American spitfire of a mom (and best friend): 34-year-old Gia Rossi.

When Gia's latest non-relationship goes up in flames only a day later, the pair's Bayonne, New Jersey apartment can barely contain their rage. In a misguided attempt at revenge, Joey and Gia inadvertently commit a series of crimes and flee the state, running to the only good man either of them has ever known—Gia's ex, Marco.
That Inevitable Victorian Thing
E. K. Johnston
Victoria-Margaret is the crown princess of the empire, a direct descendent of Victoria I, the queen who changed the course of history. The imperial tradition of genetically arranged matchmaking will soon guide Margaret into a politically advantageous marriage. But before she does her duty, she'll have one summer of freedom and privacy in a far corner of empire. Posing as a commoner in Toronto, she meets Helena Marcus, daughter of one of the empire's greatest placement geneticists, and August Callaghan, the heir to a powerful shipping firm currently besieged by American pirates. In a summer of high-society debutante balls, politically charged tea parties, and romantic country dances, Margaret, Helena, and August discover they share an extraordinary bond and maybe a one-in-a-million chance to have what they want and to change the world in the process.
Read Between the Lines
Rachel Lacey
Books are Rosie Taft's life. And ever since she took over her mother's beloved Manhattan bookstore, they've become her home too. The only thing missing is her own real-life romance like the ones she loves to read about, and Rosie has an idea of who she might like to sweep her off her feet. She's struck up a flirty online friendship with lesbian romance author Brie, and what could be more romantic than falling in love with her favorite author?
Release Date: December 1, 2021
The Postscript Murders
Elly Griffiths
The death of a ninety-year-old woman with a heart condition should not be suspicious. Detective Sergeant Harbinder Kaur certainly sees nothing out of the ordinary when Peggy's caretaker, Natalka, begins to recount Peggy Smith's passing.

But Natalka had a reason to be at the police station: while clearing out Peggy's flat, she noticed an unusual number of crime novels, all dedicated to Peggy. And each psychological thriller included a mysterious postscript: PS: for PS. When a gunman breaks into the flat to steal a book and its author is found dead shortly thereafter—Detective Kaur begins to think that perhaps there is no such thing as an unsuspicious death after all.