You should check out this list of suggested books before you start packing if you're counting down the days till your summer vacation! These are the top books of summer 2023, according to Trenzle readers, and they range from exciting thrillers to steamy rom-coms. What one are you going to read next?
---
The Beach at Summerly
Beatriz Williams
June 1946. As the residents of Winthrop Island prepare for the first summer season after the sacrifice of war, a glamorous new figure moves into the guest cottage at Summerly, the idyllic seaside estate of the wealthy Peabody family. To Emilia Winthrop, daughter of Summerly's year-round caretaker and a descendant of the island's settlers, Olive Rainsford opens a window into a world of shining possibility. While Emilia spent the war years caring for her incapacitated mother, Olive traveled the world, married fascinating men, and involved herself in political causes. She's also the beloved aunt of the two surviving Peabody sons, Amory and Shep.
Release Date: June 27, 2023
---
Summer Reading
Jenn McKinlay
For Samantha Gale, a summer on Martha's Vineyard at her family's tiny cottage was supposed to be about resurrecting her career as a chef, until she's tasked with chaperoning her half-brother, Tyler. The teenage brainiac is spending his summer at the local library in a robotics competition, and there's no place Sam, who has dyslexia, likes less than the library. And because the universe hates her, the library's interim director turns out to be the hot-reader guy whose book she accidentally destroyed on the ferry ride to the island.
Bennett Reynolds is on a quest to find his father, whose identity he's never known. He's taken the temporary job.
Release Date: May 16, 2023
---
The Ferryman
Justin Cronin
Founded by the mysterious genius known as the Designer, the archipelago of Prospera lies hidden from the horrors of a deteriorating outside world. In this island paradise, Prospera's lucky citizens enjoy long, fulfilling lives until the monitors embedded in their forearms, meant to measure their physical health and psychological well-being, fall below 10 percent.
Then they retire themselves, embarking on a ferry ride to the island known as the Nursery, where their failing bodies are renewed, their memories are wiped clean, and they are readied to restart life afresh. 
Release Date: May 2, 2023
---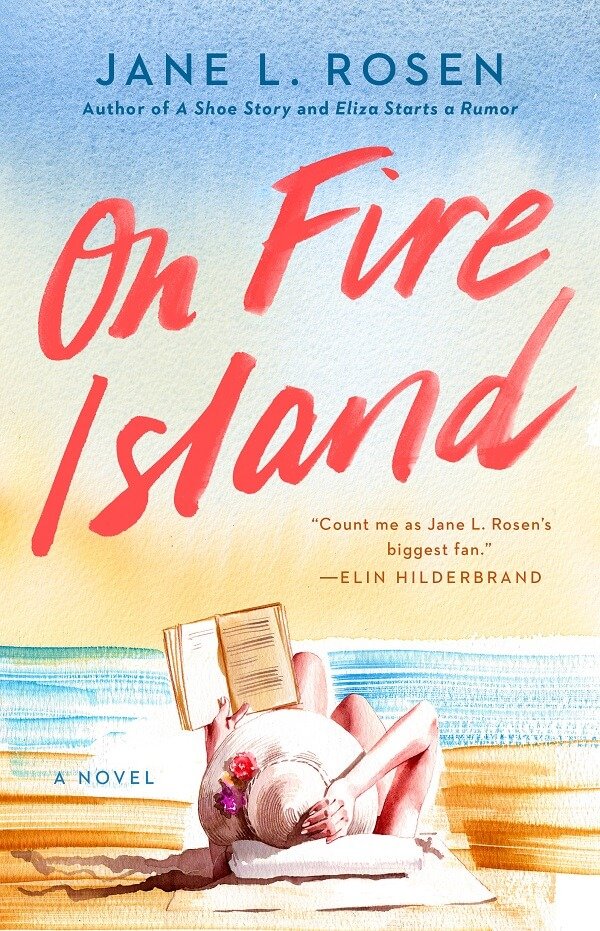 On Fire Island
Jane L. Rosen
As a book editor, Julia Morse lived and breathed stories. Whether with her pen to a manuscript or curled up with a book while at her beloved Fire Island cottage, her imagination alight with a good tale, she could anticipate practically any ending. The ending she'd never imagined was her own.
To be fair, no one expects to die at thirty-seven. So when the unthinkable happens to Julia, rather than following the light at the end of the proverbial tunnel, she chooses to spend one last summer near those she loves most. As she follows her adoring, novelist husband Ben to their—unexpectedly full—home on Fire Island, she discovers the ripple affect.
Release Date: May 23, 2023
---
My Magnolia Summer
Victoria Benton Frank
In New York City winter never seems to loosen its hold and for South Carolina transplant Maggie (born Magnolia after the fairest summer flower) the balmy beach weather of April back home on Sullivan's Island feels like a distant memory. Until a phone call from her sister, Violet, changes everything.
Gran, the treasured matriarch, has fallen into a coma after a car accident caused by Maggie's troubled mother, Lily. But once Maggie returns, she finds that her hometown of Sullivan's Island holds even more secrets. The Magic Lantern, the restaurant owned and run by generations.
Release Date: June 6, 2023
---
The Comeback
Lily Chu
Ariadne Hui thrives on routine. So what if everything in her life is planned down to the minute: that's the way she likes it. If she's going to make partner in Toronto's most prestigious law firm, she needs to stay focused at all times. But when she comes home after yet another soul-sucking day to find an unfamiliar, gorgeous man camped out in her living room, focus is the last thing on her mind.
Especially when her roommate explains this is Choi Jihoon, her cousin freshly arrived from Seoul to mend a broken heart. He just needs a few weeks to rest and heal; Ari will barely even know he's there. (Yeah, right.)
Release Date: May 9, 2023
---
Advika and the Hollywood Wives
Kirthana Ramisetti
At age 26, Advika Srinivasan considers herself a failed screenwriter. To pay the bills and keep her mind off of the recent death of her twin sister, she's taken to bartending A-list events, including the 2015 Governors Ball, the official afterparty of the Oscars. There, in a cinematic dream come true, she meets the legendary Julian Zelding—a film producer as handsome as Paul Newman and ten times as powerful—fresh off his fifth best picture win. Despite their 41-year age difference, Advika falls helplessly under his spell, and their evening flirtation ignites into a whirlwind courtship.
Release Date: April 11, 2023
---
Rootless
Krystle Zara Appiah
On a Spring afternoon in London, Sam hops the stairs of his flat two at a time. There's £1,300 missing from his and his wife, Efe's, shared bank account and his calls are going straight to voicemail. When he finally reaches someone, he learns Efe is nearly 5,000 miles away as their toddler looks around and asks, "Where's Mummy?"
When Efe and Sam met as teens headed for university, it seemed everyone knew they were meant to be. Efe, newly arrived in the UK from Ghana and sinking under the weight of her parents' expectations, found comfort in the focused and idealistic Sam. He was stable, working toward a law.
Release Date: March 7, 2023
---