Prepare a cosy blanket and settle in for some endearing new mysteries! You can always find a good sleuth anywhere, from bakeries to bookstores. Add these 8 cosy mysteries from the winter of 2023 to your wish list now.
---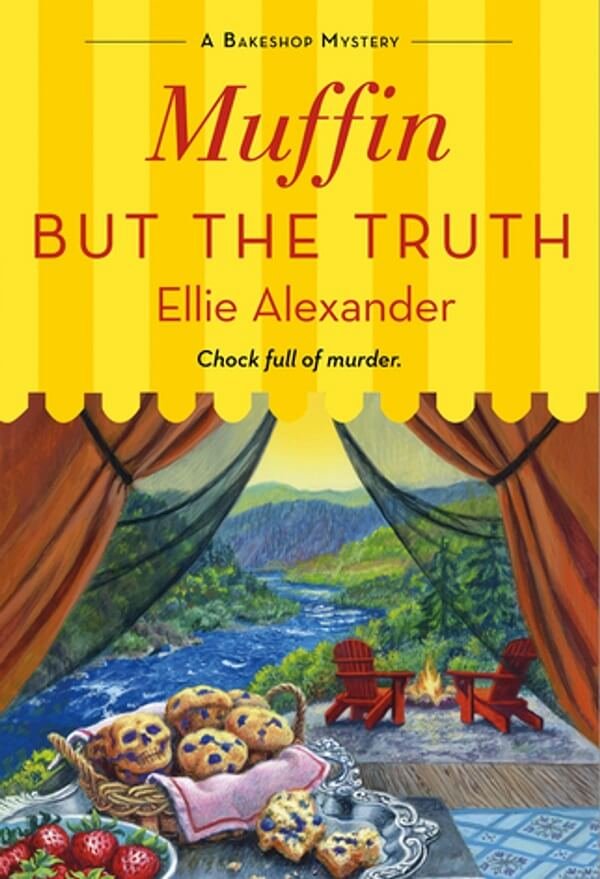 Muffin but the Truth
Ellie Alexander
Ashland is known for its Elizabethan charm and touches of Shakespeare around every corner, but the surrounding Rogue Valley draws adventure enthusiasts to its outdoor wonderland of high alpine lakes, mountain ranges, and pristine rivers. Jules Capshaw and the team at Torte have been hired to cater a weekend getaway on the mighty Rogue River. Jules is going to have to put her culinary skills to the test while baking gooey chocolate chip skillet cookies over an open flame and preparing extravagant feasts under a canopy of stars. The executive team at a big city firm will be rafting the Rogue's rapids.
Release Date: December 27, 2022
---
The Twyford Code
Janice Hallett
Forty years ago, Steven "Smithy" Smith found a copy of a famous children's book by disgraced author Edith Twyford, its margins full of strange markings and annotations. When he showed it to his remedial English teacher Miss Iles, she believed that it was part of a secret code that ran through all of Twyford's novels. And when she later disappeared on a class field trip, Smithy becomes convinced that she had been right.
Now, out of prison after a long stretch, Smithy decides to investigate the mystery that has haunted him for decades. In a series of voice recordings on an old iPhone.
Release Date: January 24, 2023
---
Three Can Keep a Secret
M. E. Hilliard
Greer Hogan is a librarian turned sleuth, an avid reader of crime fiction who possesses an uncanny knack for deduction—and now, she's drawn into another murder case as late autumn slowly turns to winter in the idyllic village of Raven Hill. When Anita Hunzeker, chair of the library board of trustees, is run off the road and killed, no one seems all that sorry. Anita was widely disliked, and the townsfolk would just as soon be rid of her. But when a local professor turns up dead as well, his connection to Anita and to other local residents leaves the suspect pool covering the entire county.
Release Date: February 7, 2023
---
Against the Currant
Olivia Matthews
Little Caribbean, Brooklyn, New York: Lyndsay Murray is opening Spice Isle Bakery with her family, and it's everything she's ever wanted. The West Indian bakery is her way to give back to the community she loves, stay connected to her Grenadian roots, and work side-by-side with her family. The only thing getting a rise out of Lyndsay is Claudio Fabrizi, a disgruntled fellow bakery owner who does not want any competition.
On opening day, he comes into the bakery threatening to shut them down. Fed up, Lyndsay takes him to task in front of what seems to be the whole neighborhood.
Release Date: January 24, 2023
---
Death by Arts and Crafts
Alexis Morgan
As the newest member of the Snowberry Creek City Council, perpetually overextended Abby McCree is picked to liaise between the council and the new planning committee for the town's first ever arts and crafts fair. As far as gigs go, it's a fun one—Abby's spending the weekend tooling around Washington State, checking out similar fairs with her two besties, coffee shop owner Bridey Roker, and ceramic artisan Dayna Fisk.
As Abby spreads the word about Snowberry Creek's fair, recruiting the industry's biggest movers and makers, the trip feels like a glittering success.
Release Date: December 27, 2022
---
A Good Day to Pie
Misha Popp
Daisy bakes a little murder into every pie she creates, and she and her dog, Zoe, deliver them to the town's worst cads. Now, Daisy's entered a televised, elimination-style competition and has a shot at $100k in prize money—but she still has a murder pie to deliver between filming.

In a completely unexpected turn of events, she discovers that her intended victim is one of the competition judges, and he turns up dead before the pie even arrives. Now, Daisy has to solve the murder—even if it means working a bit of magic—before someone calls foul play and exposes her murderous secret.
Release Date: February 7, 2023
---
City of Fortune
Victoria Thompson
Wealthy but uncouth Sebastian Nolan has invited his lawyer, Gideon Bates, and his lovely new wife, Elizabeth, to attend the famous Belmont Stakes. Nolan is anxious for Gideon and Elizabeth to help his daughter, Irene, acquire a bit of polish, now that his venture into thoroughbred racing has allowed them entry into society.
He is also hoping to find her a rich potential suitor. Elizabeth is not exactly the society girl Nolan believes her to be, but she is eager to attend the races. Her con artist family has made a lot of money at racetracks, although not from betting on the horses, and she enjoys the excitement of the track.
Release Date: December 6, 2022
---
In Farm's Way
Amanda Flower
Shiloh Bellamy still expects the last few Winter months to be busy with repairs, spring planning, and networking with local businesses. She might even be able to broker a new partnership with Fields Brewery and its organic brewer's association. Well, she could if the owner, Wallace, wasn't found murdered at the county Ice Fishing Derby. Once again, Shiloh gets tangled up in the investigation when the police ignore an entire crop of suspects to blame one of her friends. She'll have to dig deep to find the truth, reel in a killer, and convince her city-slicker pug to wear his winter boots.
Release Date: October 18, 2022
---