The v4 (version 4) of MidJourney has won our hearts. It's amazing how much each new edition has advanced. Many thanks, MidJourney crew! (We eat a rose petal for every image we create because we are so in love. Every day by nightfall, our heads are so heavy (like a calf's) that we have to use extra motivation to keep them upright.
We decided to share some amazing outcomes we obtained with the V4. You can use this "as is" with the suggested prompts or you can expand on these examples to satisfy your experimental needs.
And we decided it would be best to establish a dedicated page on the samples and link back to this page rather than cluttering up another item. We aim to highlight a few text cues (keywords) that you can use to access some particular styles and effects.
Some samples …
So let's get started right away. Here are a few questions, their outcomes, and some takeaways from each of them. Examine what you can glean from each one, and don't hesitate to choose those text prompts and play around with alternative iterations.
---
See what's inside the bag — with the knolling layout
/imagine knolling layout of the contents of a travellers backpack , white background
Key Takeaways /Lessons Learnt
The text prompt 'knolling layout' is a good way to demonstrate some key objects in a single image
Try out other knolling layouts with other places and objects — you will be surprised !
---
Japanese water colors are fun — adding the local flavor
/imagine sumi-e japanese watercolor , dog , soft and muted colors, fine and detailed lines to create texture and depth, realism and fantasy —q 2 — upbeta — s 750 — v 4
Key Takeaways /Lessons Learnt
If you are adding geographically / region specific image, ( eg: some Chinese characters or something typical to south-east Asia etc. ), find the local word for that object /style and add into your text prompt.
Here, we have taken the example of a typical japanese water color artform called the sumi-e . ( Adding this keyword drastically changes the effect ) . ( try other terms like "Ukiyo-e painting" "Yamato-e art" )
Reference : https://doyouknowjapan.com/painting/ ( for japanese art)
---
Filigree is ornamental !
/imagine filigree bell — v 4
Key Takeaways /Lessons Learnt
If you want to create detailed ornamental curvy designs, filigree is your keyword. Add it to anything and you get a classic intricate ornamental design.
---
The ornate Black widow
/imagine black widow , concept art, dramatic, 35mm, insanely detailed and complex, hypermaximalistic, elegant, ornate, hyperrealistic, super detailed — q 2 — ar 9:16 — v 4
Key Takeaways /Lessons Learnt
Keyword — ornate gives very intricate designs
When you are doing portraits, try portrait mode ( change the parameter for aspect ratio (–ar ) of 16:9 )
---
The Assassins' Creed Inspiration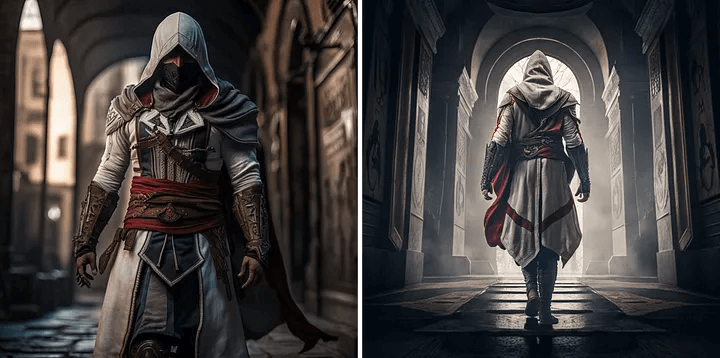 /imagine assassins creed inspired, fantasy photography, full body shot , ultra realistic, hyper realistic , cinematic lighting — v 4
Key Takeaways /Lessons Learnt
Use keyword inspired when you want to create a version of a character similar to an existing movie / animation / game character
Use keyword lighting tocreate beautiful lighting effects ( eg: cinematic lighting, dark moody lighting )
---
Creating life like, realistic faces and images — 'hyper real'
/imagine scary clown , hyperreal photograph
Key Takeaways /Lessons Learnt
Use keywords hyper real photograph almost always creates a life like rendition of the image. You can use it for faces, objects and scenes.
When you want to create a version of a character similar to an existing movie / animation / game character
---
Bringing alive any object — Anthropomorphize it !

/imagine anthropomorphic paper clip smiling — s 200 — v 4
Key Takeaways /Lessons Learnt
Adding keyword anthropomorphic makes an everyday object into a beautiful version of life ! Mostly useful if you are making cartoon characters out of 'things' .
---
Patterns ! Patterns Patterns !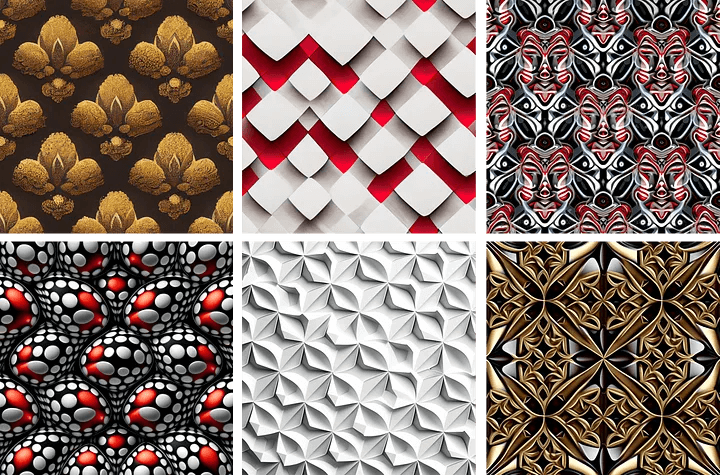 /imagine detailed 2d wallpaper, tesseract pattern, repeat, black background, white and red highlights — tile — v 3 — s 1000 — s 250
Key Takeaways /Lessons Learnt
Use the parameter --tile to create beautiful lighting effects ( eg: cinematic lighting, dark moody lighting )
Change the text prompt from 'Arabic pattern' to any other ! Use your imagination ( geometric pattern , tesseract etc)
Note : tile parameter is only available in v3 . So make sure to over-ride your version to v3 if version 4 is set by default in your settings.
Go crazy with stylize parameter ( — — s ) and the objects you want to create a pattern out of . ( eggs, faces , birds , leaves …. what ever ! )
---