You've come to the perfect site if you've ever wondered what a cartoon version of yourself would look like. Nobody can take you to a different animated universe. The innovative cartoonizers powered by AI in my essay, however, will allow you to do something cool: cartoon yourself online instantly. To create an AI cartoon, all you have to do is prepare a digital selfie and upload it. It certainly sounds magical.
Yet, AI is now assisting you in developing as a novice artist, believe it or not. In this article, we'll go over the top 10 AI cartoon generators that let you draw yourself online. They include both AI-powered web and smartphone applications and a number of entertaining traditional cartoonizers.
---
Artflow.ai
You may make animated video stories using this AI character generator by coming up with original settings, characters, and dialogue. You can test it out on their website, although right now it only functions in English.
---
Colorcinch
You may caricature yourself online with Colorcinch's cloud-based tool. This website advertises the ability to create a cartoon version of yourself using AI-powered filters. For a better appearance, select from dozens of available filters and change their intensity. Yet it costs money to use, much like Befunky. So, you must upgrade to premium, which costs 5.99 per month, in order to caricature yourself.
---
Crypko
An anime AI character generator called Crypko employs AI to produce waist-up pictures that can easily have their eye colour, hair colour, and other features modified. You may also give your character slick animations by using this.
---
Lensa
Free photo and video editing software for iPhone and Android is called Lensa AI. It specialises in image enhancement tools including colour filters, background blurring, and other well-known photo editing features.
Despite being a well-known cartoonizer programme, some allegations claim that it gathers specific user content for its own use. Some people are troubled by this, and they express their worries online. Nonetheless, Lensa is a very strong photo editing app that produces high-quality results thanks to its high-quality cartoon image generator, beauty features to remove imperfections, clear up skin, and enhance eyes, as well as backdrop correction capabilities.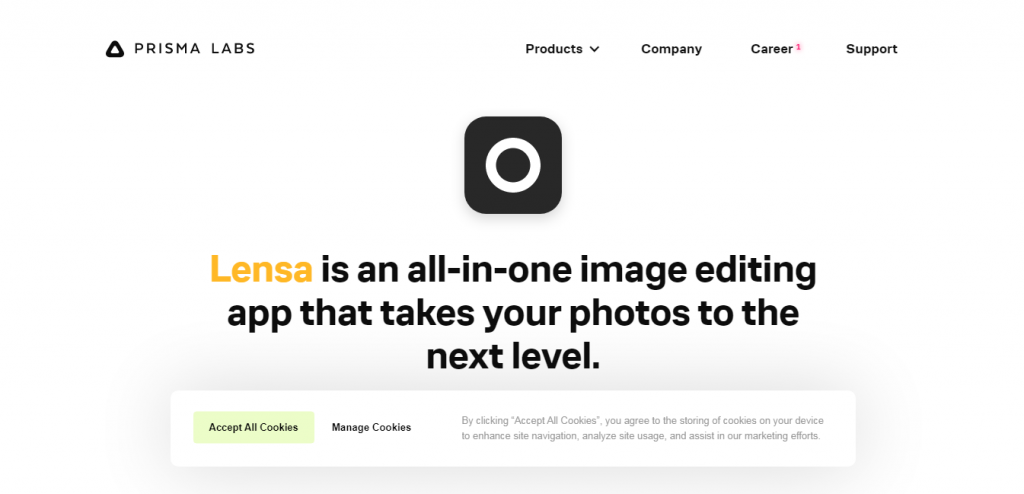 ---
Photic
A.I. technology is used by the photo editor Photic to make amusing caricatures of you or your friends. It provides a wide variety of photo filters and effects.
---
Photo Lab AI Cartoons
The Photo Lab AI Cartoons app promises to instantly turn you into a cartoon. With the help of artificial intelligence, this mobile software enables you to caricature yourself automatically and for free online. Compared to traditional cartoon filters, the trained networks produce better results and support various cartoon styles.
---
PhotoDirector
A photo-editing programme called PhotoDirector offers a wide variety of cartoon-style filters. You can quickly turn any selfie or portrait photograph into a caricature by using artificial intelligence (AI) picture identification and alteration techniques.
PhotoDirector contains 14 distinct cartoon filters, and new filters and effects are added on a regular basis. You may also use it to add cartoon effects to different areas of your image. Just tap the desired locations with your finger to apply the effect.
---
Replika
You're mistaken if you believe that AI companions exclusively appear in sci-fi movies. You may now design your own AI companion who is constantly available in the app and available for chats and advise. You can make a copy of yourself in the shape of a buddy, partner, mentor, or anything else. Also, the character will learn to know you better the more you converse with it. Doesn't that sound like a movie you've seen before?
---
Toongineer Cartoonizer
You can completely cartoon yourself online using Toongineer Cartoonizer, an AI-powered cartoonizer. Anywhere, at any time, with any device, you can create a self-cartoon. This AI cartoonizer exceeds the majority of its competitors in terms of the cartoon effects thanks to Generative Adversarial Network and trained algorithms.
---
Voilà AI Artist
With the use of painting techniques from the 15th, 18th, and 20th centuries, Voilà AI Artist turns your images into sketches.
---