K.D. Ritchie is a best-selling book cover designer for indie authors and publishers, with custom cover designs in fantasy. Their work as a book cover designer creates character art featuring: fairy-tale, fae, female warrior, sorceress, witch, mythology, and retelling themes.
Let's get started with a quick rapid fire.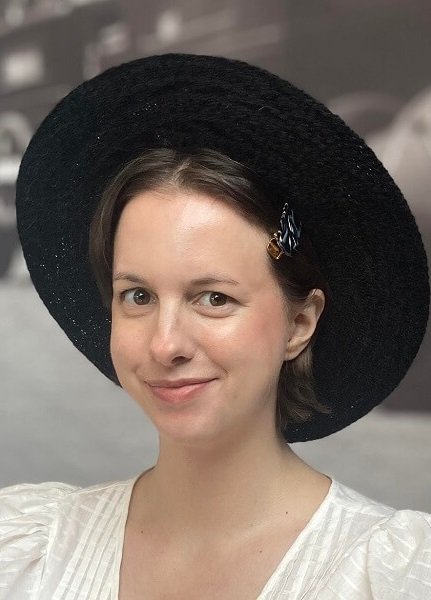 Q1. Your favorite superpower you fantasized about.
Telekinesis. I would never have to get up to get a cookie again.
Q2. When do you usually draw? Morning or Night?
Yes. Also, afternoon. I basically work very long hours or study, but it is also my hobby!
Q3. Are you more of an introvert or an extrovert?
I would say I am a bit more extrovert, but only online. In person… with strangers? Hermit crab.
Q4. Who is your favourite Anime character?
Right now, that would be Anya from Spy x Family.
Q5. Would you rather travel to the past or to the future?

Future. The past doesn't have croughnuts.
Q6. What is your last Google search?
Witcher 3 Soundtrack.
Q7. Which art style appeals the most to you?
Semi-realism.
Q8. What is the kindest thing someone ever did for you?
Given me food when I was hungry.
Q9. Fellow Creators or Artists you admire.
William-Adolphe Bouguereau, Cynthia Sheppard, Fernanda Suarez, Proko, and Charlie Bowater. Honestly, too many to count!
Q10. Describe your style in one word.
Ethereal.
Q11. What is one missed opportunity that you wish you could have a second chance at?
College. I would have just studied art online and done mentorships!
Q12. An art or piece of work you wished you had created.
Nymphs and Satyr.
---
It's time for a more detailed conversation, K.D..
You've answered our rapid fire so well, K.D.. Now, it's time for our readers to know more about the person behind the art.
Q. Tell us something about yourself that's going to make us wonder more about you.
I have a large birthmark that covers almost ⅓ of my body and it looks like spilled wine. Pretty sure it's a map of the lost city of Atlantis. I would reveal more, but kinda hoping to find it and enact my retirement plan.
Q. Well, that will keep you in our thoughts. So, what kind of art inspires you?
Shapley light design. Honestly, anything that can push the narrative with those strong values. I'm learning a lot about art direction and design at the moment, so framing is almost a big one.
Q. Interesting. What, to you, are the most important elements of a good art?
To intentionally convey the message you want. Generally you need strong art fundamentals to do that, so for me I am working on that a lot right now within my own illustration and book cover design.
Q. Do you hide any secrets in your art that only a few people will find?
I have talked about this live on Tiktok before, but I hide potatoes in my art. I consider it a signature, and encourage others to hide foods or other things they hold in high regard within their work too.
Q. What's the toughest work you've created so far? What made it so challenging?
It isn't revealed yet, but it is a trilogy of portrait based work. I can't say more than that, but getting the emotion, rendering, and design all flowing was hard but rewarding!I hope to create more work like that within my near future as well. I truly love pushing illustration and interesting design.
Q. What's unique about your style that's been appreciated by your fans over the years?
Gold. Okay, but aside from that, I think it's the moods I make. People who have said nice things of my work say that it is really pretty to them, and I think all of it has a very soft, feminine touch to it. Even in genres that you don't normally see that, I always bring that vibe.
Q. How do you progress from an idea to the final piece? Describe your process.
I make really rough sketches or mockups, and my clients tend to trust me a lot. For me, I try to lay out a base but then love to collage things. I used to do that to my binders in school, so using mixed media for book covers came really naturally to me in how things fit together.
Q. What does success look like to you?
Being able to retire, live somewhere cozy, and eat as many croughnuts as I want. I would also love to work with traditional publishers as well as my indie authors, since I think within this industry that is a kind of gold standard. There's so many amazing art directors currently at the publishing houses! It's very much the era for wonderful art and direction.
Q. What inspires you, and where do you seek inspiration for something you've never created before?
I am inspired by all kinds of art, and don't really look at other book covers as much as I do illustrated pieces or comics. I try to take creative leads from the designed parts, but don't like my mind to get too focused on other work since I like to try and be as fresh in my approach as possible while being aware of the market.
Q. How do you deal with pressure and deadlines?
I work a lot. Morning, afternoon, and night. I play games to relax, and walk a lot. On my days off, I try not to touch any client work at all. Pressure kinda ebbs and flows depending on what is going on, where that pressure is coming from. Is work late, or do I need bookings? I tackle each bit of pressure with a solution pretty quickly. Chocolate also helps.
Q. They say time and tide waits for no one, and one needs to keep evolving to survive. How do you adopt and develop new skills?
I am in that place now, where I feel like I did certain things within the genre I work within and need to evolve a bit again. Otherwise, things get stale and you end up very much in the same way you did before. I study different classes or books in the art topic I want to improve within, and have an amazing community online of my peers who I get the most helpful feedback from ever. It's with all of that combined, I know where I might grow and keep my career fresh.
Q. It's been fun. Now, before we wrap this up, do you have any suggestions for newcomers in this field? If so, what are they?
Study a less saturated niche you feel passionate about, build your portfolio towards that place, and market where authors and readers currently occupy a social media space. Find peers, build up your own supportive community, and flow as things change to keep ahead.
---