Suzee Corbell is a creator. She loves to create both physical and digital artwork, as well as murals, jewelry, clothing, films, documentaries, music videos, costumes, commercials, screenplays, and even furniture. She hasn't found a medium that she doesn't enjoy working in yet.
Let's get started with a quick rapid fire.
Q1. Your favorite superpower you fantasized about.
Flying. Definitely flying. I don't even need a cape.
Q2. When do you usually draw? Morning or Night?
I draw all the time. If I'm not doing some kind of art, I'm probably thinking about what I want to try next.
Q3. Are you more of an introvert or an extrovert?
I'm mostly an introvert. I took acting classes in Los Angeles to help me pull on a shell that makes it easier to go out in public.
Q4. Who is your favourite Anime character?
I confess that I don't really know the Anime world that well. I had a friend who used to voice over the American version of a character, but that's pretty much all I know about it. Oops!
Q5. Would you rather travel to the past or to the future?
The past. That way I can (hopefully) make a better future.
Q6. What is your last Google search?
Trying to find out how to listen to the radio station my sister is a DJ on.
Q7. Which art style appeals the most to you?
I like most everything, but I lean toward Fantasy and Multi-Media. I really love Steampunk, but I usually try to do a lighter version of it than is usually out there. I'm a bit over the end-of-the-world darkness and I like to bring in passionate jewel tones.
Q8. What is the kindest thing someone ever did for you?
This one is really difficult! There have been so many kind people in my life. I've been very lucky to know some very loving and giving people. I guess that most recently I've been very appreciative of the kind new hospice nurse that has been helping me care for my mother.
Q9. Fellow Creators or Artists you admire.
Sooooo many! Cedric Nocon, Thomas Willeford, Maxfield Parrish, Erte, Vincent Van Gogh, Leonardo da Vinci…
Q10. Describe your style in one word.
Eccentric.
Q11. What is one missed opportunity that you wish you could have a second chance at?
Another tough one! Wow! I'm afraid that list is a little too long to contemplate in the time allowed. Haha!
Q12. An art or piece of work you wished you had created.
At the risk of sounding clichéd, I'm going to have to say Vincent Van Gogh's "Starry Night".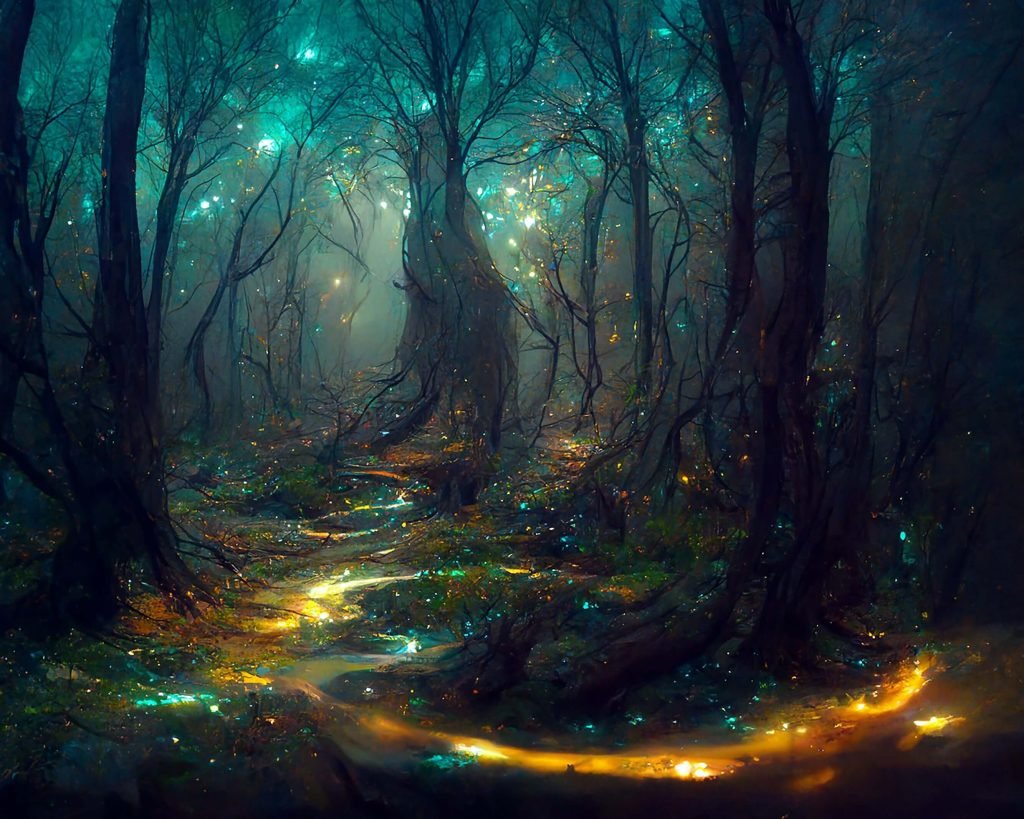 ---
It's time for a more detailed conversation, Suzee.
You've answered our rapid fire so well, Suzee. Now, it's time for our readers to know more about the person behind the art.
Q. Tell us something about yourself that's going to make us wonder more about you.
I've worked in the Television and Movie industry for over 30 years. I've done everything from specialty art props to screenwriting to producing to writing and directing. I even ran a TV station and production studio for a while. I love the creative freedom you have even while you're working alongside so many talented people.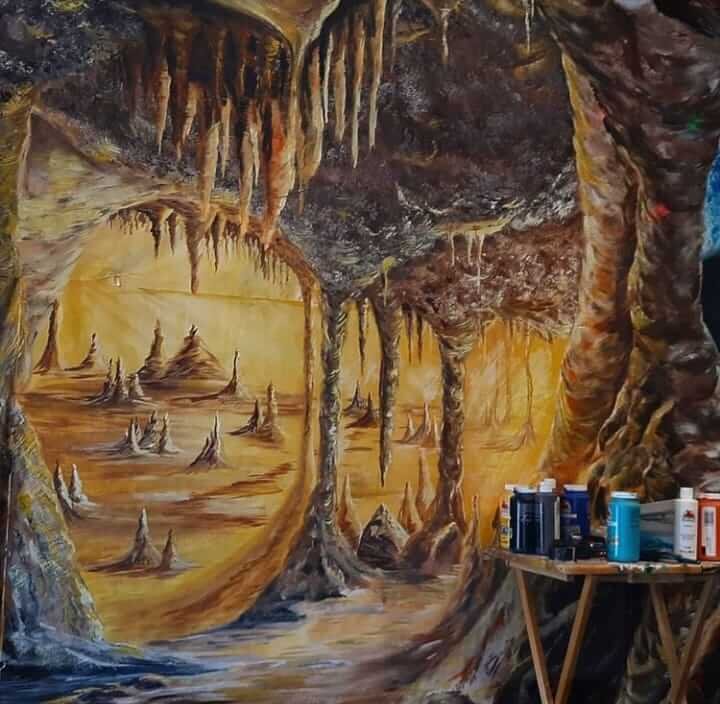 Q. Well, that will keep you in our thoughts. So, what kind of art inspires you?
I love most art, but I really go a little crazy when a combination of colors and subject matter makes me catch my breath. When I see something that makes me wonder about the world that it takes place in. I love dreams and positive reinforcement.
Q. Interesting. What, to you, are the most important elements of a good art?
I actually did a series for PBS many years ago about what could be considered art. It truly is in the eye of the beholder. I found it in the way a chef prepared his specialty dish that he was most proud of, the music from a musician who could make tears come to my eyes when he played his violin, and the yearning I could see in a dancer's interpretation. I see those same things when I look at what I, personally, consider to be good art (What most people consider to be art. For example, on canvas, digital, sculpture, etc.). I can feel what I'm looking at on such a deep level that I savor the effects that it has on all of my senses. Does that make sense?
Q. Do you hide any secrets in your art that only a few people will find?
I hide at least one thing in almost every painting that I do. Sometimes people have found them, but most haven't been located. I have added everything from bunnies and road runners to space aliens and written messages. Haha!
Q. What's the toughest work you've created so far? What made it so challenging?
Some have been emotionally difficult (a portrait of my Grandma Thelma who passed away). Some have been physically difficult (a 120 foot mural on L-shaped corrugated metal fencing that was 6 feet high and done in temperatures over 100 degrees F that gave me a very bad sunburn). And some were difficult because they were commissioned pieces where the client kept changing their minds about what they wanted. That can be very frustrating. Otherwise, I pretty much love immersing myself in the process.
Q. What's unique about your style that's been appreciated by your fans over the years?
My favorite pieces to create are fantasy or steampunk or science fiction and I like to add a hint of humor when I can. I've found that my fans really like the ones that include something quirky. I think I look at the world slightly differently from some artists in those fields. As I mentioned earlier, I prefer to approach from a more positive angle. I'm also known for my color schemes. I love jewel tones and working with teals, turquoise, amber, ruby, emerald, gold, brass, copper, ivory, etc. I also really love adding depth to my pieces using shadows. I want people to wonder what might be around that corner or behind that tree (I love painting trees. Trees and airships are my two favorite things.). I love when someone says they saw one of my pieces and knew it was mine before they looked at the signature. I frequently just sign with the letter Q. My Grandpa Bill used to call me Suzee Q and so I've become known by that name.
Q. How do you progress from an idea to the final piece? Describe your process.
My process is very fluid. I might be watching something or driving down the street and something will catch my eye. Then I'll find myself wondering what it might be to see something like that in a different setting with different colors and lighting. I used to do a lot of my work on canvas, but I've been doing more digital painting and recently started playing with adding some AI pieces that I generate for something new and different. I've had to concentrate on the digital painting because it's very difficult to do canvas work while caring for my mother who's currently on hospice.
Q. What does success look like to you?
Success to me is when I can see that someone gets what I'm trying to convey in a piece of art. I've given away paintings instead of selling them when I could see on their face or read in their words that the piece means something to them. I guess I'd really love to reach a wider audience now, too. I would like to be able to make enough from teaching my art classes and selling my art and jewelry so that I can open an animal sanctuary farm for cats and dogs and then maybe some larger critters. That is a big dream of mine.
Q. What inspires you, and where do you seek inspiration for something you've never created before?
I find inspiration all around me and I love working with all kinds of unusual elements. I don't think I ever stop looking. I never know where the next idea will come from. I hope to be able to do even more varied and interesting work in the future. We never stop learning and growing.
Q. How do you deal with pressure and deadlines?
Not very well. Haha! I like to work in a quiet environment without interruption. I tend to nosedive into my work and I like to have the freedom to explore any rabbit holes that may appear. I also worry that any clients may not like what I end up doing. It can drive me nuts. It's one reason I prefer to do my own work and let people buy my finished products. I've only had two clients completely change their minds on what they wanted, but it was extremely frustrating They like what I did, but wanted to add several other things or try a different image because now they like cows more than elk. Yeah, that happened.
Q. They say time and tide waits for no one, and one needs to keep evolving to survive. How do you adopt and develop new skills?
I like to think that I'm constantly evolving in my current skill levels, as well as new approaches. For instance, I think I mentioned earlier that I've started playing with AI art generation as a Beta tester. I love how quickly I can explore hundreds of concepts I have in a very short amount of time. It has also shown me things that made me want to go and create completely new pieces of my own. I'm always open to trying something new and seeing what I can do with it.
Q. It's been fun. Now, before we wrap this up, do you have any suggestions for newcomers in this field? If so, what are they?
Do. Just keep doing it. Don't let anyone or anything tell you that it's not good enough. It is. There's always someone out there who will love what you create. Once you do your thing long enough, you'll find your recognizable voice and then you'll find your audience. Keep doing your art.
---